5 Fashion Rules Queen Camilla Always Follows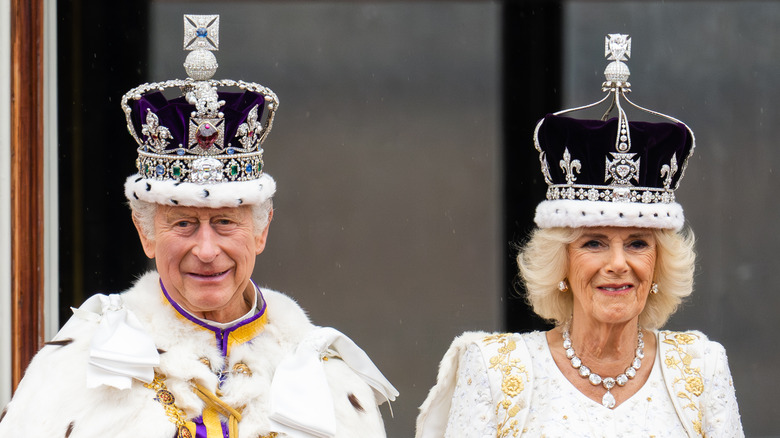 Samir Hussein/Getty Images
On May 6, 2023, the woman born Camilla Shand got the ultimate job promotion when she became Queen Camilla, the consort queen to King Charles III. It was a joyous coronation weekend and one she'd been anticipating for some time. (Camilla didn't even mind when granddaughter Princess Charlotte made the small slip of not curtseying to her at the coronation concert.) As befits a monarch, the new queen wore a richly embroidered gown for the occasion, along with chunky diamond jewelry and, of course, the all-important crown.
It will be a while before Camilla gets to dress up so grandly again. However, we can certainly expect to see her in the types of ensembles she's known for wearing to formal events, garden parties, and state visits. There are certain fashion rules she follows, either as a personal preference or as a matter of protocol. (You're not going to see a queen in her 70s going about in distressed jeans and crop tops, after all.) These are five of the rules she follows most often; see if you can spot them in her future public appearances.
Coat dresses are a must for royal women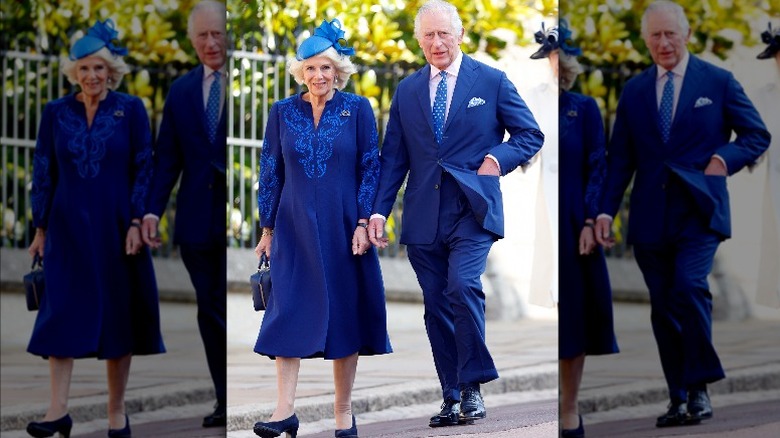 Max Mumby/indigo
When she was still Camilla Parker Bowles, the queen was free to wear what she pleased, within reason. But once she wed then-Prince Charles, there were certain rules she was expected to follow. For instance, royal women always wear stockings with their dresses; bare legs are frowned upon, even in hot weather. Camilla also began donning long coat dresses more frequently — a fashion choice also favored by the late Queen Elizabeth and by Catherine, Princess of Wales. 
What's behind the trend? Apart from their convenience — no need to worry about matching a top to a bottom! — coat dresses have a practical side. According to The Express, it's considered inappropriate for a royal to publicly remove any type of outerwear. A coat dress solves the problem by being warm enough to wear outdoors, yet dressy enough for indoor use. 
Royal blue always befits a royal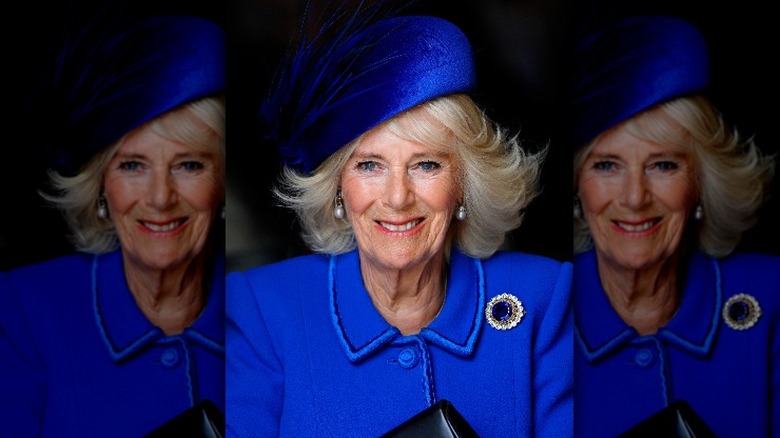 Max Mumby/indigo
Camilla had little say over the shade of her official coronation gown — white is considered the traditional shade for its purity — but on other occasions, she's often seen in rich jewel tones of maroon, emerald green, and magenta. Her late mother-in-law, Queen Elizabeth, liked to wear bright colors so she would stand out in a crowd, and Camilla seems to be following suit. Blue is a particular favorite color for the new monarch. She chose a striking royal blue dress for her official pre-coronation portrait, per People, and picked a similar hue for the suit seen here, which she sported on Commonwealth Day a few weeks prior. She's also been seen in shades of navy, powder, and cobalt, all of which are striking with her platinum hair.
Pearls are always the right choice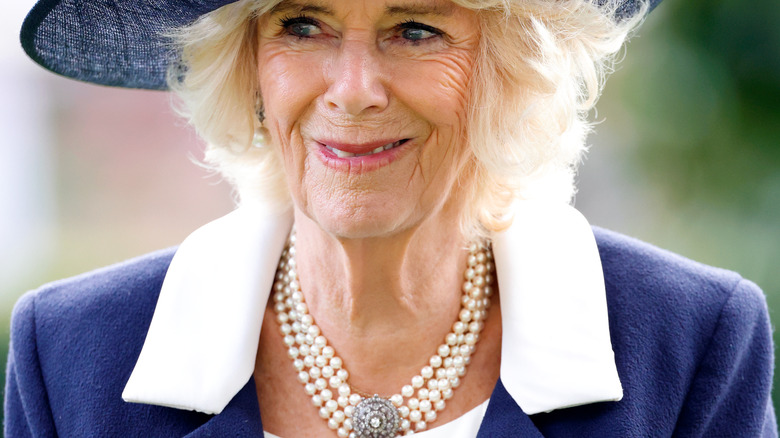 Max Mumby/indigo/Getty Images
When it comes to fine jewelry, there are certain traditions that have stayed constant over the years. For instance, diamonds have traditionally been considered evening wear, though the rules are relaxing a bit. Pearls, however, are a more flexible gem. The oyster-created jewelry is considered appropriate to wear at any time of day, though the fanciness of the setting depends on the circumstances. 
For Queen Camilla, her favorite multi-strand pearl necklace is a go-to for many daytime occasions — including Prince Archie's christening ceremony, and the huge garden party King Charles hosted three days after his coronation. (Camilla — surprise! — wore it with a blue and white dress). Again, the choice calls forth memories of the beloved queen, who was almost never seen without a three-strand pearl arrangement around her neck. 
Black gloves are a must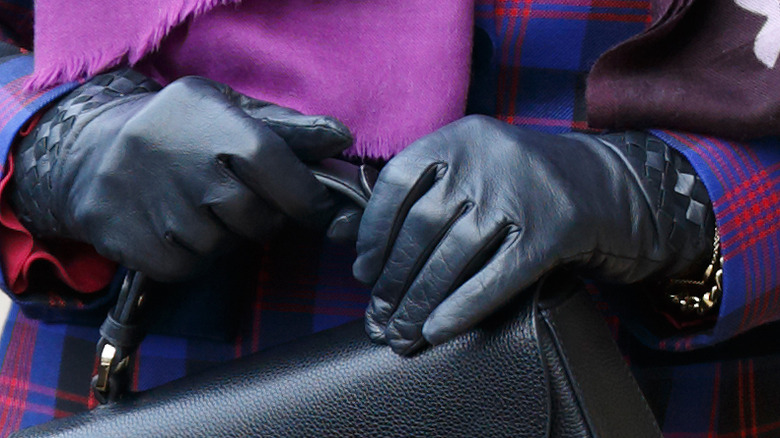 Max Mumby/indigo/Getty Images
When the weather turns cool (as it often does in England), Queen Camilla is partial to long-sleeved coat dresses that ward off the chill while still looking stylish. She almost always accessorizes with short black gloves, often the style seen here with diamond-patterned cuffs. She's worn the hand coverings everywhere from the Bank of England to the opening of the Welsh Parliament to a number of charity events. Does she use the gloves to stay warm, to prevent skin dryness, or just to polish off her look? Whatever the reason, it's an accessory we can expect the queen to continue wearing for the foreseeable future.
Your hat should make a statement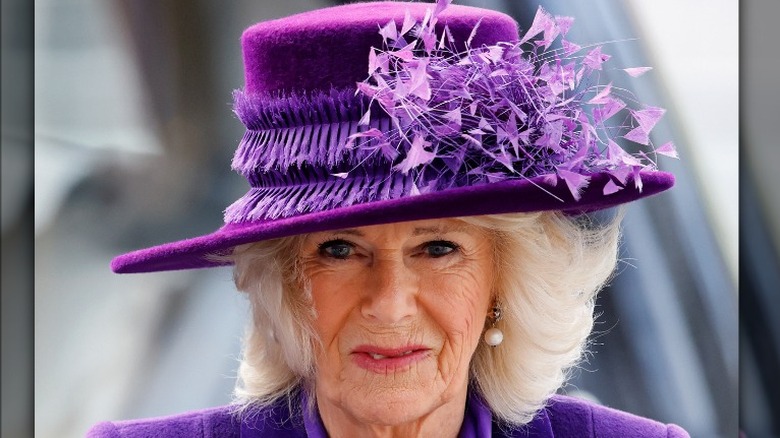 Max Mumby/indigo
For decades, it was considered essential for British royal women to wear hats whenever they were outside the palace walls. (Going bareheaded may have been considered as undignified as taking off a coat.) Today, the rules have relaxed somewhat, but protocol still demands royal women always wear hats on certain occasions. Formal ceremonies such as weddings, funerals, and the annual Trooping the Colour parade call for hats, as do special events like the Royal Ascot horse race. Queen Camilla not only holds to that standard, she embraces it by choosing toppers sure to make an impression. 
While she does wear small understated hats every so often, she's more likely to be seen in broad-brimmed numbers. For cooler days, she's been known to choose a faux fur-trimmed hat; other times, she'll opt for colorful felt hats like the one seen here. Even her wedding hats were memorable: For her state wedding ceremony, Camilla wore a wide straw hat with lace trim and a large white flower; for the clergy blessing, she switched to a band-style chapeau resembling a waving sheaf of gold wheat. But her most famous headpiece of all, of course, is the grand Queen Mary's Crown she wore at King Charles' coronation. It was the first time in three centuries that a queen consort had chosen to reuse a crown, rather than commissioning a new one.