Are Love Is Blind's Brett And Tiffany Still Going Strong After The Season 4 Finale?
When it comes to dating, judging books by their covers is all too common. In Netflix's hit reality show "Love is Blind," approximately 30 singles — 15 men and 15 women — date on either side of an opaque wall. The question is, can they fall in love sight unseen? Over the course of 10 or so days in the "pods," contestants connect on an emotional level rather than a physical one, sharing their backstories, dreams, and (sometimes) sub-par vocal talents. If couples decide to get engaged, they meet for a face-to-face reveal. From here, they move in together, meet friends and family, and plan their Netflix-funded weddings. All the while, cameras record conversations about everything from jealousy to dirty dishes to attraction — how important are looks in a successful relationship?
Four seasons of the show have seen 23 televised engagements and nine successful weddings. Of the couples who exchanged vows, seven couples are still husband and wife. So, did fan favorites Brett and Tiffany from Season 4 make the cut, or are they part of a long line of failed "Love is Blind" romances? 
Brett and Tiffany are still enjoying married life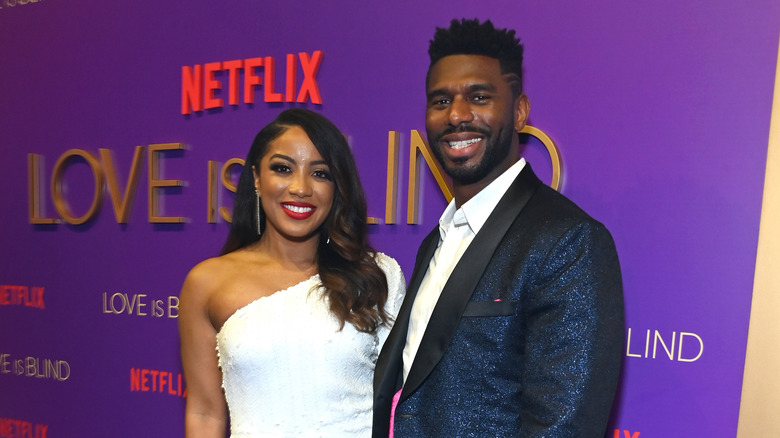 Araya Doheny/Getty Images
Brett Brown and Tiffany Pennywell had the least amount of drama in Season 4 — besides that time she accidentally fell asleep in the pods. The pair successfully shared an apartment in Seattle, met one another's families, and discussed finances ("Bougie Brett" was somewhat infamous for spending $1,200 on luggage). After saying "I do" in the season finale, Tiffany moved to Brett's home base in Portland, Oregon. If their Instagram posts and post-show interviews are any evidence, the couple is still very much in love. "Keeping a whole marriage a secret for a year isn't easy but that didn't stop us from living our lives!" Tiffany posted. From the snapshots she shared, it looks like the duo has enjoyed traveling, supporting their favorite sports teams, and spending time with loved ones.
In an interview with Entertainment Tonight, Mrs. Brown reflected on what it's like to share a home with her husband. "Other than the closet space, we've been good. I've learned to accept his gadgets in the household, actually I've come to appreciate them," she said. As for Brett, he was sure he wanted to be with Tiffany from the beginning. "That was always a yes," he commented. Although this "Love is Blind" It couple has only been married a year, it looks like they're in it for the long haul.
Love is Blind's track record isn't the best
Since it began airing weeks before national COVID lockdowns in 2020, "Love is Blind" has produced several popular spin-off podcasts, a slew of Instagram influencers, and an ever-expanding Netflix reality TV multiverse. Unfortunately, its success rate when it comes to marriages isn't quite as impressive. Of the Season 1 couples, just two are still together. Season 2 pairing Iyanna and Jarette were open about their marital struggles and ultimately called it quits in August 2022. The same goes for Danielle and Nick. That being said, this Netflix show has a much better track record than "The Bachelor" franchise. It's been over two decades since the latter started airing, and very few of these bachelors are still with their winners.
As the number of on-demand dating shows continues to increase, Season 4 contestant Kwame Appiah reminds fans that the cameras only tell part of the story. "Just a quick response to anyone saying 'they have no chemistry' or 'they don't even love each other' ... based on what you saw, I don't blame you for thinking that," he posted on Instagram, referring to his relationship with wife Chelsea Griffin Appiah. "But actually, we had the MOST fun together falling in love!" he added. "Love is Blind" has since been renewed for a fifth season on Netflix with hosts Nick and Vanessa Lachey set to return.