Florence Pugh's Mom Once Partied Too Hard With Snoop Dogg After The Oscars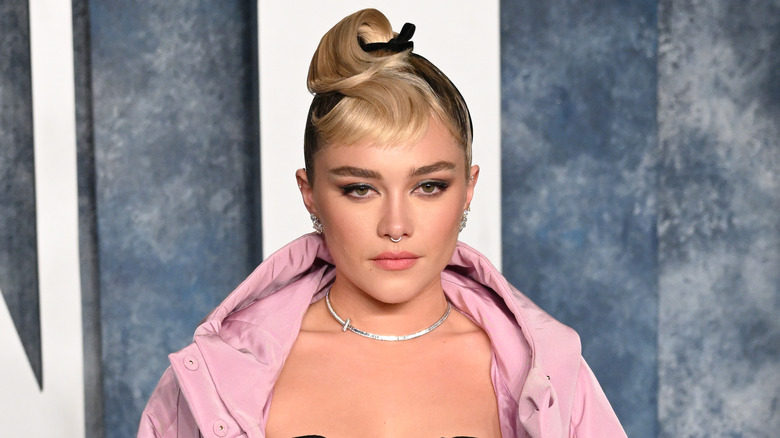 Karwai Tang/Getty Images
If you know anything about Florence Pugh (aside from her dating history and the fact she has a solid friendship with Lisa Rinna), it's that she definitely isn't boring, and it seems like she gets her fun personality from her parents.
During a 2021 interview on Jimmy Kimmel Live, Pugh discussed several topics, including how she prepared for her role as Russian spy Yelena in "Black Widow" and how, when she attended the Oscars for her role in "Little Women," she had to babysit her parents. Discussing what her parents are like, Pugh joked, "They're just pure havoc, they're like — it was like wrangling toddlers the entire week. I was more of the wrangler than they were so that was an experience. We went to all the parties."
When Kimmel pressed for details about her parents, Pugh shared that they "basically bet on how many cool people they met," additionally revealing that her mom spoke to Kate Hudson and her dad made friends with Renee Zellweger. However, there was one incident that stuck out more than the others, and it took place at the Oscars party hosted by Madonna.
The actress' parents seem to enjoy a wild night out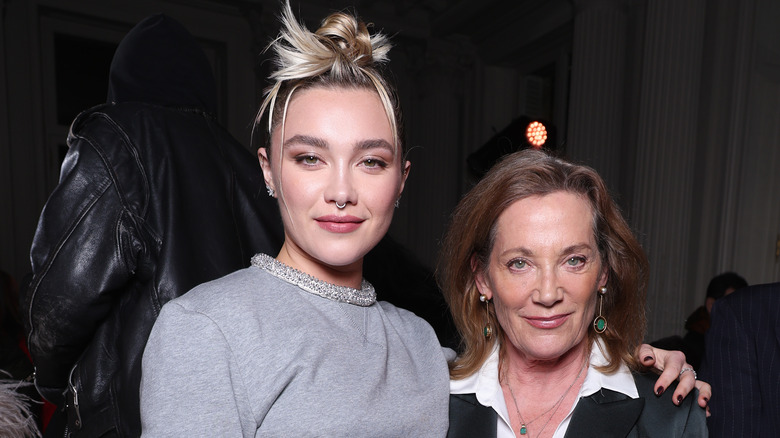 Pascal Le Segretain/Getty Images
Sharing what happened with Kimmel, Pugh shared, "My mom went missing for hours and I was starting to get a bit worried about her so I was like, 'Okay, I should probably go and figure out where mom is'." She then went on to reveal, "My mom suddenly comes crawling from somewhere, she's holding onto banisters and doors, and I'm like, 'Mama, are you okay?' And she was like 'Yeah, yeah,' and I was like, 'What happened?!' and she goes, 'No, no, I've been hanging out with Snoop Dogg.'" The crowd loved the joke, cheering as Pugh summarized, "So, my mom got high with Snoop Dogg."
She finished the story by saying, "So I literally had to grab them both and leave. It was like, 'Come on kids, we're going home now. Fun is done.'" It definitely sounds like Florence Pugh's parents are the life of every party they go to, and Madonna's Oscars party wasn't the first time they attended an event with their daughter.
Florence Pugh's parents have accompanied her to several events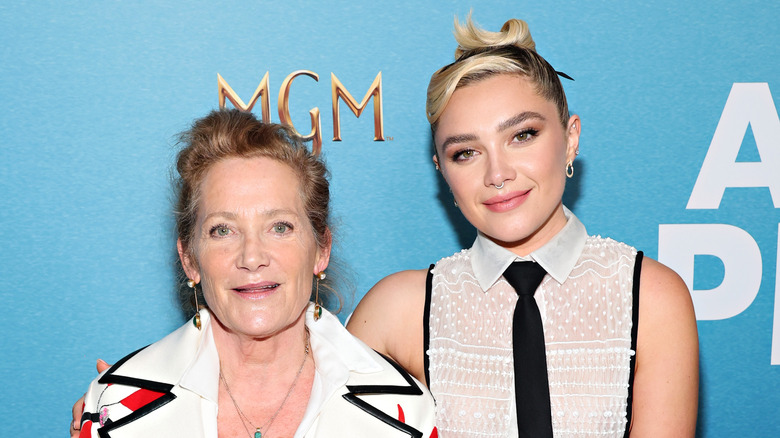 Cindy Ord/Getty Images
There are a few instances of Florence Pugh and her parents at different events, presumably making friends at each one as they did at the Oscars after party. Most recently, Pugh's parents were seen alongside her at the premiere of "A Good Person." Pugh has previously attended events with other members of her family, notably the premiere of "Don't Worry Darling" with her Grandma.
Considering her parents' professions, it makes a lot of sense that they appear to be as extroverted as they are. Pugh's mom Deborah Mackin works as a dancer while her dad Clinton Pugh is a 3D designer and also in the restaurant industry. Pugh isn't the only actress in the family, either. Her brother, Toby Sebastian, is mainly a musician. However, he dabbled in acting when he played Trystane Martell in "Game of Thrones." Her two sisters, Arabella Gibbins and Rafaela Pugh, are also both actresses. 
It seems like the whole of the Pugh family have acting/entertaining in their bones!