Upgrade Your Shoe Collection By Saying Goodbye To Loafers And Hello To A Balletcore Staple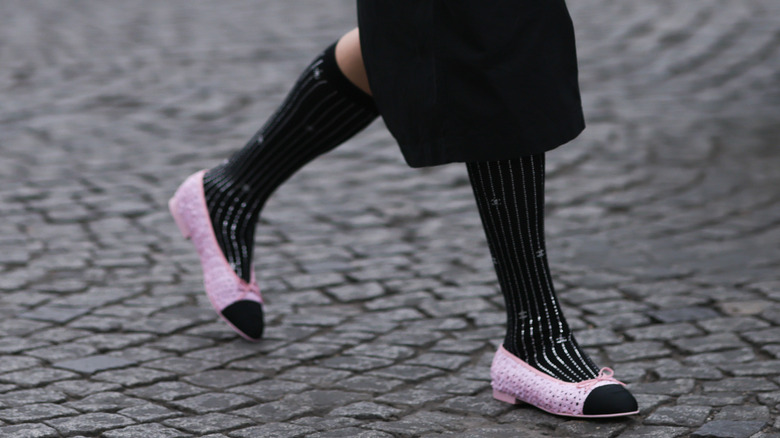 Jeremy Moeller/Getty Images
Shoes come in an endless variety of styles, shapes, and textiles. They can feel clunky or feathery light on your feet, they can be as thin as light fabric or as thick as hard leather. Like every other item of clothing you wear, they serve a dual purpose: protecting your body from the elements, while projecting an image.
Footwear may be the crucial element of any look you're trying to achieve because they need to complement the appearance of your outfit from the outside while evoking the right attitude from you on the inside. After all, shoes inspire how you walk, stand, slouch, and generally move. Wanna be a punk? You need a pair of Dr. Martens so you can stomp. Attending a meeting at corporate HQ? Get out that perfect pair of pumps and stand tall.
When it comes to shoes, Vogue advises there are only "six key styles — the trusty pairs you'll never go without — everyone should have in their rotation." Among these rare few are loafers and ballet flats. PureWow suggests these two perennial favorites can be swapped whenever you're in the mood to renovate your chic.
Preppy vs. Balletcore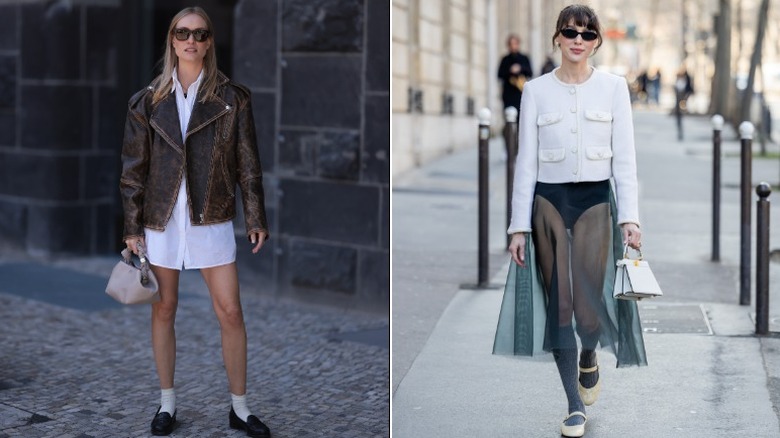 Christian Vierig & Jeremy Moeller/Getty & undefined
The thought of this footwear exchange may be startling at first. After all, loafers are a staple of preppy culture, which relies on button-down shirts, sweater vests, chinos, and blazers; all made of natural fabrics such as tweed, cotton, and denim. Add bright colors, gingham prints, and argyle for panache. Preppy sets a different tone than balletcore, in which ballet flats play a leading role.
Balletcore falls somewhere between a style and a uniform, with dance studio staples repurposed as streetwear. Think tulle skirts, leg warmers, Ugg boots, and leotards. Casual freedom of movement is an essential aspect of balletcore, while messy buns, baby pinks, and minimal cosmetics add to the illusion of having just stepped away from the barre.
Though preppy style is unlike balletcore, loafers and ballet flats actually share a couple of qualities. Fundamentally, both are minimal-or-no-heel shoe styles (with exceptions on both sides of the equation). Also, both shoe types rely on small embellishments to create different looks within the overall style. For example, there are tassel loafers, horsebit (a type of buckle) loafers, kilt loafers (with two types of tassels), and slipper loafers. Ballet flats share this quality, adding a simple strap (across the foot, at the ankle) or bow for added style. The two styles, then, seem nothing alike, yet they're somehow similar.
An elegant choice
Han Myung-gu/Getty Images
Still, you're skeptical, thinking that the wrong shoe can mess with the overall vibe of an outfit, pushing it off the style cliff. Have no fear. As Morgan Halberg writes in Observer, "The right ballet flat transcends fashion fads . . . Ballet flats are elegant and minimalist, but that doesn't mean they're boring." Versatile, ballet flats work with any hemline, from mini to maxi, while looking great with all styles of pants and leggings, including shorts, capris, and stirrups. (Long pants that puddle around the feet may be the single exception to this rule.)
Almost every shoe designer and footwear company has spun out a version or two of ballet flats, so there's a wild variety of styles to choose from: Floral patterned fabric, black leather, recycled rubber, pink satin, sparkling glitter, you name it. The list is long, and the range of price points is considerable. The right pair may just be the much-needed bold shoe to elevate your look.
A timeless look, ballet flats trading places with your usual loafers may be the lightning bolt your wardrobe needs. Try it out and let your mirror — and your posture — be your guide.