Concealer Uses That Go Beyond Just Hiding Under-Eye Circles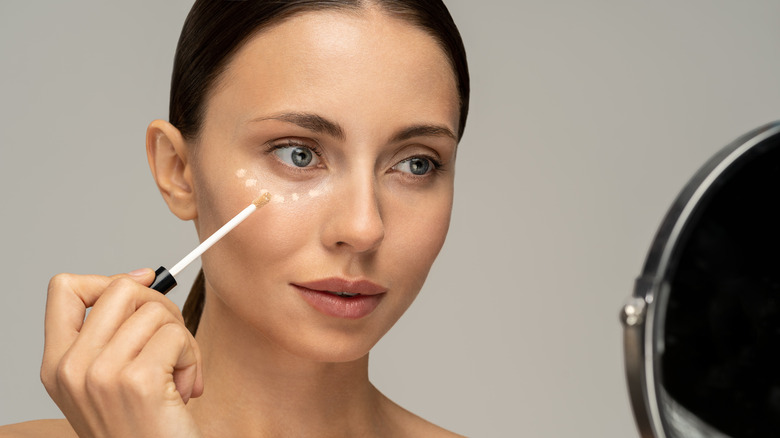 DimaBerlin/Shutterstock
There are some holy grail makeup products that can effortlessly take your makeup from drab to fab and elevate your look. One of those products is concealer — a versatile makeup staple that is easily the star of every makeup routine.
Concealer is most commonly used to cover under-eye circles and darkness, but did you know that there are actually several other ways you can use this holy-grail makeup product? You don't have to be limited to using concealer just for when you need to make yourself look more awake and fresh. While it's the go-to product to reach for when covering up blemishes and dark circles under the eye, it's also a super versatile staple that when applied correctly, can dramatically transform your makeup look. It can be used to brighten up your complexion, cover up blemishes, contour, and accentuate certain features on your face.
With these makeup tips, you'll be able to use concealer beyond just hiding your under-eye circles.
Fake fuller lips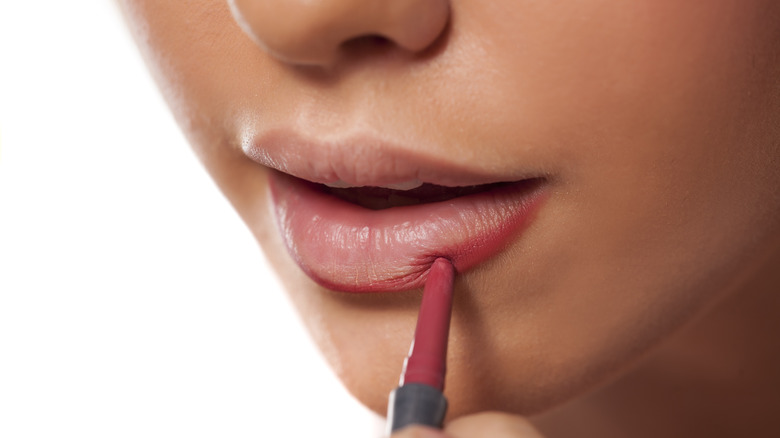 Vladimirfloyd/Getty Images
Who needs filler when you can create the appearance of fuller lips with just a few dabs of concealer? If you don't want to go under the needle to get lip injections, you can easily add volume to your lips by tweaking your makeup routine with concealer.
To achieve plump lips naturally, apply a small amount of concealer to the outer edges of your lips and then blend it with your fingers or a makeup brush. When applying your lip liner, apply it slightly outside of your natural lip outline to mimic the appearance of bigger, fuller lips. Don't draw too far outside of your lip line, as it won't look natural or well-blended. Then, apply concealer to the center of your lips and blend it towards the corners of your lips. Blend all of the concealer well for a soft, natural look that will make your lips look naturally fuller. 
Use it to contour
Concealer can also be used as a contour if you have the right shades to practice the makeup technique. Contouring is a technique where you use light and dark shades of makeup to enhance certain facial features, and slim down the face.
First, pick the perfect concealer for your skin. You'll need a concealer that is lighter than your skin tone and one that is darker to be able to get the contour look done right. TikTok influencer, Poppy March, shows how she uses two concealer shades to contour her face for a natural, glowing makeup look. She applies the light concealer to her under eyes, on top of her forehead, on her chin, and on the bottom half of each cheek. 
She then adds strokes of the darker concealer above her lip, on the upper side of her cheek, on the left and right side of the bridge of her nose, and on the top, left, and right of her forehead. Once you've applied your contour to the necessary areas, you can blend it in using a beauty blender, your fingers, or a makeup brush.
Use it as an eyeshadow base
Sometimes, no matter how much you try to blend in an eyeshadow — it just won't seem to stick. If you notice your eyeshadow comes off after a few hours and doesn't last the day, it's time you try this concealer hack. Concealer can be used as an eyeshadow base or primer to help your eyeshadow stick and give your makeup a long-lasting effect. Not only can it help keep your shadow in place but it can also be used to increase the brightness and vibrancy of the eyeshadow color. 
TikToker Briana Pelaez shows how she applies concealer to her eyelid using a brush for a seamlessly blended look. When applying your concealer, Pelaez recommends using a small amount of concealer as too much will cause immediate creasing. We recommend you marinate your concealer to get the most out of your product. To finish off, use a beauty blender to blend in the concealer completely and to get your skin ready to apply the eyeshadow. 
Under eyes
When you have dark under-eye circles, they can make you look tired and put a damper on your makeup look. Fortunately, if you apply concealer correctly, you can effortlessly hide your dark spots and under-eye bags.
In a tutorial video, celebrity makeup artist, Bob Scott, shows Byrdie how he uses concealer to conceal dark under-eye circles. "Now to cover the under-eyes, I'm going to use a color corrector first... Because that kind of darkness won't immediately go away with just concealer," Scott tells Byrdie. Once you've applied the color corrector, you can gently dab concealer to your undereye until it's perfectly blended.
TikToker Emilie Tommerberg shows her favorite concealer hack to keep her under eyes looking bright and blemish-free. She takes a small amount of concealer and under-eye primer and combines them on the top of her hand. Once they're both blended, she lightly pats the formula to her under eye until it's seamlessly blended.
Achieve perfectly shaped brows
Good eyebrows are a vital part of your makeup routine and when you nail your brows, the rest of your makeup will look flawless too. You can help perfectly shape your eyebrows without having to go get them threaded or waxed with just a bit of concealer. 
Once you've filled in your eyebrows with a brow pen, apply a layer of concealer directly underneath your brow all the way to the brow bone, and above it. Blend it in with your finger or with a brush until you see your brow take on more definition and a sharper shape. TikToker Erica Guzman shows how she blends in her concealer with a flat brush for a blemish-free finish. You can opt to use an angled brush to draw the concealer line first, and then a flat brush to blend it. This technique will give your brows a sharp, defined shape while hiding any stray hairs for a clean-girl look.