Kate Middleton's Piano Talents In Surprise Eurovision Appearance Leave Some Viewers Unimpressed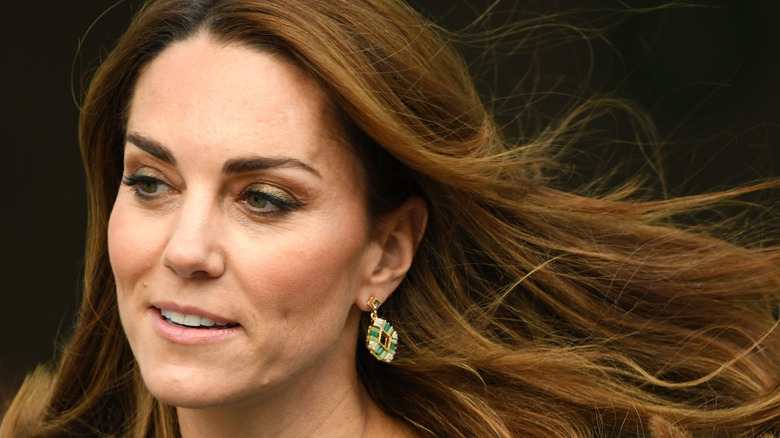 LINGTREN.COM/Shutterstock
The Eurovision Song Contest helped introduce the world to musical acts like ABBA and Olivia Newton-John. Even Celine Dion's massive Eurovision win kicked off her career. It is a competition unlike any other, particularly when it comes to scoring. Musical acts from across Europe, as well as some non-European acts, compete against each other with the winner determined by scores given by delegates from each of the countries, per The Independent. The acts are often over-the-top, campy, and can range from ballads to death metal, but it's not just about the best, most extravagant song. 
Geopolitics can also play a part in the competition, like in 2022 when Kalush Orchestra, representing Ukraine, won the contest with their song "Stefania." Ukraine had recently been invaded by Russia, and there seemed to be clear political support when it came to voting for Ukraine's representatives as compared to just appreciation of the song itself, via The Washington Post. That's of course not to say that it wasn't a good song!
Usually the winning country then hosts the next year's Eurovision Song Contest, but as Ukraine is still in the midst of conflict with Russia, it was hosted in Liverpool instead, via BBC. Last year's winner Kalush Orchestra performed their award-winning song at the introduction of this year's grand final, and they had a surprise guest contributor on the piano — Catherine, Princess of Wales. Not everyone was impressed by her performance, though.
Some thought Kate Middleton wasn't really playing the piano in her Eurovision performance
Catherine, Princess of Wales played her part of "Stefania" for the opening of the 2023 Eurovision Song Contest grand final on a grand piano in Windsor Castle's Crimson Drawing Room. She didn't play for long, but some viewers didn't like what they saw. One tweeted: "Her fingers were not on the [right] chords & those who play piano by ear/are musicians could tell." Others were in agreement, like this person who tweeted, "My daughter is a pianist, and she knew that Kate was faking it based on the placement of her fingers on the keys."
It may have been the fact that the performance was pre-recorded and not played live that caused the discrepancy between the audio and the video when it came to finger placement. Some seemed to potentially give her the benefit of the doubt, like this person who tweeted, "I'm a musician and from what I saw, some hands (maybe hers) played something similar to the soundtrack."
Others were unimpressed that Kate was wearing her hair and her dress in a look that Meghan Markle had worn before. Kate was wearing a blue one-shouldered evening gown for the brief performance, which looked similar to a dress that Meghan wore to an event in 2022, via Newsweek. Some on Twitter accused her of straight up copying her sister-in-law's look.
Royal fans loved Kate Middleton's surprise Eurovision appearance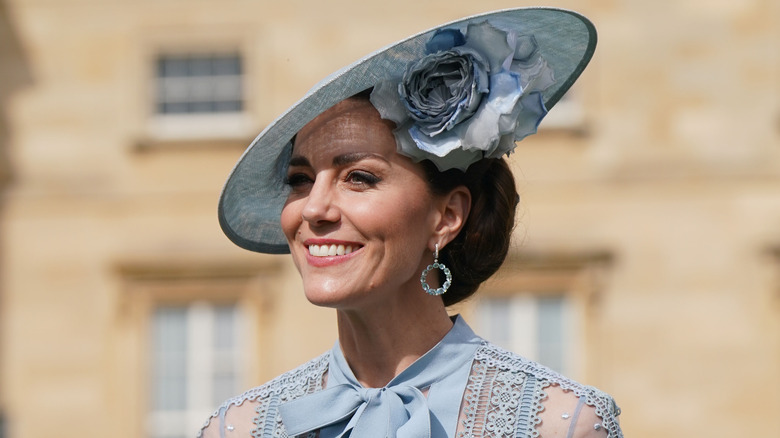 Wpa Pool/Getty Images
While some weren't impressed with Catherine, Princess of Wales at the 2023 Eurovision Song Contest, others loved it. Kensington Palace tweeted about the surprise appearance, and royal fans in the comments sounded like they couldn't get enough. "Is there anything Princess Catherine can't do?" one tweeted. Another wrote: "OMG what a great surprise. The Princess looks so beautiful and it's so lovely to see her playing the piano."
Kate wasn't the only Brit who had a cameo during the performance. While Kalush Orchestra performed their part of the Eurovision Song Contest grand final opening from a metro station in Kyiv, Ukraine, they were joined virtually by Kate, Andrew Lloyd Webber, Joss Stone, and Sam Ryder, all recorded in advance, via NME.
Kate first revealed her hidden musical talent over Christmas a couple of years ago when she performed alongside Tom Walker at the Westminster Abbey Christmas carol concert that she'd helped put together. She took piano lessons as a girl, according to Classic FM, and she found comfort in playing music during COVID lockdowns, per People.