What's The Age Difference Between Gwen Stefani And Blake Shelton?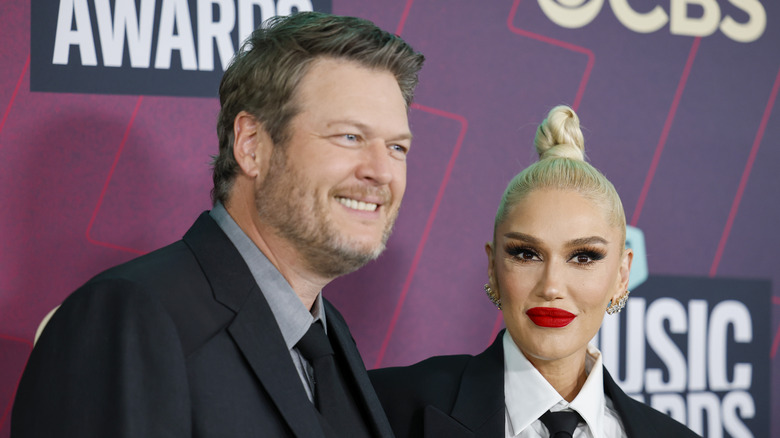 Jason Kempin/Getty Images
Born and raised in Orange County, California, Gwen Stefani is a pop-rock princess. Stefani is the lead singer of the ultra-successful ska band No Doubt. As a solo artist, she left her mark in the music world with songs like "Hollaback Girl" and "The Sweet Escape." In 2015, fans were surprised to learn that Stefani was dating country crooner and her "The Voice" coworker, Blake Shelton. Shelton became a household name after the release of his 2001 single "Austin." When they first met on "The Voice" in 2014, Stefani and Shelton were married to other people. 
Stefani wed Gavin Rossdale, lead singer for the band Bush, in 2002, andthe pair share three sons. In 2015, announced Stefani and Rossdale's marriage was officially over. It was later reported that Rossdale had been unfaithful to Stefani during their 13-year marriage. At around the same time, Shelton and his then-wife, singer Miranda Lambert, revealed that they had ended their marriage. Shelton allegedly believed that Lambert had cheated on him. By November 2015, Stefani and Shelton were a couple.
Shelton told Billboard that the two connected over their divorces on the set of "The Voice." He told the publication, "Gwen saved my life. Who else on earth could understand going through a high-profile divorce from another musician? You can't even imagine the similarities in our divorces." Stefani and Shelton became engaged in 2020. It might come as a surprise to learn that Shelton is actually younger than Stefani.
Gwen Stefani is slightly older than Blake Shelton
Gwen Stefani and Blake Shelton said "I do" on July 3, 2021. Stefani's wedding to Shelton was much different than her 2002 English wedding to Gavin Rossdale. Shelton and Stefani wed at Shelton's Tishomingo Ranch in Oklahoma. Stefani, who is seven years older than Shelton, was then 51, and Shelton was 45. The bride wore two wedding dresses, one long and one short, designed by Vera Wang. She paired them with white and silver cowboy boots. Stefani's veil featured Shelton's name, along with the names of her three sons, Kingston, Zuma, and Apollo. "The Voice" host Carson Daly officiated the nuptials.
With that said, Shelton is well aware that fans find the pair odd. He explained to People, "An Okie boy and a California girl look on paper like an unlikely match, but what matters is she's a great human being." He added, "She is the most understanding, kind-hearted person I've ever met and I learn something from her every day." Outside of "The Voice, " Shelton and Stefani have collaborated on music together. Their duets include "Go Ahead and Break My Heart" and "Nobody But You." Shelton is also a stepdad to Stefani's sons. Shelton has spoken candidly about his relationship with Stefani's stepchildren, and left "The Voice" in 2023 to be more involved in their lives.
Gwen Stefani reveals the secret behind her ageless look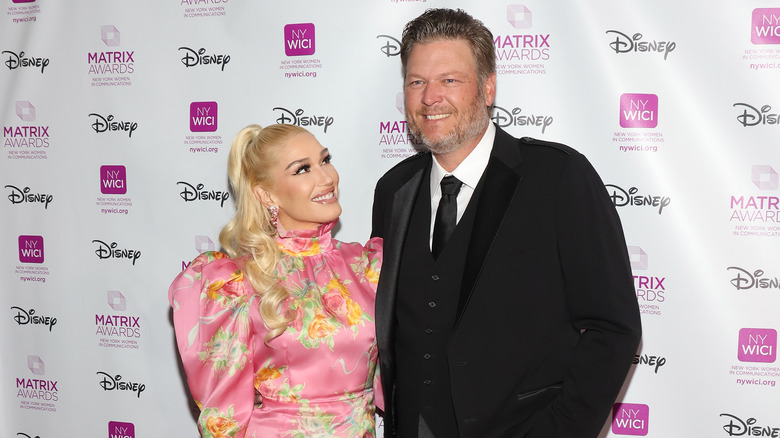 Taylor Hill/Getty Images
In late 2022, Gwen Stefani appeared on  "Barmageddon." Her partner on the game show was taken aback when Stefani disclosed that she was in her early 50s. Per The U.S Sun, "Barmageddon" viewers were also amazed by the ever-youthful Stefani's age. On Twitter, one fan wrote, "Gwen Stefani is 53 and Blake Shelton is 46. Why does he look 20 years older than her?" The answer, as Stefani has admitted, is love. In 2016, Stefani did "Carpool Karaoke" with James Corden. Corden told Stefani that she looked far younger than her actual age, to which Stefani replied that this was thanks to "falling in love" with Blake Shelton.
Stefani reiterated this sentiment in a 2021 interview with The Daily Telegraph. She noted, "People talking about my aging is a compliment, I guess. I'm kind of obsessed with how I'm aging, too." Stefani added, "Blake is the greatest guy. I look back over the past few years and look at pictures of when I first started kissing Blake, and I look the best I've ever looked in my life in those photos. Love must look good on me. I feel like that does show through — it really does."