GH Star Laura Wright Celebrated Mother's Day With A Momentous Family Milestone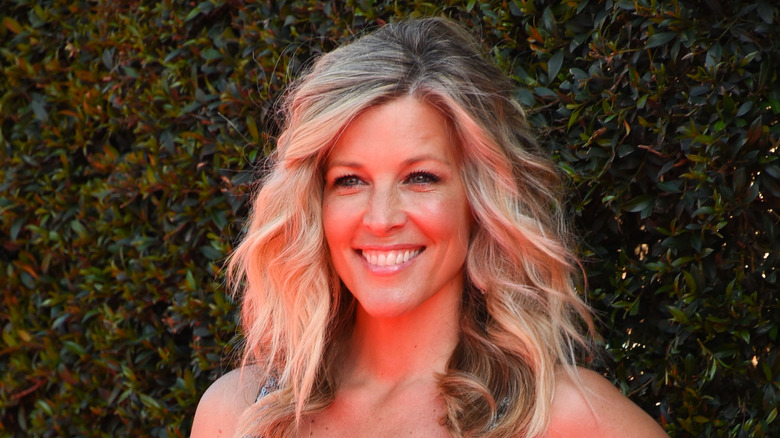 Michael Mattes/Shutterstock
"General Hospital" mainstay Carly Spencer, played by Laura Wright, may be best known for her many rocky romantic relationships, but motherhood is arguably a core theme for the character. She raised two adult children — Michael Corinthos and Josslyn Jacks — and gave birth to daughter Donna in 2019 (and had a scare when doctors told her the newborn would need emergency surgery). Carly has gone to great, sometimes illegal, lengths to maintain custody of her children. Tragically, she's also suffered great losses as a mother, including the death of her son Morgan Stone Corinthos in a car bombing and miscarrying the first child she conceived with Sonny Corinthos.
When not playing the role of Carly, Wright may not experience the intense ups and downs of her GH character, but she can still relate on the motherhood front: The actor has two children of her own with ex-husband John Wright, and if her Instagram is any indication, family is a major focal point of her life.
The soap star gave followers a glimpse at how she spent her Mother's Day weekend, and it included a milestone moment for one of her children.
Laura Wright celebrated her graduating son on Mother's Day
Laura Wright was all smiles during Mother's Day weekend in a series of photos posted to Instagram honoring her son, Michael, at his college graduation. In one post, the actor poses alongside her son, daughter Lauren, and ex-husband. Wes Ramsey, Wright's "General Hospital" co-star who she shares a real-life, offscreen love story with, was also in attendance. The proud mom celebrated her son with the caption, "Yesterday this amazing young man graduated from Colorado State University with a degree in Construction Management and will be heading to Aspen this summer on the Whiting-Turner team !!! We are so so proud of you Lj !!!!!!" In another post, Wright and her family pose for a group photo, captioned, "Best Mother's Day weekend!!!"
Wright has never held back when it comes to expressing her adoration for her kids on social media. In March, she posted a picture of her son during his toddler years, writing, "This picture makes my heart smile. I love being your mom @iloveljwright." She's also shared heartwarming posts with her daughter, including a carousel post in November honoring Lauren's birthday.
Wright's Mother's Day photos come just days after the heartbreaking death of "General Hospital" legend Jacklyn Zeman. After news broke of her co-star's passing, Wright took to Instagram, stating in a caption, "I'm struggling to wrap my head around this – I'm so grateful to have shared so many years with this beautiful woman."