The Color That's Dominating The Quiet Luxury Fashion Trend
Quiet luxury is the breakout trend that has been everywhere lately, making waves on social media by bringing a new, subtle feel to fashion. Logomania is on its way out, with big, bold logos being traded for the elegant, minimalist style that celebrities have been embracing. According to Elle, the quiet luxury fashion trend represents a toned-down style that demonstrates a sophisticated, high-quality aesthetic rather than flaunting flashy, loud logos and luxury pieces. Sophia Richie's wedding went viral on TikTok for perfectly encapsulating the essence of quiet luxury fashion — with her elegant, minimalist pieces that made a statement without the flaunting of wealth or luxury brands.
There is an emerging color that's quickly coming to define the quiet luxury trend. Butter yellow is a soft, delicate hue that's the new go-to neutral color that can be worn just like white, black, or beige to tie together any outfit.  If you're looking to add a timeless and sophisticated vibe to your outfits, butter yellow is the must-have shade to have in your wardrobe.
Butter yellow was seen stylishly worn on several coronation guests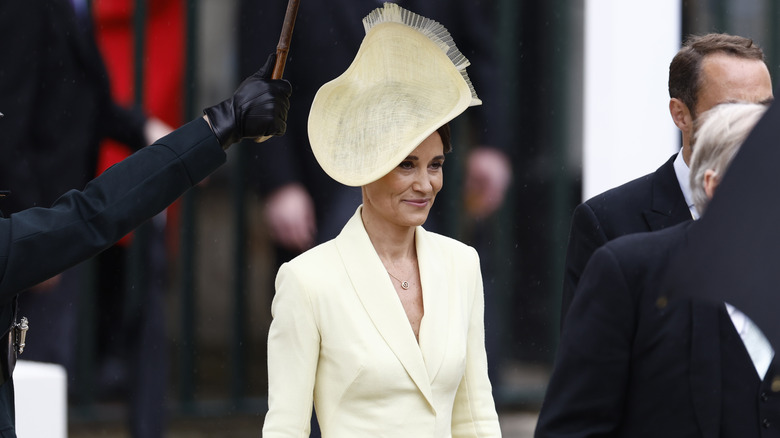 Jeff J Mitchell/Getty Images
The subtle color has grown into a staple shade to wear to luxurious and historic events to curate a timeless, classic look. Several guests at the coronation were styled in gorgeous butter yellow gowns that showed off the elegance and fashionable essence of the pastel shade. Pippa Middleton, sister of Catherine, Princess of Wales, arrived at the coronation in a soft butter yellow coat that gave her a graceful and sophisticated look. Finnegan Biden gleamed in a dazzling, timeless dress in the popular shade, while Queen Rania of Jordan wore a vibrant soft yellow dress that made a lasting impression.
The delicate shade is flattering, easy to wear, and is the perfect color to sport to a fancy event or glam evening. Although butter yellow can be worn to the most elegant events for an effortlessly lavish look, it can also be dressed for casual everyday wear while still giving off that luxurious feel.
Add a pop of butter yellow to your wardrobe
Butter yellow doesn't have to be reserved for glamorous gowns worn to significant events — it's a versatile shade that can be sported to add just the right touch of luxury and elegance to an everyday outfit. For an ultra-feminine style, rock a flowy, muted yellow dress that will brighten up your look with a splash of color.
To rock a casual, everyday fit, match a butter yellow top with jeans and an oversized white dress shirt for the ultimate cool-girl outfit that seamlessly incorporates quiet luxury into your look. For an even more minimalist and subtle approach, go for a butter yellow fashion accessory to complete your ensemble. We recommend adding a pair of strap heels, a handbag, or a hair accessory in the muted, pastel shade to your outfit to give it that elegant and colorful edge.