Elizabeth Olsen Had A Hard Time Filming This WandaVision Kissing Scene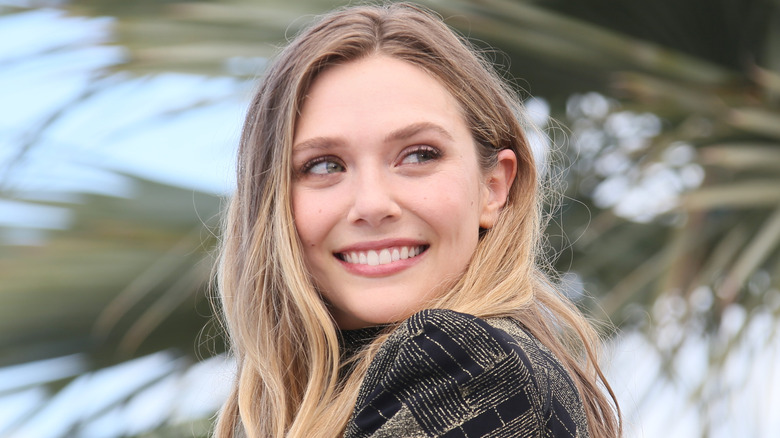 Denis Makarenko/Shutterstock
Elizabeth Olsen — unlike her sisters — was never a child actor, but that did not limit the scope of her career in the entertainment industry later in her life. She became a pivotal player in the Marvel Cinematic Universe as Wanda Maximoff, aka Scarlet Witch, amassing her own fanbase and gaining praise for her performances in MCU movies and the show "WandaVision." In fact, hordes of fans called for her to be nominated for an Emmy for her "WandaVision" role. 
However, the popularity and economic success that came with her role did not downplay the heartbreaking truth of her Marvel contract, including having to turn down other exciting opportunities. And in addition to that, she did not have an easy time filming all of her scenes alongside her other MCU castmates. When filming "WandaVision," Olsen struggled to perform a heartfelt kiss with co-star Paul Bettany, who played Vision, and here's why.
A very wet kiss made it difficult for Elizabeth Olsen to nail a final WandaVision shot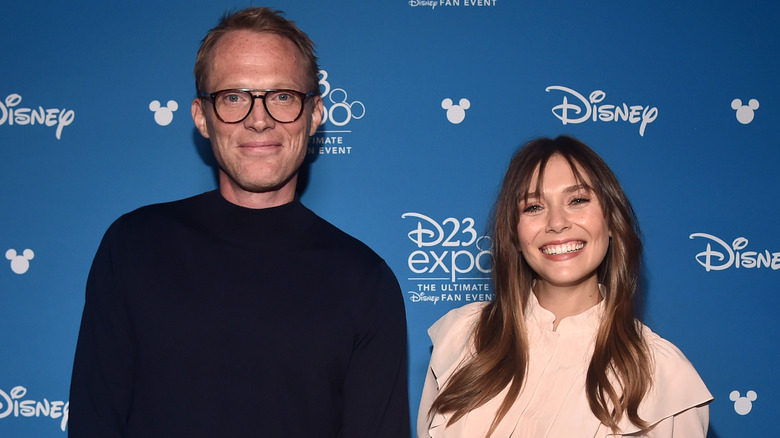 Alberto E. Rodriguez/Getty Images
For fans of "WandaVision," the kiss at the end of the final episode is one of the most memorable — and romantic — moments of the show. But getting that scene proved to be a challenge, apparently. While promoting the show, Elizabeth Olsen gave a TV interview that detailed a pretty gross account of what it took to get that final smooch into the episode. Both Olsen and co-star Paul Bettany appeared on The One Show to discuss how — somehow — snot ended up on each other's lips during their kiss.
Olsen blamed Bettany's elaborate makeup that is required to make him look like the synthezoid Vision. "Paul's dressed up ... he has purple paint, three layers of purple paint on his face. He cannot feel his skin," Olsen said (via Express UK). "He was giving me a kiss in this scene, pre-COVID. And his snot fell onto my face, and I made a joke about it, and it was the first time in our relationship that Paul was genuinely mad at me."
Yet Bettany does not fully believe Olsen's take on the events.
Paul Bettany blames Elizabeth Olsen for 'snotgate' — playfully, of course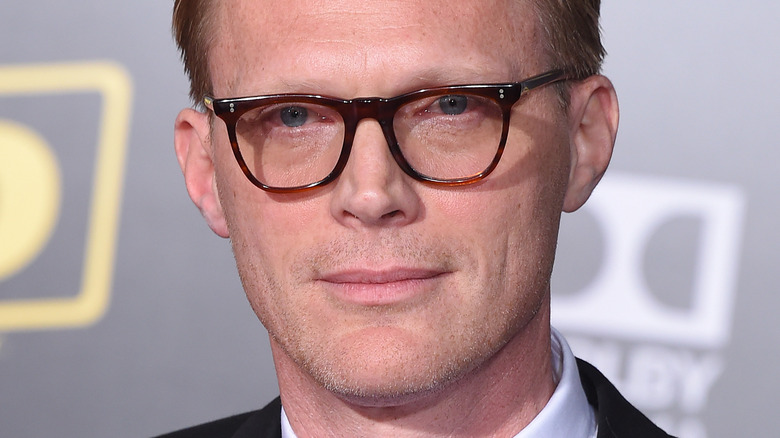 DFree/Shutterstock
Paul Bettany was not convinced that it was his character's makeup that made the "WandaVision" kiss so gross — gross enough that Olsen dubbed it "snotgate," (per FandomWire). Bettany went onto Good Morning America to promote the show and managed to say a few words about snotgate. "[It is a] gross miscarriage of justice," Bettany said. "During a kissing scene ... snot appeared on both our lips, which is of course disgusting. I was a gentleman and kinda went away and pretended it didn't happen and she, rather grumpily, pointed the finger at me."
Bettany said that it could not have been his snot since he, as a Brit, does not cry or "express emotion." With his dry British humor, he explained: "I can prove categorically it was her snot, not my snot ... If Elizabeth 'Snotter' Olsen — as I call her — were here today, she would be the first to tell you when she gets emotional in a scene her nose runs before the tears come, whereas I'm English ... and unable to express emotion." But both actors have maintained that this snotty scandal is not a serious point of contention but rather just the two of them poking fun at each other.