What We Know About The Sexual Harassment Lawsuit Against Rudy Giuliani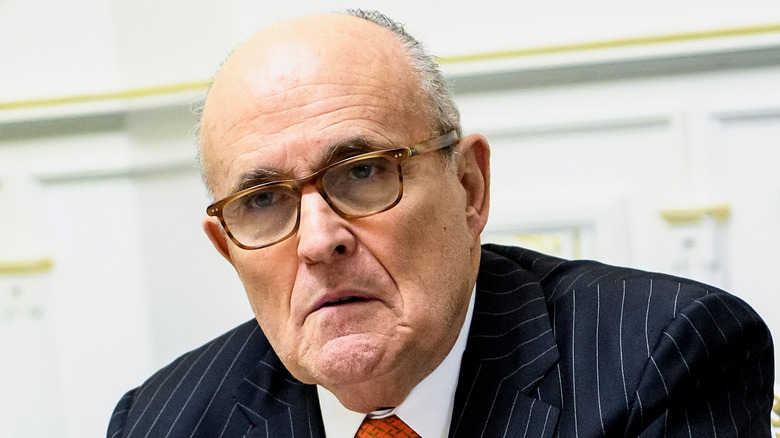 paparazzza/Shutterstock
This article includes mention of sexual harassment and assault.
A former employee of Rudy Giuliani has filed a lawsuit alleging that the former mayor of New York City and attorney for former President Donald Trump sexually harassed her, multiple outlets are reporting. Giuliani's latest moves have turned heads for more reasons than one, as he has been making television interview appearances to defend and applaud the former president.
But Giuliani is now the center of his own scandal. The attorney and politician now faces a 70-page complaint that claims he created a hostile work environment for a female business consultant. This lawsuit comes shortly after a federal jury found Trump liable for sexually abusing E. Jean Carroll. As Trump prepares to appeal his verdict, Giuliani appears to be prepping for a long legal battle himself that is alleging sensitive, discriminatory behavior on his part. Here is what Giuliani has been accused of and all we know about the party that filed this complaint.
Rudy Giuliani accused of making 'sexual demands' to former employee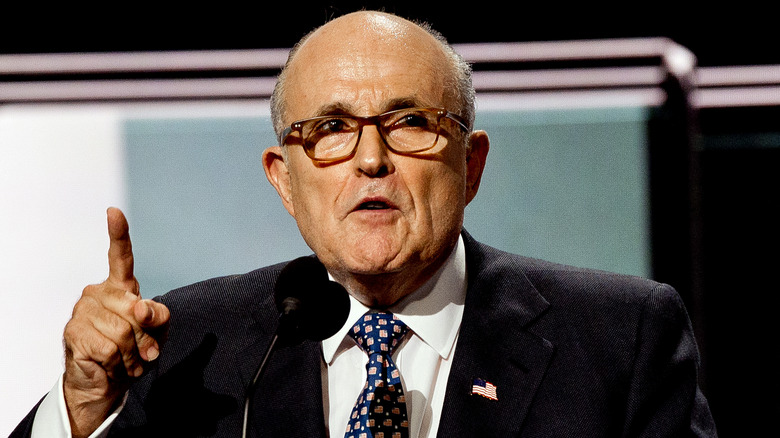 mark reinstein/Shutterstock
The lawsuit geared at former New York City Mayor and attorney for former President Donald Trump alleges that Rudy Giuliani partook in "sexual assault and harassment, wage theft, and other misconduct," (via CBS News). Noelle Dunphy, a consultant and author, alleged that Giuliani hired her to be "Director of Business Development" in 2019. According to her website, Dunphy has worked as a business development consultant with a number of politicians including Hillary Clinton, former President Bill Clinton, and former President Trump. Dunphy claims that during the course of her employment — which she said was kept a secret due to Giuliani's ongoing divorce — the political titan and lawyer was "motivated by his secret desire to pursue a sexual relationship" with her (according to USA Today).
Dunphy's lawsuit alleges that Giuliani created a hostile work environment through illicit sexual requests and demands. The Daily Mail reported that Dunphy's lawsuit includes an allegation that Giuliani forced her to perform oral sex while he was on the phone with Trump. The complaint further cites that Giuliani was often drunk and would berate Dunphy while at work. "In addition to his sexual demands, Giuliani went on alcohol-drenched rants that included sexist, racist, and antisemitic remarks, which made the work environment unbearable," the complaint says (per USA Today). "Many of these comments were recorded." Dunphy claims that, in addition to being traumatized by the experience, Giuliani never paid her for her work.
Giuliani 'unequivocally denies' lawsuit's allegations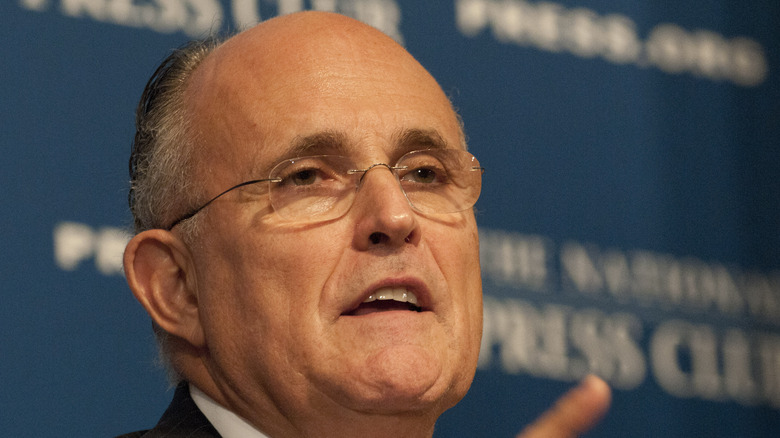 Al Teich/Shutterstock
Ted Goodman, spokesperson for Rudy Giuliani, responded to the complaint on the public figure's behalf, stating that Giuliani "unequivocally denies the allegations raised by Ms. Dunphy" (per CBS News). "Mayor Giuliani's lifetime of public service speaks for itself and he will pursue all available remedies and counterclaims," said Giuliani's spokesperson. Playing defense, Giuliani's team has claimed that Noelle Dunphy has had "prior schemes to defraud high net-worth men," according to USA Today.
Dunphy brought a summons against Giuliani in January 2023, claiming that "Giuliani threatened [Dunphy] with further retaliation if she did not stay silent, stating that his private investigators and political connections to President Trump enabled him to retaliate in other ways, express and implied." In response to the January summons, Giuliani's lawyer Robert Costello said that Dunphy "never worked for any Giuliani entity," (via The Daily Beast).
This new complaint is significantly longer than the eight-page summons Dunphy originally brought, totaling 70 pages, according to multiple outlets. With more fleshed-out claims facing him, Giuliani has not yet submitted his own documents to the court.