Here's What Will Happen To Queen Camilla If King Charles Dies First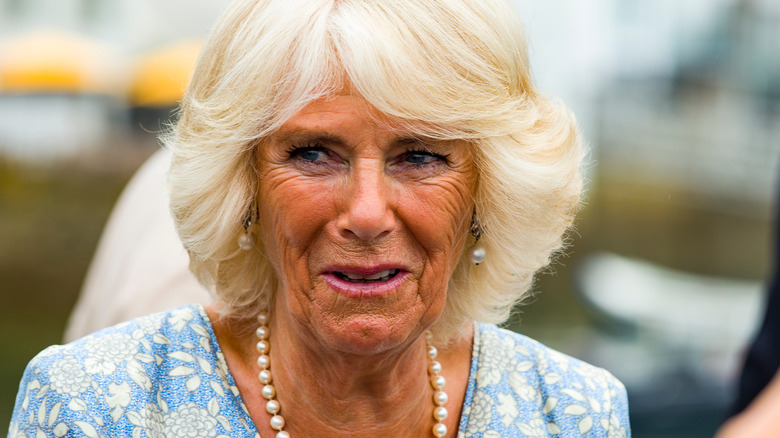 James Pearce/Shutterstock
King Charles was officially crowned king of the United Kingdom at the long-awaited coronation ceremony at Westminster Abbey on May 6, with 20 million Britons tuning in to watch the historic event take place. Prior to the anticipated event, the public questioned whether Camilla would get a new title after King Charles' coronation, but speculation was quickly cleared up on the day. Alongside King Charles, Camilla was crowned queen during the ceremony. 
Queen Camilla officially took on the title of queen consort after Queen Elizabeth II passed away in September 2022, as the queen had asked — on the day of her Platinum Jubilee, Queen Elizabeth had given Camilla her blessing to take on the royal title (via BBC News). According to Seventeen, while Charles' wife is referred to as Queen Camilla, she continues to officially hold the title of queen consort, which signifies that she does not have any of her husband's sovereignty, nor does she share any of his political or military authority.
Now, many royal fans have been left curious about what would happen to Queen Camilla's royal title and what her place would be in the monarchy if King Charles were to pass away first.
Camilla's title would get a slight change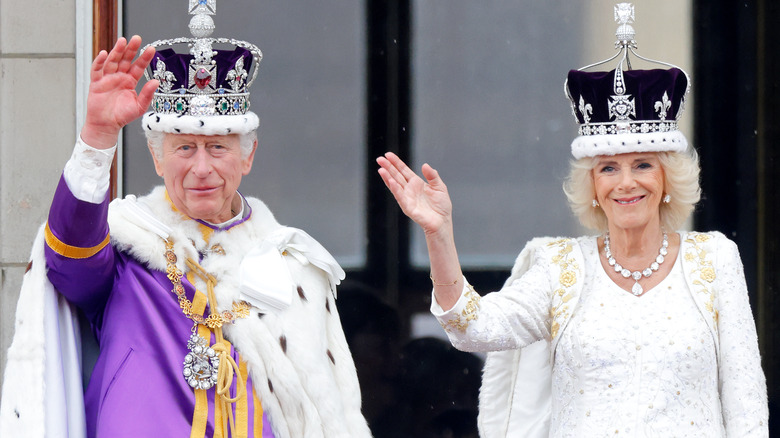 Max Mumby/Indigo/Getty Images
If King Charles were to pass away before Queen Camilla, the queen consort would still retain her position within the monarchy, but there would be a small tweak to her title, which would become Queen Dowager Camilla. Queen dowager is the official name that is given to widows of late kings (via Cosmopolitan). Queen Camilla wouldn't be able to receive the role of sovereign, as anyone who is not related to the royal family by blood isn't named in the royal line of succession and therefore cannot inherit the role.
According to Men's Health, there is a contingency plan known as Operation Menai Bridge, which was prepared shortly after Queen Elizabeth II's passing, in the event of King Charles' death. While the details of the plan are kept secret, it is believed that the plan will be similar to Operation London Bridge, the funeral plan that was prepared for Queen Elizabeth. The funeral arrangements would begin immediately, and once the news of the death is announced to the government, commonwealth leaders, and the public, there would be a period of national mourning, followed by the official funeral ceremony at King George VI Memorial Chapel in Windsor Castle.
The next royal family member in the line of succession will take Charles' place as monarch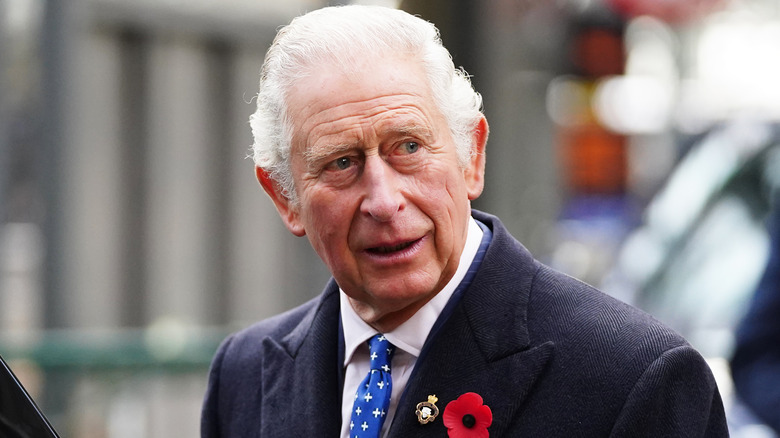 WPA Pool/Getty Images
Once King Charles passes away, his oldest son, Prince William, will inherit the throne immediately after his father's death. The Princess of Wales, Kate Middleton, will inherit the position of queen consort from Camilla and be referred to as Queen Consort Catherine (via Yahoo). When Prince William passes away, the line of succession will continue on through his children, starting with Prince George of Wales, then Princess Charlotte of Wales, and finally Prince Louis of Wales. 
If Prince William's children remained too young to carry out their royal duties at the time of William's death, his brother Prince Harry would have to step in as Regent until the next of kin, Prince George, became old enough to take on the role (via HuffPost). According to the UK Parliament, "A Regency applies if a monarch succeeds to the throne before the age of 18, or if a monarch becomes permanently incapacitated due to 'infirmity of mind or body.'"
William's younger brother Harry, the Duke of Sussex, comes next in line to the throne after Prince Louis, followed by Harry's children Prince Archie and Princess Lilibet of Sussex (via Men's Health).