Lionel Richie Says King Charles Is Low-Key Hilarious (Who Would Have Thought?)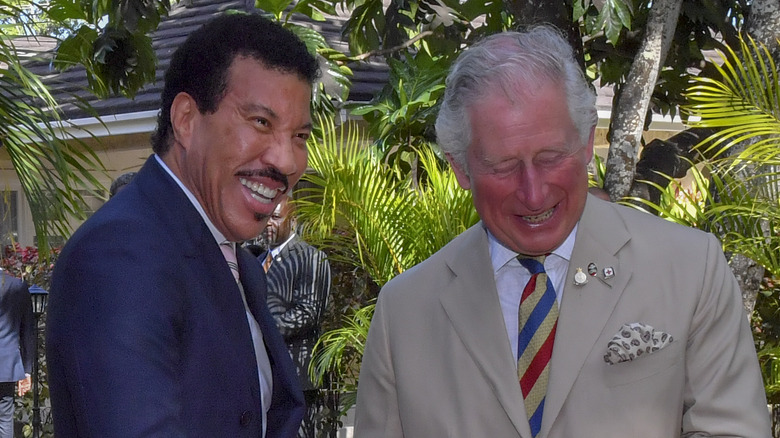 Pool/Getty Images
"American Idol" judges Lionel Richie and Katy Perry made international headlines when it was announced that they were to perform at King Charles' coronation concert. Richie, a global ambassador for Charles' charity, The Prince's Trust, later expressed his gratitude and shock to People about this once-in-a-lifetime opportunity. Richie told the publication, "I mean, you don't get in the business and say, 'You know what? I'll be at the King's coronation.' You know, that just never comes up." He added, "[It's] A, a surprise. B, what an honor. And C, the fact of all the names that are out there that he could have had for this, he called my name."
On May 7, 2023, a day after Charles' was formally crowned as monarch, Richie took the stage at Windsor Castle. He sang "Easy (Like Sunday Morning)" and "All Night Long" to a crowd of 20,000 people, which included the royal family. While the coronation concert did not appear to captivate Queen Camilla, the show did have Charles dancing and waving a Union Jack Flag in the air.
A week after his performance, Richie spoke to "Access Hollywood" and described the moment as "special" and "amazing." The soul and R&B sensation also revealed a surprising tidbit: Charles and Camilla are jokesters, which was made evident in their surprise appearance on "American Idol."
Lionel Richie dished on King Charles and Queen Camilla's American Idol cameo
Moments after performing at the coronation concert, Lionel Richie and Katy Perry went live on "American Idol." The audience was taken aback when none other than King Charles and Queen Camilla appeared on screen next to the singers. Charles was all smiles and addressed the two by jokingly saying, "I just wanted to check, how long you will be using this room for?" Richie then mentioned the coronation concert, which he called a "party." Charles quipped, "Oh, you've heard of it?" before happily saying, "I better take you to the party, but you're busy with these other things."
Richie later discussed the royal cameo to "Extra TV." He revealed that he asked Charles after the coronation if he would make an appearance on "American Idol." Charles agreed and asked Richie if Camilla could join. Richie added, "I've known the king quite a long time. He does have this amazing sense of humor that no one knows about. He's a secret comedian, I'll put that out there. For him to actually take the step and go out of the comfort zone — which was actually his comfort zone — he was hamming it up ... It's so good for the world to know."
Lionel Richie's friendship with King Charles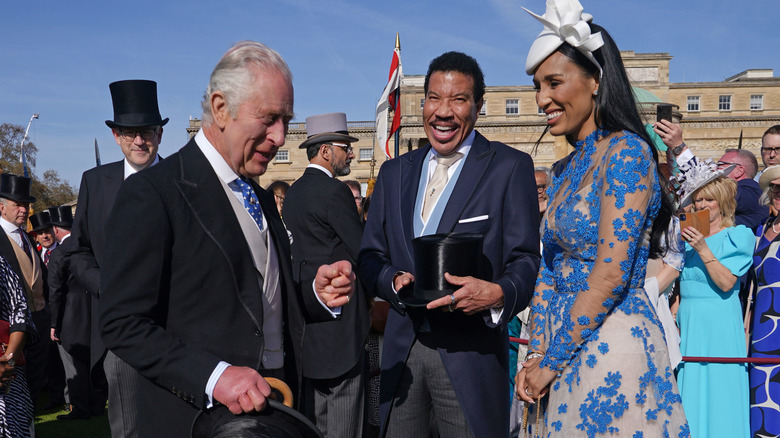 Wpa Pool/Getty Images
Lionel Richie has been acquainted with the royal family and King Charles for years. He's worked with Charles' charity, The Prince's Trust, since the 1980s. However, he did not become a global ambassador for the organization until 2019. Richie explained role in the organization to Parade, saying, "My job is to introduce King Charles to the rest of the world. He can't do that on a daily basis, so I'll gladly take that as my charity, as well. It's been my charity for a while." Moreover, Richie has been open about his admiration towards Charles and his new role as monarch.
In April 2023, he told E! Online, "I'm looking forward to see what he's going to bring to the table, and I can tell you right now, he's gonna change it up a little bit." Before his coronation concert performance, Richie attended a garden party hosted by Charles and Queen Camilla at Buckingham Palace. Although he made a royal faux pas at the event, Richie conveyed his enthusiasm about the coronation to Sky News and said, "To have the relationship that I have with King Charles, it's just great."