Who Is Joe And Jill Biden's Granddaughter, Finnegan?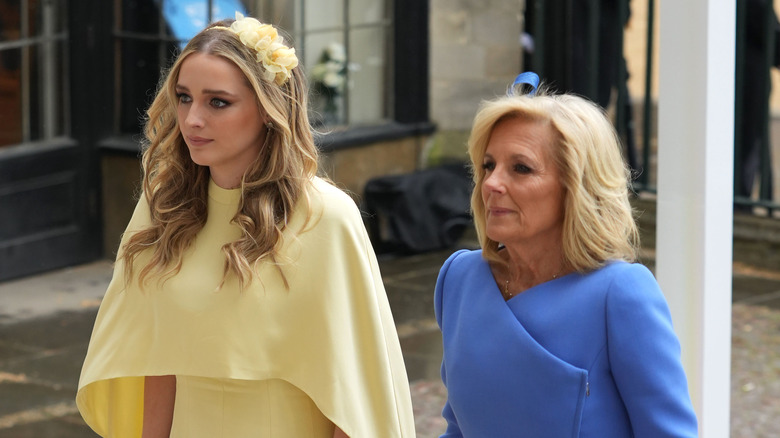 Wpa Pool/ Getty Images
Most of the world knows Joe and Jill Biden as the President and First Lady of the United States of America. However, to Finnegan Biden, they are just "Nana" and "Pop." The second daughter of Hunter Biden and Kathleen Buhle, Finnegan was born in 2000. While her grandparents receive a lot of attention for obvious reasons, Finnegan's nuclear family has also made many headlines in recent years. Her father, Hunter Biden, has been at the center of various controversies. Meanwhile, her mother and his ex-wife is set to tell all in her new book. To top it off, her sister made history with a White House wedding in 2022.
Finnegan Biden caught the press's eye at King Charles' coronation. Walking hand-in-hand with her grandmother, Jill Biden, the two dressed in yellow and blue, likely as a symbol of solidarity with Ukraine. Although Finnegan Biden hasn't been the news' primary focus, she has made several public appearances as a young adult.
Finnegan Biden is her grandparents' plus one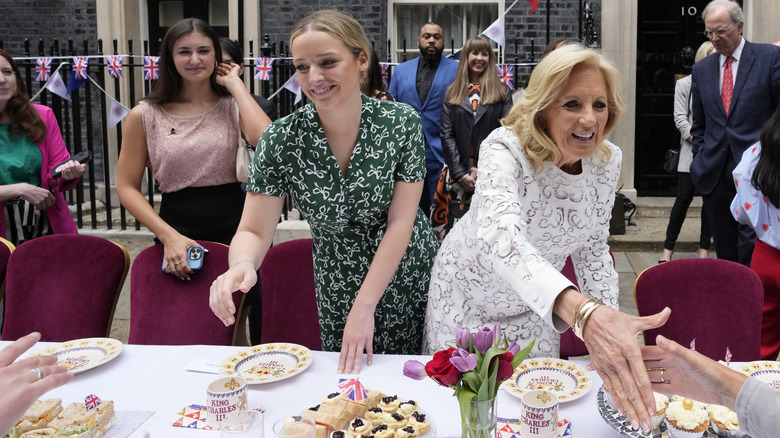 Wpa Pool/Getty Images
You can imagine that Joe Biden and Jill Biden are two of the busiest people in this country. Regardless, the presidential couple makes their grandchildren a priority of the utmost importance. In an interview with "Smartless," President Biden proudly remarked, "That's my greatest recreation — my granddaughters. They're crazy about me. Every single day I contact every one of my grandchildren." His granddaughters, including Finnegan Biden, shared that their grandfather really is this attentive in an interview with "Today."
Not only do they stay in touch via phone calls and adorable family group chats, but Finnegan has had the chance to be her grandparents' plus one invite on a number of other politically significant occasions. For instance, at just 13 years old, Finnegan Biden and her grandfather, then the vice president, went on a trip to the U.S. embassy in Beijing, China. In 2022, she joined Jill Biden on a trip to Spain for a meeting with Queen Letizia. It seems that Finnegan Biden takes particular interest in her grandparents' work.
Finnegan Biden takes after President Biden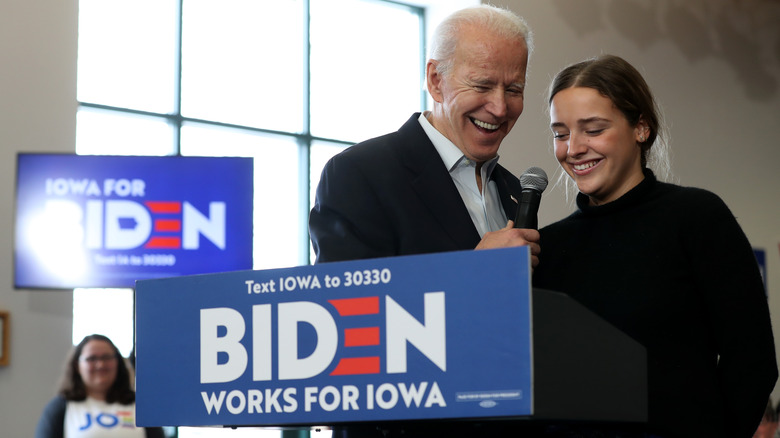 Justin Sullivan/ Getty Images
Finnegan Biden has reportedly followed in her grandfather's footsteps, taking charge within her high school and college politics. According to an article by the University Of Pennsylvania's school paper, 34th Street, Biden was at the forefront of a student movement. In 2020, while Biden was still a student at the University of Pennsylvania, she created a petition to give students more time to decide if they wanted to be graded on a pass/fail basis. Amidst the pandemic, when most kids were struggling to perform academically, the petition gathered 3,500 signatures, and the school administration granted their request.
Biden told 34th Street that she even led a successful campaign in high school to nullify their dress code. She explained, "All the girls came into school and surprised the faculty, which they hated, wearing t-shirts saying, 'I'm not the distraction.'" 
Finnegan Biden has the spirit of a politician and activist; only time will tell if she decides to take that route professionally.