Sylvester Stallone And His Family On The Family Stallone And Living In The Spotlight - Exclusive Interview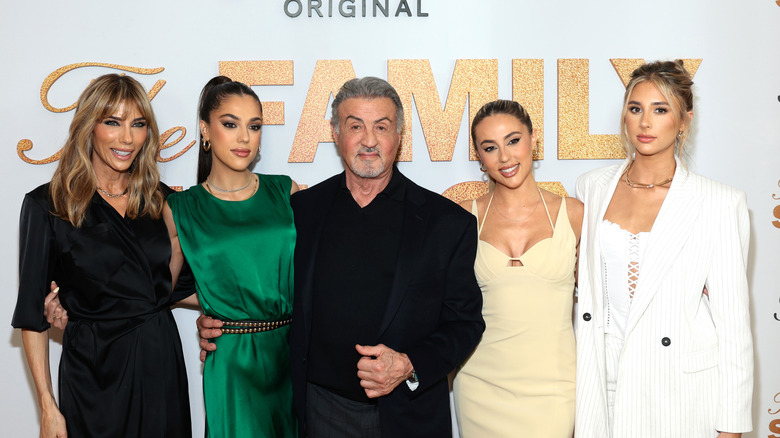 Dimitrios Kambouris/Getty Images
It's easy to wistfully think about the glitz and glamor of being the spouse or child of an iconic actor, but getting thrust into the spotlight isn't always easy. Sylvester Stallone has enjoyed an iconic career with films like "Rocky," "Creed," "Rambo," and the recent series "Tulsa King." He's even done more lighthearted films like "Spy Kids 3: Game Over" and the second and third installments of "Guardians of the Galaxy." But through it all, the most challenging aspect of filming for both him and his family has always been the long periods away from his wife — Jennifer Flavin Stallone — and their daughters.
So he decided to bring the sets to them. The family is getting into the reality TV game (with more than just "The Bachelor" marathons) with their new Paramount+ series "The Family Stallone." After a long stretch of filming "Tulsa King," the Stallone patriarch wanted some much-needed bonding with his family. And given that Stallone's fans are always ready to dive deep into his projects, a reality show makes perfect sense to give fans a glimpse of his real world instead of the fictional ones we often see him in.
The List exclusively spoke to Sylvester Stallone, Jennifer Flavin Stallone, Sophia Stallone, Sistine Stallone, and Scarlet Stallone about diving into "The Family Stallone" and the reality TV that inspired it. Sylvester touched on the difficulties of filming away from his family, how he dislikes introducing them to celebrities, and their tradition of watching "The Bachelor" together. His wife and daughters also gave insight on growing up on sets and which celebs they were starstruck by.
Being an actor isn't all fun and games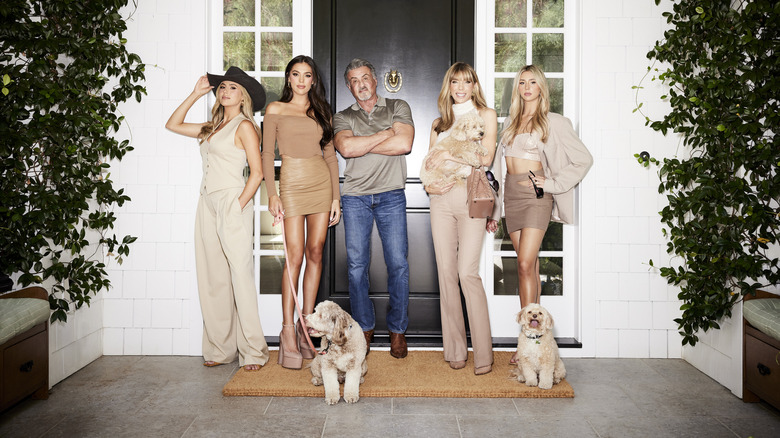 Paramount+
Sylvester, the show touches on you filming "Tulsa King" and being away from your family. What were some of the hardest sets of being away from your family? Do any of you have fun moments from visiting him on any sets?
Sylvester Stallone: It is really hard because as you get older, you realize time is very precious, and you get depressed. You sit there ... I don't think I went out one time, not once, and it's a very, very long shoot. If I had to do it all over again, I'd like to shoot "Tulsa King" at our house in the living room, and no one ever leaves. But it [takes] a while when you get home to get reacquainted again. It changes the whole dynamic and makes you really grateful.
Sophia Stallone: When we would visit him on set, it would be a giant playground for us.
Sylvester: They were raised on set.
Sistine Stallone: One of the best experiences was probably "Expendables" because there were so many explosions.
Sylvester: Oh my God.
Sophia: It was amazing.
Scarlet Stallone: I was going to say "Spy Kids 3-D: Game Over." We got all the gadgets from that.
Sylvester: It's crazy. This is how they were raised.
Jennifer Flavin Stallone: Also, you remember one time we got you a go-kart?
Sylvester: A go-kart, and you're running it after the crew.
Jennifer: They used to ride ... [and] run around.
Sylvester: Then she shaved her head.
Sistine: We'd have fun with the bodyguards on set.
Jennifer: [During] "Rambo" in Thailand, we got to take the girls ... on an elephant.
Sophia: And you shaved our heads.
Sylvester: You shaved their heads.
Sophia: You shaved our heads.
Jennifer: We took all their hair off. It was very hot.
Sylvester: They wanted to go native.
Meeting a litany of Sylvester Stallone's co-stars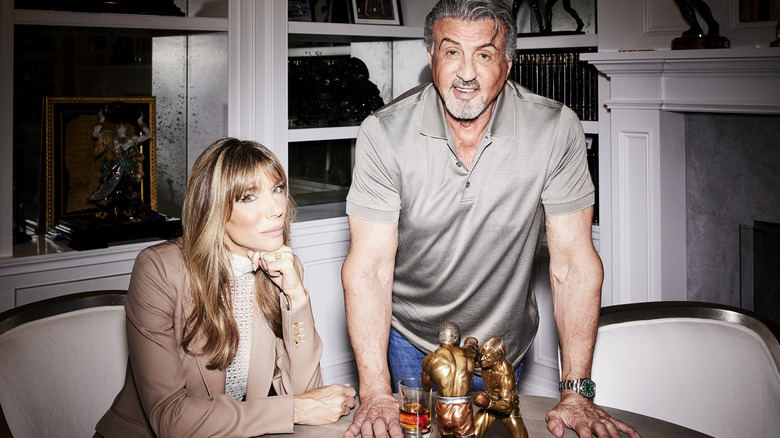 Paramount+
The show has moments between Sylvester and some iconic actors like Al Pacino. Has there ever been a moment where any of you were starstruck by someone that he introduced you to?
Sophia: Absolutely.
Jennifer: I was struck by Jimmy Stewart. I met him probably 30 years ago.
Sylvester: A long time.
Sophia: I was starstruck by Guy Fieri.
Sylvester: What?
Scarlet: That was so cool.
Sylvester: That's great, but ...
Sophia: Listen, we come downstairs to our kitchen [at] 10 in the morning, and we see Guy Fieri cleaning.
Sylvester: No, Guy's a great guy, but I thought you were going to talk about a movie actor. Guy's going to be really flattered.
Sophia: He's ... my God. You don't understand. All right, that was me.
Sylvester: He'll be very happy when he hears this.
Jennifer: Who else? You guys liked a couple of the cuties.
Scarlet: You're going to throw me under the bus with Liam Hemsworth.
Sylvester: That was much bigger —
Scarlet: That's when I was younger, I promise. Oh, God.
Jennifer: And today.
Scarlet: Well, you can't really blame me. He's cute.
Sylvester: What about our new guy on "Tulsa King"?
Scarlet: Garrett Hedlund, right?
Sylvester: Garrett Hedlund.
Sophia: Don't sell us out.
Jennifer: You're not supposed to tell us about Garrett.
Sylvester: Garrett Hedlund is a new one.
Was there anyone you were excited to introduce them to?
Sylvester: No one. I'm trying to keep everyone away, actually.
Sistine: He's never introduced us.
Sylvester: Put bags on their heads like, "Stay away."
Accelerating communication in reality TV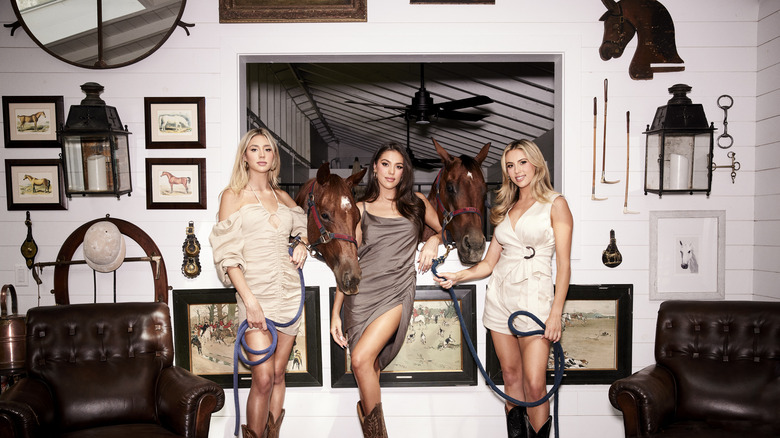 Paramount+
You guys mentioned that you all watch "The Bachelor" together.
Scarlet: Oh, yeah.
Sylvester: A lot.
Did that show or any other reality show inform your show?
Jennifer: All of them.
Sylvester: If you want to have a bonding moment with your family and they're women, that's part of their curriculum ... You watch them all. I can name them all.
Sistine: There's a bunch of snacks on the couch ...
You [discuss] a lot in these kinds of shows that you might not share in real life. Have any of these revelations affected how you interact with each other or [altered your] communication?
Sistine: No, everything's pretty on point from off-screen to on-screen. We're very loud, and we're [a] very opinionated family with each other. We're hard on each other, but we love hard, and it excels ...
Sylvester: It excels. You're right. We do love hard and all that, but the reality show accelerates everything. You realize the camera's on, so you can't help [it]. It's like a racehorse at the gate. You're going to speak [and] to think a little faster. You're going to react a little bit quicker.
Scarlet: 100%.
Sylvester: Because you feel obligated to.
The first two episodes of "The Family Stallone" are now streaming on Paramount+.
This interview has been edited for clarity.