The Exact Lip Color Zoe Saldana Wore As Gamora In Guardians Of The Galaxy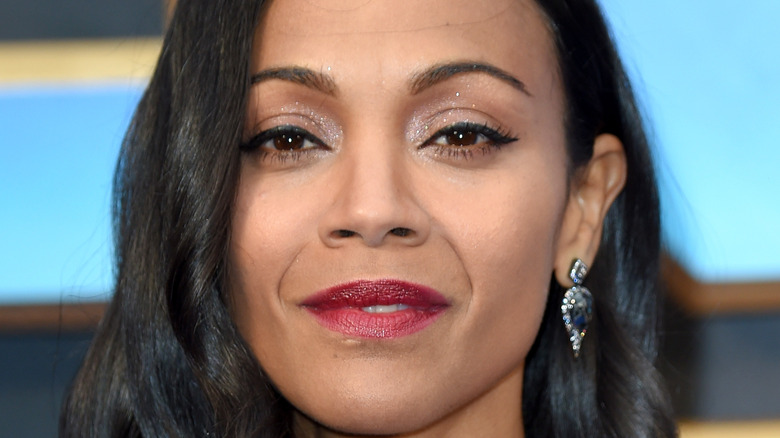 Anthony Harvey/Getty Images
There are tons of iconic lipstick out there. From Audrey Hepburn's gorgeous "Breakfast At Tiffany's" pink lip to the iconic red lip that Emma Stone wears in "Cruella," there are loads of glamorous Hollywood hues to choose from. But if you really want to amp up your makeup look, it might be time for an unconventional color. Enter the quirky green lipstick that Zoe Saldana wears as Gamora in "Guardians of the Galaxy."
TikTok user Brittany Cale, who has made a name for herself by finding iconic on-screen lipsticks, found the exact color that Saldana wears in the movie. While it's not the most wearable shade, it's fun to step out of your typical color zone every now and then.
Before we lay down the exact shade of green on you, you'll be happy to know that this on-screen lipstick doesn't have a hefty price tag. It can be tough to justify spending money on a lipstick that you won't wear all that often, but this gorgeous green is basically drugstore priced. Here's everything you need to know about the stunning shade, so you can add a new hue to your makeup bag.
The unconventional lipstick is from the brand Kryolan
As anyone who's seen "Guardians of the Galaxy" knows, Gamora is green. Like, fully green, including her lips. The exact lipstick that Zoe Saldana wears on-screen as the character is Kryolan's UV Lipstick in UV Green, according to Brittany Cale's TikTok. This is not your average lipstick, though. 
According to Refinery 29, this underrated lipstick is seriously long-lasting and is designed to be extremely bright and true to color under both natural and artificial lighting. It makes perfect sense that they would choose a standout lipstick for the movie, but this is perfect for real-life looks as well.
Of course, this isn't your typical throw-on-and-go lipstick, but it still deserves a spot in your makeup bag. Ready for the best part? Kryolan's UV Lipstick is only $10. That means you can easily add this to your collection without breaking the bank. We're talking about a high-end, long-lasting product at the price of a drugstore brand. You really can't beat that.
Kim Kardashian is a fan of the brand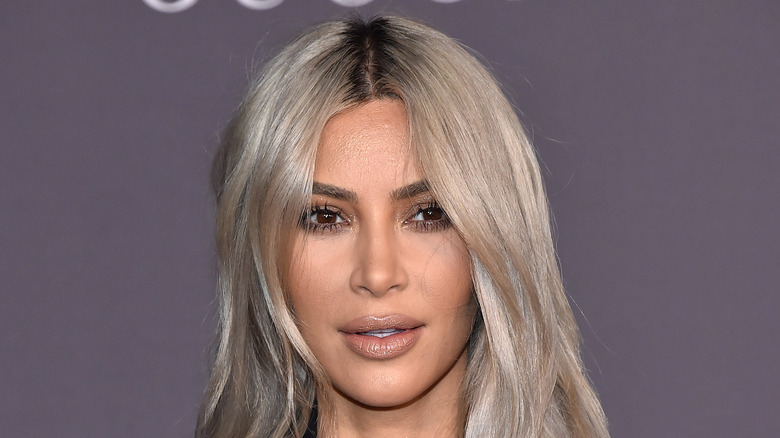 DFree/Shutterstock
When Refinery 29 says that Kryolan is an underrated beauty brand, the publication really means it. While the brand has incredible products for on-screen characters, it offers a lot of wearable products as well. The brand has everything from foundation and contour sticks to blushes and bronzers.
In fact, there are a ton of celebrity favorites hiding on the brand's website. According to Cosmopolitan, the one and only Kim Kardashian uses Kryolan's Dermacolor Camouflage Creme foundation palette to fill in the lines around her mouth. You can snag the palette for just $35 if you're looking to be camera-ready at all times as well.
The Rockettes even wear the brand's High Gloss in the color Vamp for the holiday season, according to Glamour. If it can last those women through an entire performance, then it can definitely last you through a night out.
Whether you're looking to amp up the color in your makeup bag or just stock up on some makeup that truly lasts, you really can't go wrong with this brand. You can thank Gamora for the recommendation!