General Hospital's Haley Pullos Arrested On DUI Charges After Scary Accident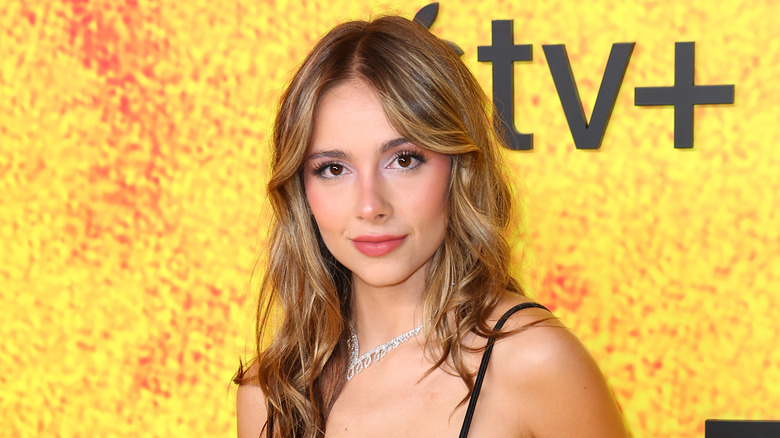 Leon Bennett/Getty Images
As a team of heroes averted a world catastrophe, and the fate of Willow Tait (Katelyn Macmullen) is still in question, several "General Hospital" characters have had to sit on the sidelines for a while. Now that things seem to be getting back to what passes for normal in Port Charles, some of the other stories can be brought to the forefront again. T.J. Ashford (Tequan Richmond) and Molly Lansing-Davis (Haley Pullos) have been together for several years, and instead of a traditional wedding, they opted to enter into a domestic partnership via a commitment ceremony in February of 2021.
Molly is the daughter of two legal eagles: her mother is ex-attorney Alexis Davis (Nancy Lee Grahn), and her father is lawyer Ric Lansing (Rick Hearst). Both parents had also formerly been the District Attorney, and Molly has followed in their footsteps, becoming the current assistant district attorney. While T.J.'s mother, Jordan Ashford (Tanisha Harper), is the police commissioner, his path took him down a different road, and he became a doctor, working at General Hospital. The stability of reliable careers had the two seriously discussing having children, although Molly's recent endometriosis diagnosis may make things difficult for the couple.
But as Molly and T.J. face what's certain to be an uphill battle, a real-world incident may have an impact on the characters' storyline.
Haley Pullos caused a major freeway accident
Freeway Rescue - 134/Orange Grove. Early this morning PFD responded to a traffic collision requiring rescue of occupants from both vehicles. Cause is unknown but always a reminder to stay within the speed limit, avoid drinking and stay off your phone. pic.twitter.com/mkuM7ZFfJ3

— Pasadena Fire Dept. (@PasadenaFD) April 29, 2023
It was recently reported that "General Hospital" has temporarily recast Molly Lansing-Davis with actress Holiday Mia Kriegal, as her portrayer Haley Pullos was recovering from a car accident. As it turns out, the incident was more than a simple fender bender. TMZ spoke to the Pasadena police and learned that after fleeing a hit-and-run scene, Pullos' car later veered back and forth and jumped over a freeway divider, landing in the reverse traffic lane. She crashed head-on into another vehicle traveling at 60 mph, and rescue workers had to free Pullos, who was trapped in her smashed car. TMZ further reported that when she was being examined to see if she was hurt, Pullos yelled, "This is a $400 f***ing shirt!" after hitting the firefighter.
Tiny tequila bottles and marijuana edibles were found in her car, and at the hospital, it was determined that she was intoxicated, and she was arrested for felony DUI. A usually calm and collected Pullos got violent with the medical staff and was ultimately given a sedative. So far, reports indicate that the driver she collided with was badly wounded but is still alive.
As a warning for citizens not to drive under the influence, Pasadena firefighters have posted horrific pictures from the scene, and our fingers are crossed that everyone recovers from the nightmare.