Florals For Summer 2023 Are Bigger And Better Than Ever Before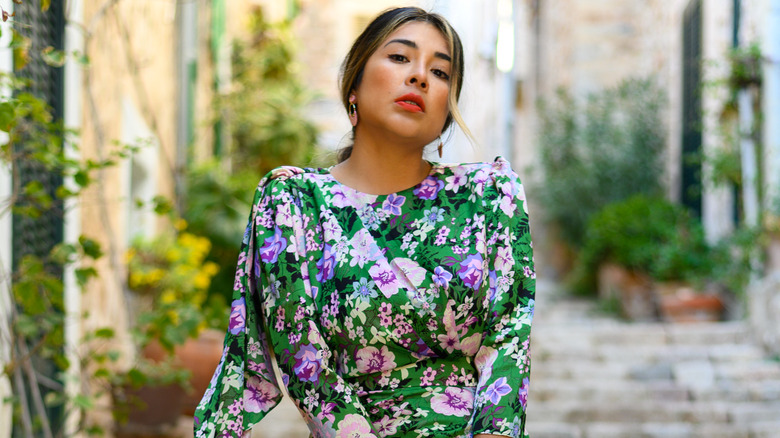 Laura M/Getty Images
We all love pinstripes, plaid, animal prints, and even geometric shapes, but floral patterns are not to be overlooked — especially in the summer. Once the weather gets warm, the blossoms start to bloom. Flowers were not missed in Magda Butrym's 2023 spring collection, Brandon Maxwell's spring/summer 2023 runway, Valentino's spring/summer collection — the list goes on. And who could forget Rihanna's custom floral Valentino dress at the 2023 Met Gala? It had 30 camellias, 500 petals, and 25 leaves. Stunning.
Flower nail art is a very en vogue manicure style, and why wouldn't it be? It is a design that is delicate and feminine yet classic and regal. Plus, with more than 400,000 plant species to choose from, there are enough floral designs to last a lifetime.
We aren't talking about your typical daisy crowns. Rather, this is all about large, show-stopping petal prints and designs. The styles range from hyper-realistic flowers that will make you feel like Mother Nature to cartoon-like blossoms that are whimsical and chic. It's an aesthetic that is getting a lot of buzz, and we don't mean from bees.
Go for big blossoms
The current floral print trend is all about big blooms. You should be able to spot the roses on a dress from a block away; no need to break out the magnifying glass to figure out if you're looking at polka dots or teeny-tiny carnations. To make sure the garden scene is the focal point of your outfit, pair your floral blouse, skirt, or jumper with solid colors or simple prints so you don't overpower the petals.
Don't be afraid to go for bold colors; think purple blossoms on a green background or blue petals with an orange backdrop. And if you really want to go for it, don't shy away from vibrant hues or neons over soft pastels and dark shades. If neutrals are more your thing, you can still embrace the trend with something like Faithfull the Brand's black and white floral pants (via Net-A-Porter).
Big and bright captures this blooming trend perfectly — and it works for clothes and accessories alike.
Bold flower accessories are so fresh
Flower-themed belts, bags, and jewelry are all fresh ways to incorporate floral accents into your look. If you want something that's more on the elegant side, try Olive & Piper's drop pearl gardenia earrings, which could work for a formal dinner or a wedding. As for more casual pieces, there's Anthropologie's seed bead flower necklace, which is perfect for everyday wear.
Whether you're aiming for a casual or formal aesthetic, let your flowers take center stage and be statement pieces. Start with the floral design and pick articles that pair well with it. Go for complementary colors if you want to optimize cohesion, or throw on contrasting hues that will let your floral accents stand out the most.
Floral beauty looks count as accessories, too. Garden-inspired nail art is simple and sophisticated, but don't be afraid to bring the bloom when you are putting on your makeup. On TikTok, "flower makeup looks" have racked up over 145 million views, thanks to the dazzling fairy-like designs and delicate daisy graphics. Whatever you choose to do, just remember to have fun with the flower power.