The Sitcom That Starred Talk Show Darling Kelly Ripa
Theo Wargo/Getty Images
Before Kelly Ripa became the queen of morning television on "Live with Kelly and Mark," she was in the acting game for quite a while. Ripa's entertainment career began in a high school production of "The Ugly Duckling." From there, it was only a short time before her star really started to take off. 
Of course, soap opera fans know her as Hayley Vaughn, her character on "All My Children." But unlike some television and movie stars, Ripa doesn't hail from a famed Hollywood heritage. Instead, she's the first in her family to take on acting, and her hard work and determination has certainly paid off: Ripa's initial foray into the soap opera industry yielded nominations for a 1993 Daytime Emmy Award and a 1993 Soap Opera Award. In addition to being a gig where she could flex her talents as an actor, "All My Children" also set the stage for real life couple Kelly Ripa and Mark Consuelos when he joined the show in 1995.
Along the way, as the actor honed her craft on the popular soap, she began to branch out. By 2001, she was named Regis Philbin's cohost on "Live with Regis and Kelly," and two years later, she landed a lead role on "Hope and Faith." The lighthearted sitcom brought Ripa's comedic abilities front and center, paving the way for her future role as one of America's most loved morning talk shows. 
Kelly Ripa was surrounded by stars on Hope & Faith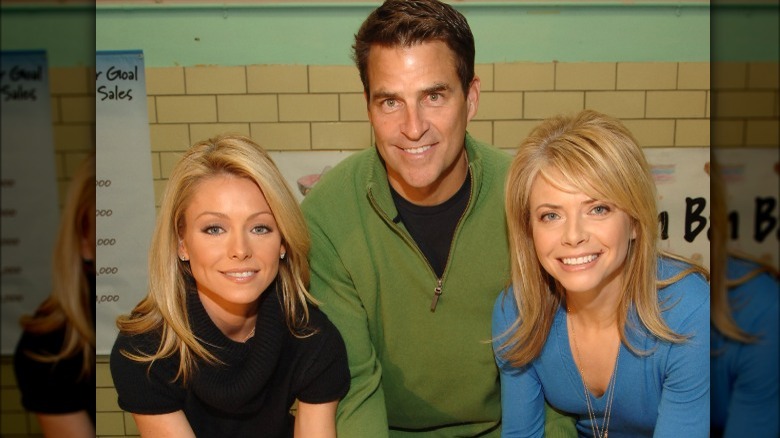 Theo Wargo/Getty Images
From 2003 to 2006, Kelly Ripa was on the sitcom "Hope & Faith." Series creator Joanna Johnson was actually "The Bold and the Beautiful" leading lady Caroline Spencer Forrester — and later her twin, Karen Spencer. And in another soap-like plot twist, the premise of "Hope & Faith" seems to pull from Spencer's own life experience. Caroline Spencer Forrester, as fans surely recall, was killed off in 1990, and the actor found herself starting anew — which is basically what happens in "Hope & Faith." 
On "Hope and Faith,"  Kelly Ripa plays Faith, a famous soap opera actor whose life is upended after her character dies. While trying to pick up the pieces, Faith moves in with her sister, Hope (Faith Ford). In a classic fish out of water setup, the soap opera star must adjust to family life in the 'burbs. Naturally, sitcom hijinks ensue. Before "Hope & Faith," Faith Ford rose to fame as Corky in the late '80s/early '90s series "Murphy Brown." The show's cast also features TV veteran Ted McGinley, Johnny Galecki of "The Big Bang Theory Fame," and a young sunny-brunette version of the one and only Megan Fox. Talk about a roster of heavyweights.
Hope & Faith gave Kelly Ripa a chance to showcase her comedic side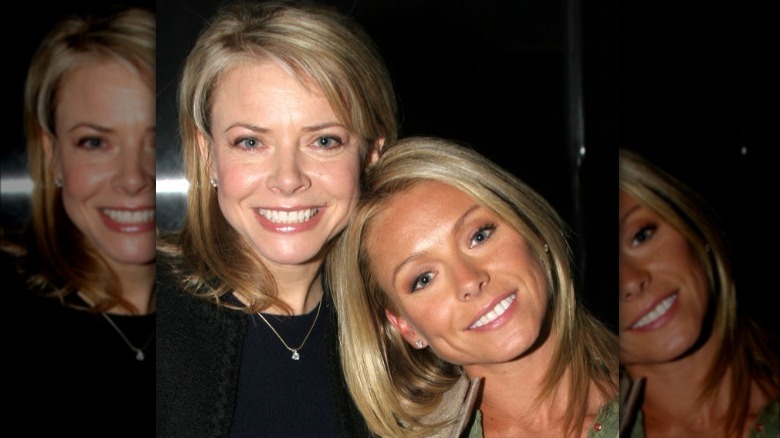 Bruce Glikas/Getty Images
Although Kelly Ripa spent two decades on the soap opera "All My Children," her work on Hope & Faith put her comedy skills front and center. Not only was the script designed for lighthearted laughs, but both Ripa and Faith Ford got a chance to show off their physical comedy instincts. The two were often seen getting into sisterly spats that might involve pillow fights or slinging cake batter at one another and generally leaning heavily on both stars' natural wit. 
When Ripa landed the gig, it sure sounded like she was more than ready to have some fun with a scripted series for a change. "I was on a soap opera for 13 years. I had to do some of the most depressing, devastating things," she told the South Florida Sun Sentinel at the time. "I wanted to play somebody that I could sort of mock without belittling the genre of daytime." In classic Kelly Ripa style, she sure made good on that promise.