Serena Williams Used Her First Paycheck In A Seriously Smart Way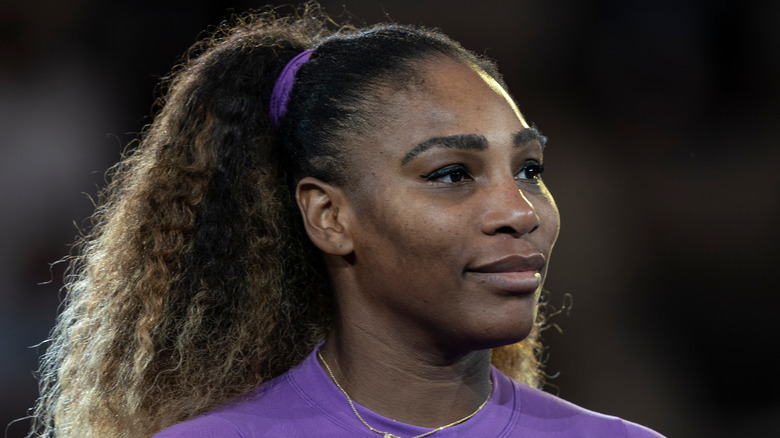 Lev Radin/Shutterstock
Serena Williams made her first forays into professional tennis when she was still a teenager. She got her first Grand Slam win in singles in 1999 when she was 17 years old. Over the next two decades, she added 22 more Grand Slam trophies and an Olympic gold medal. Williams is now among the highest-paid athletes in the world, male or female. This is not only due to the prize money from all of those Grand Slams, but also due to partnerships with brands like Gatorade, Nike, Ubrelvy, Gucci, and more. 
As the 2021 film "King Richard" shows, her humble early life starkly contrasts with her $1.25 million Audemars Piguet watch from the 2023 Met Gala (she is a brand ambassador for Audemars Piguet). She and her six siblings shared a two-bedroom home in Compton, California. Tennis was initially a way for the family to achieve financial success rather than sports notoriety.
Serena Williams began earning money from tennis as a teen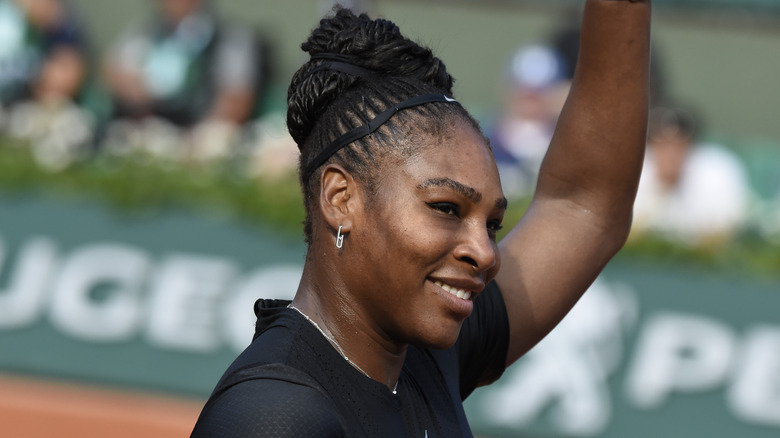 Dana Gardner/Shutterstock
Richard Williams coached his daughters Venus and Serena Williams to become tennis stars because he knew that professional tennis could lead to hefty paychecks. He was correct; these paychecks started arriving when they were both teenagers. This meant taking on financial responsibility early in life. "Since I was a teenager, I've had to make every financial decision in my life. I've had to learn how to make good ones and how to make bad ones, to make better ones," Serena Williams stated on the "Kneading Dough" podcast.
Despite receiving massive sums of money from her success in tennis at a young age, Williams made a wise beyond her years' decision when she received her first seven-figure paycheck. "I never touched [the money] — I just put it in the bank," she told the podcast. Williams's deposit seemingly shocked the bankers more than herself. "I remember I went through the drive-thru to deposit my check, and then they were like, I think you need to come in for this,' and so I ended up going inside."
Serena Williams has ventured into business and philanthropy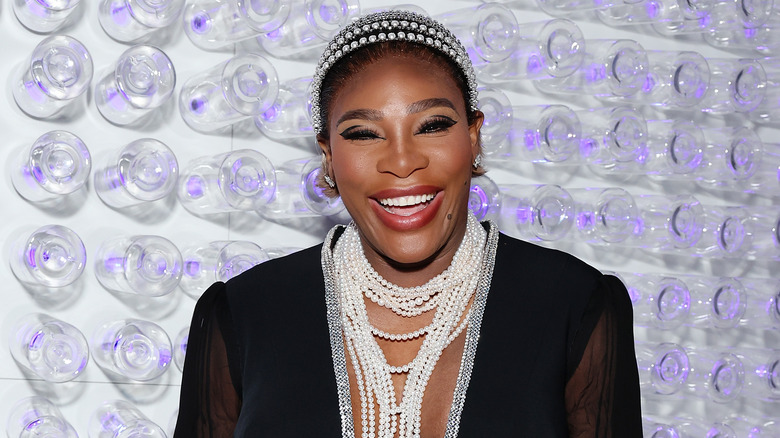 Cindy Ord/mg23/Getty Images
As of 2022, Serena Williams has earned close to $95 million in prize money. She has made more smart moves with this money by investing it with Serena Ventures, a venture capital fund that she created. Serena Ventures has thus far invested in companies focused on everything from digital renter's insurance to personal finance platforms to women's in-home health screenings. 
Of course over the years, Williams has not only used her wealth for business endeavors or simply stuck it all in a bank account. As with many of the world's highest paid athletes, Williams uses her money to give back to local communities. She founded the Yetunde Price Resource Center along with her family. The Compton-based organization helps families who have experienced violence and trauma by offering support and healing programs. Williams approaches her personal finances, business, and philanthropic ventures similarly to how she approached her tennis career: with discipline. "Giving back to your community, being a part of philanthropy, supporting girls, supporting women, it takes a lot of discipline," per ESPN. She credits this discipline to her parents.