Pink And Red Is The Ultimate Wardrobe Combination If You Know How To Pull It Off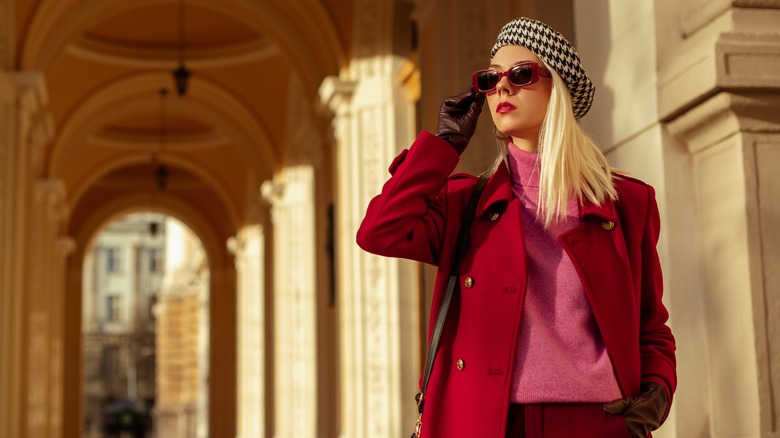 Victoria Chudinova/Shutterstock
There may come a time in one's life when they're sorting through their closet, picking up each impulse-bought item, and thinking to themselves, "How does a trend come to be?" It's there when they have an epiphany. "Why do fashion rules exist?"
The debate on fashion rules is long drawn out, specifically pertaining to certain color pairings and if they work well together (or famously if one should wear white after labor day). It's all a mixed bag of opinions. Some say yes, there are sound rules to follow, while others say no, you need to express yourself as creatively as you want (which, yes, includes wearing white at any time throughout the year). 
One fashion rule more and more individuals are breaking is styling pink and red together. Stamped as a fashion no-go, wearing red and pink color combinations has been thought to have been reserved only for the month of February. Luckily, we're seeing less and less of that rule being enforced amidst designer runways. In fact, pink and red are trending as a power couple in the fashion world. The good news is that there are fundamental ways to get the most out of your outfits if you find yourself owning, or loving a large sum of pink and red clothing items. So how exactly do you style pinks and reds together without immolating the front of a Valentine's Day card?
Know the occassion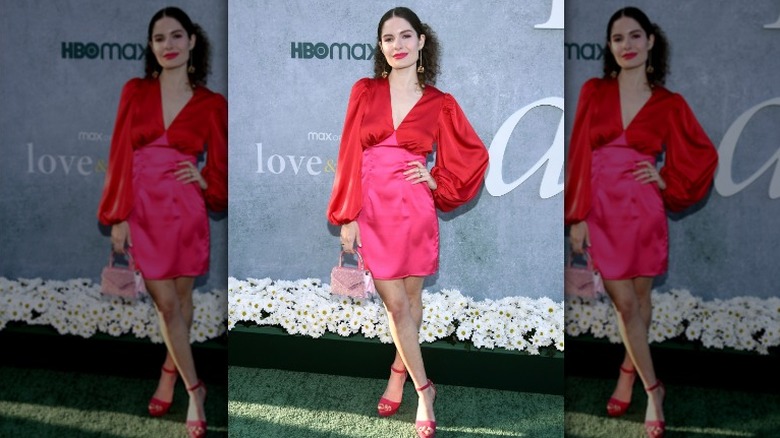 Jon Kopaloff/Getty Images
In order to make the two colors blend in, you'll want to specify where and when you will be wearing this combo together. Pinpointing the time of day, season, and occasion will help determine exactly what pieces will be the center focus of your outfit. For instance, if you're going out to lunch with a friend, and it's a cold, but sunny, spring day, you might want to opt for a red skirt and pink moto jacket. Here, because the jacket will be the center focus, you'll want to compliment the piece with smaller, red accessories, so it doesn't overpower the look. Specific occasions that can help you specify and narrow down accessories are days in the classroom/on campus, a formal dinner date, or of course, a business-casual afternoon at work.
To give an example, if you go out to a nice restaurant, you might want to pair a deep, red dress with a pair of casual pink, strapped heels, in order to match the elegant atmosphere. Similarly, you can reuse the same dress if attending brunch. Yet, instead of wearing those pink heels, choose a subtle, yet equally complimenting pair of baby pink sunglasses. Using accessories to create different looks out of one staple piece is a great way to get the most out of your closet's vivacious colors, as well as reveal the truth about building a capsule wardrobe. 
Try different varieties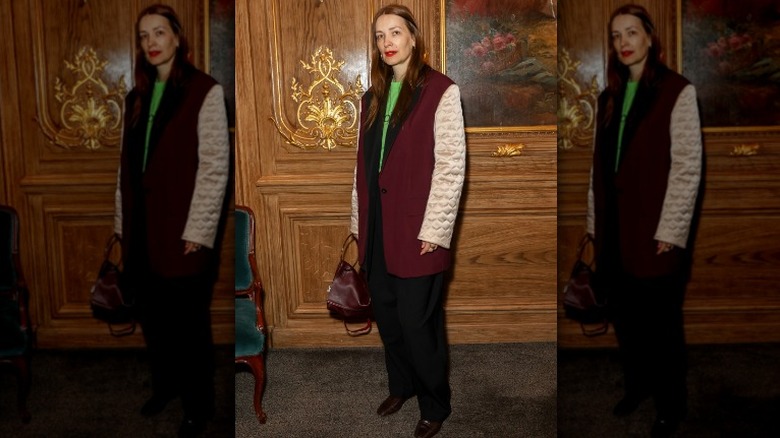 Victoria Chudinova/Shutterstock
The phrase "go big or go home" applies to many facets of fashion, but colors themselves seem to be commonly associated with the phrase, often showcasing bold, bright colors on the runway. However, despite the popular mantra, muted pastels can be just as effective as their neon counterparts, and also might be easier to transition into your wardrobe if you're looking to dip your ties into the pink and red outfit matrimony. 
For instance, pairing blush pinks with deep reds like maroon reads differently than traditionally brighter hues, because they work best for atmospheres like the office or a business meeting. This softer approach verges on neutral, yet remains a bold enough contrast not to be lumped with other neutral shades like cream, navy, grey, or camel. Because the contrast of soft and dark can be an easy transition for your wardrobe, you'll also be able to reuse these colors day-to-day, and also repeat outfits on a more frequent basis.
Add a dash of neutral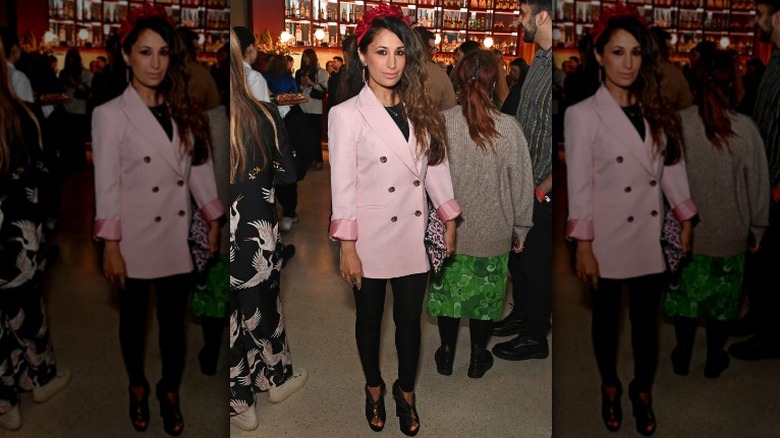 David M. Benett/Getty Images
Speaking of neutrals, it's good to note that you don't have to use only pink and red pieces when incorporating your look. It's good to break up the two colors by adding neutral basics like blacks or beiges. Doing so will elevate the softer shades and help them to shine and become the central focus of your outfit. Of course, neutrals don't have to be traditional either. You can use other shades that are neutral-like, like navy blue. Gray is also a color that goes with pink and is an unexpected pairing. Don't be afraid to lean into larger neutral pieces for blazers or slacks, so that your pinks and reds really pop. 
Another semi-neutral color that will pair well with pink and red is cream. The outfit possibilities are endless with the addition of cream pieces, which can range from large to small additions. Whichever road you take, try looking for pieces that are minimal, yet bold in texture to really emphasize the red and pink statement. Examples of these minimalistic additions can be a fuzzy cream bucket hat or even a cream shoulder bag. 
Go all out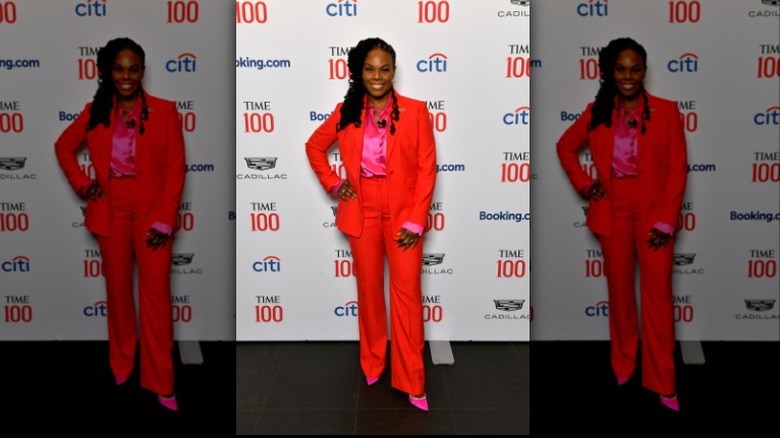 Craig Barritt/Getty Images
Flip one side of a coin, and you'll get the other eventually. So, in contrast to using softer hues of pinks and reds, opt for the reversal: bold and bright colors. The Huff Post suggests you aim to be intentional with your brighter shades, otherwise, you run the risk of making your color combination look like an accident. These shades can range from cherry-red to bubblegum pink. Of course, when trying trends, sometimes the best way to see if one's right for you, is to go all out, so don't shy away from having fun and going bold, which includes adding different textures to your look in addition to color. In fact, pairing bold shades is also a great way to incorporate color blocking, which Byrdie cites as the blending of two or three powerful colors to create one cohesive ensemble of cohesion.
A go-to pink and red combination is a pink or red pantsuit with opposing colors layered underneath. This is considered going "all out" because you're covering yourself almost entirely in one eccentric color, head to toe. Another popular favorite is using fuzz-like materials to add texture to the look, like a fur coat or feathered heels. 
Choose Patterns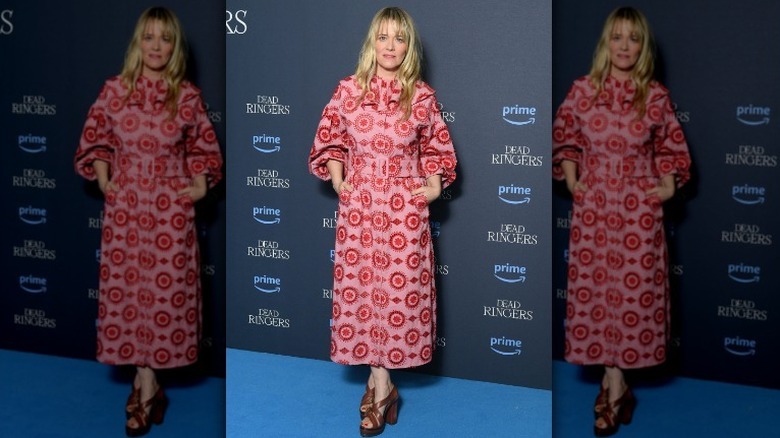 Joe Maher/Getty Images
If you want to be subtle in your pink and red approach, go for a print that simultaneously highlights both colors. Florals or large stamped prints are a great way to get the best out of both worlds because they can be busy enough to blend the colors together, yet subtle enough to still let them be the star. Stripes, of course, are also a great pattern to lean on, because they can easily intertwine each color without going over the top. Whether you choose to dress in a skirt or...well, a dress, a pink and red print subtly hint at the trend without slapping you in the face with it. 
Choosing a pattern for your next pink and red outfit can also depend on what your personal style may be. For instance, vintage pieces from Gap or Express feature pink and red floral designs, which blend pinks and reds well, and help anyone with a flair for Y2K fashion. Or, paisley printed shirts and skirts also incorporate pinks and reds well, which would suit anyone with a bohemian vibe, or perhaps someone going for '70s chic. Being specific about how you want the two colors to fit your wardrobe will also help answer the question of fashion versus style, and what the difference is between the two.