Anna Kendrick Was Perfectly Fine With Being One Of Twilight's Lesser-Known Stars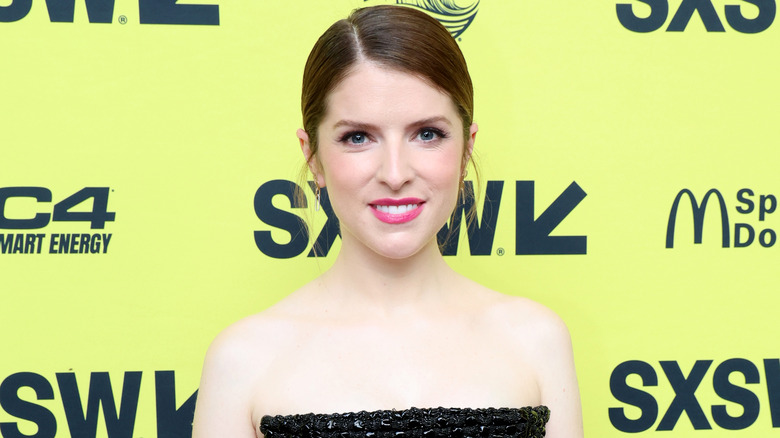 Gary Miller/Getty Images
"Twilight" dominated the early 2000s, launching a cultural obsession with vampires and even inspiring the popular "Fifty Shades of Grey" series. The first installment premiered in 2008 and grossed nearly $70 million in its opening weekend alone, per Box Office Mojo. What's more, "Twilight" made its lead actors household names. Kristen Stewart, who played high school student Bella Swan, was herself a teenager when filming began. 
Despite the loss of anonymity, Stewart is grateful for the experience. "Anybody who wants to talk s*** about 'Twilight,' I completely get it, but there's something there that I'm endlessly, and to this day, f***ing proud of. My memory of it felt — still feels — really good," she explained in an Interview magazine conversation with the iconic Patti Smith. After finishing up her work on the "Twilight" franchise, Stewart's career continued to soar. In fact, she received an Oscar nod for "Spencer." 
Meanwhile, her co-star, Robert Pattinson, was famously critical of the films. "It's a weird story, 'Twilight.' It's not just like — it's strange how people responded a lot to it," he argued in Variety's "Actors on Actors" series. These days, Pattinson has moved beyond hating "Twilight," and has received critical acclaim for his work in indie movies like "The Lighthouse." Anna Kendrick, who's best known for her starring role in "Pitch Perfect," also took off after "Twilight," although she played a more minor character.
Anna Kenrick wasn't as recognizable as her Twilight co-stars
Whereas Kristen Stewart and Robert Pattinson were subject to constant tabloid speculation — especially after their off-screen relationship became public — Anna Kendrick was able to live a more low-profile life despite appearing in "Twilight" alongside them. She played Jessica Stanley, a popular teen who becomes friends with new girl Bella in the first book. 
"At that time, I was this satellite figure in those films," the actor told Rolling Stone, adding, "I could still walk down the street totally fine, even though some of them did still recognize me from them. I wasn't playing a character that made people fantasize about vampires." Despite the lasting impact "Twilight" left on her career, many of Kendrick's filming memories are less than pleasant. 
In an interview with Vanity Fair, she described the cold, rainy weather in Portland, Oregon, where "Twilight" was shot. "I just remember my Converse being completely soaked through and feeling like, you know, this is a really great group of people and I'm sure that we would be friends in a different time, but I want to murder everyone," she joked. According to Kendrick, the cast bonded more on the set of "New Moon," perhaps because it wasn't quite as cold.
Anna Kendrick went on to lead another popular franchise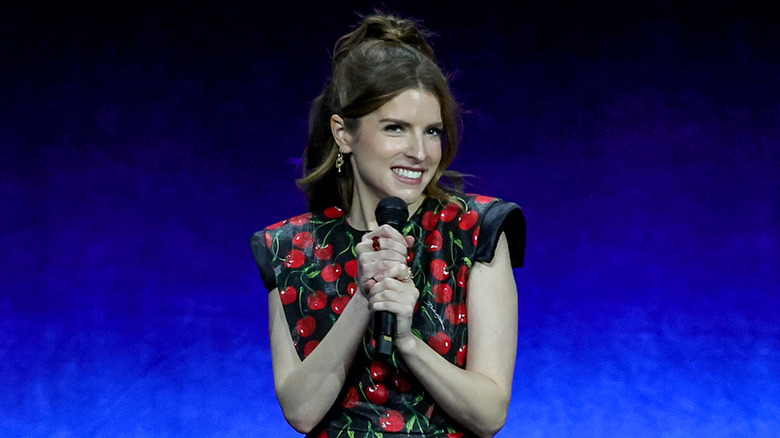 Ethan Miller/Getty Images
In 2012, the same year "The Twilight Saga" officially came to an end, Anna Kendrick appeared in another instant hit, "Pitch Perfect." Rather than playing a supporting character this time around, however, she led the charge as Beca, a sarcastic college freshman with a killer voice. In her audition for the Barden Bellas, Beca sings "The Cup Song" (aka "When I'm Gone"), which achieved mainstream success following the film's release. Kendrick even went on to film a "Cups" music video for Universal Studios, which garnered over 650 million views on YouTube. 
Nowadays, the actor compares watching herself perform the viral single to hearing nails on a chalkboard (via Vanity Fair). The "Pitch Perfect" trilogy was only the beginning of Kendrick's on-screen singing career, though. In 2014, she played Cathy in the lesser-known movie musical, "The Last Five Years," following it up with a starring role in Disney's "Into the Woods." More recently, she recorded songs for the "Trolls" soundtrack alongside Justin Timberlake.
Given "Twilight's" recent resurgence among young Gen-Z audiences, there's no telling what the future holds for the vampire franchise. That being said, if "Twilight" ever gets remade as a musical, Kendrick is an obvious casting choice. That is, as long as she can remember being in it in the first place.