Why Barbra Streisand Changed The Way She Spells Her Name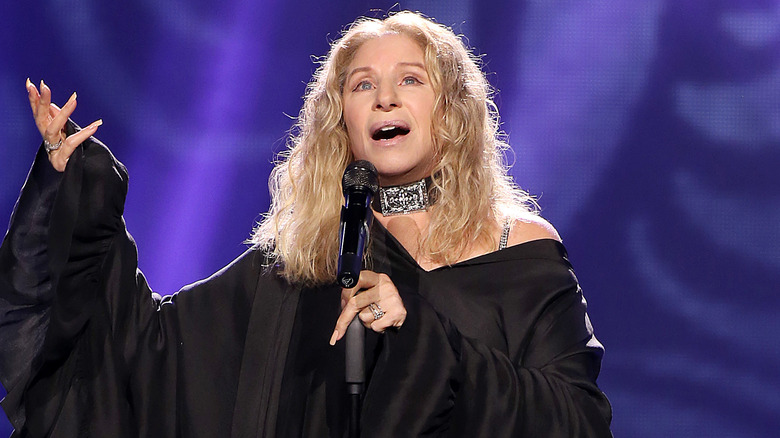 Kevin Kane/Getty Images
When Barbra Streisand sang the words "I'll always love you, but my heart belongs to me" in 1977, she could have just as easily been singing to the entire performing arts industry as opposed to an unnamed long-lost lover. At the time "My Heart Belongs to Me" was released, Streisand was on a steep ascent to her place as an international icon in music, theater, and film — an ascent she vehemently insisted she trek in her own way. 
To say Streisand's career was as hard-fought as it was well-deserved is an understatement at which the Oscar, Emmy, Grammy, Tony, Golden Globe, Peabody, Director's Guild, and Cecil B. Demille Award-winning superstar would likely send a sly, signature smirk. From facing a tragic childhood steeped in poverty to the ostracization a bold Jewish woman faced in the wake of the blonde-haired, blue-eyed Americana fever of the 1960s, Streisand overcame the sadder aspects of her life by doing exactly what she wanted (and absolutely nothing she didn't). 
Considering the homogenous performing industry of the mid-20th century, it's unsurprising that record, film, and stage execs gawked at Streisand's refusal to be anything but precisely who she is. And her insistence on keeping her now iconic stage name is certainly no exception to her rule.
The rebellious, iconic Jewish girl from Brooklyn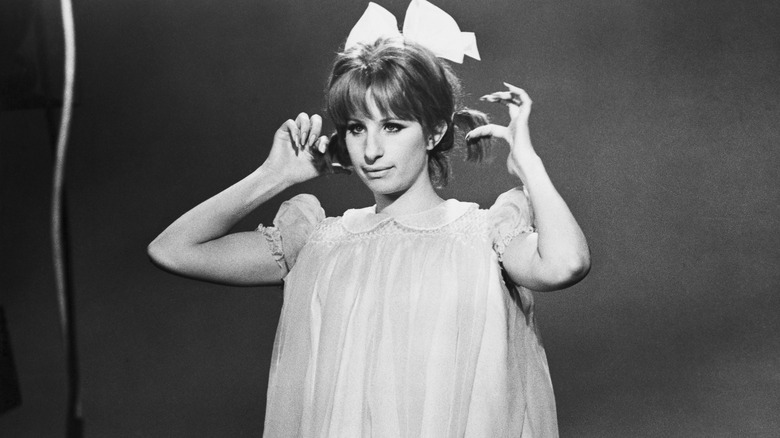 John Springer Collection/Getty Images
Streisand's career began on the stage. She studied theater in high school before moving to Manhattan post-graduation, where she would make her Broadway debut in 1962. By this time, Streisand had solidified her status as a club singer after bringing down the house at a talent contest hosted by a Greenwich Village gay nightclub. Once 1963 rolled around, she was appearing on television and released her debut album, "The Barbra Streisand Album." Her career-changing role came in 1964 when she was cast as Fanny Brice in "Funny Girl."
Audiences fell in love with Streisand's unmistakable timbre — slightly nasal, full of rich vibrato, and heartbreakingly emotive. A brown-haired Jewish girl with slightly crossed eyes and a distinctive nose, she dared any poor, unassuming soul to be so distracted by her features that her immense talent wouldn't move them. It proved impossible for anyone who tried. She was a force to be reckoned with, and she knew it. 
Still, that didn't stop some people from trying to change her anyway. From her album names to her appearance to her moniker, executives were adamant about squeezing Streisand into a more marketable, palatable box. Their first attempt to do so was a suggestion to Streisand to change her name to Barbara Sands.
They asked her to change, so she did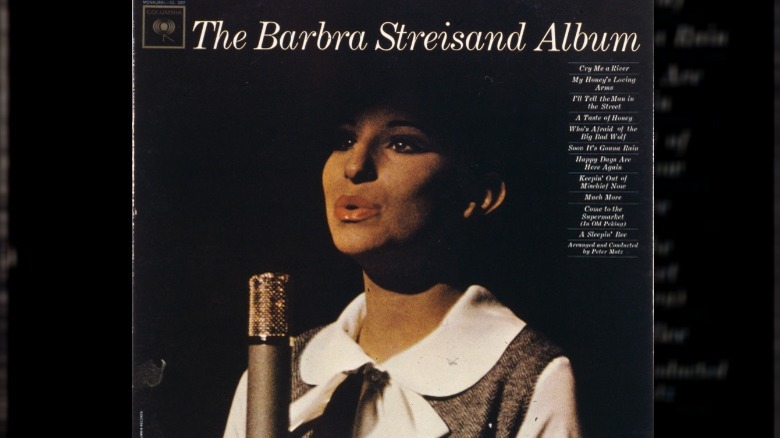 Michael Ochs Archives/Getty Images
In an interview on "The Tonight Show Starring Jimmy Fallon," the multi-hyphenate with a net worth of hundreds of millions revealed that she was advised to change her name to Barbara Sands. "I thought, 'What? No.' Streisand is my name. I don't want to change it," she recounted. However, a 1967 concert program biography would reveal that the performer had changed her name — but not to Barbara Sands. 
According to "The Stephen Sondheim Encyclopedia," Barbra (born Barbara Joan Streisand) dropped an "a" from her name as a way to rebel against her proposed name change. Yes, Streisand would undoubtedly listen to critique, even in the infancy of her career in the late '60s, but she would only act on it in her own way. 
This included the name of her debut album, too, which Streisand told Jimmy Fallon the record label wanted to be titled "Sweet and Saucy Streisand." But the singer refused, saying "The Barbra Streisand Album" made more sense and would be easier to find at a record shop. As she told Jimmy Fallon, "I am neither too sweet or too saucy." And she's right — Streisand is not too much of anything. She's perfectly, quintessentially herself, which has made her decades-long career all the more awe-inspiring.