Roman And Kate's Bizarre Romantic History On Days Of Our Lives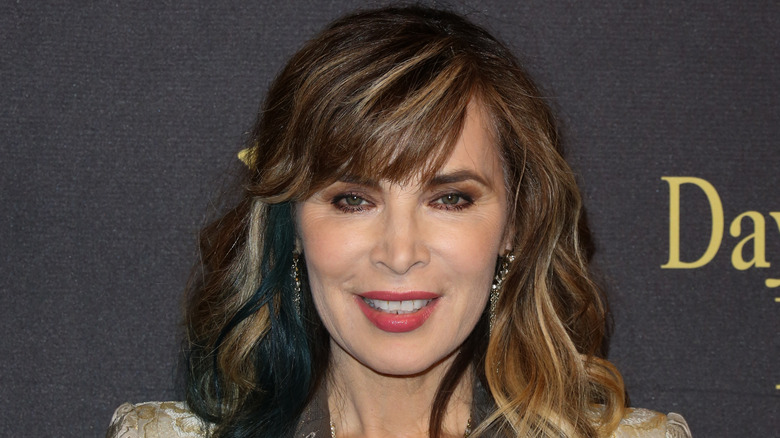 Paul Archuleta/Getty Images
When it comes to romances on "Days of Our Lives," the characters of Kate Roberts (Lauren Koslow) and Roman Brady (Josh Taylor) have had their fair share of drama. Kate has been involved with multiple Salem men through the years, including Clyde Weston, John Black, Bill Horton, Rafe Hernandez, Daniel Jonas, EJ DiMera, and more. She's also been married several times to characters such as Curtis Reed, Victor Kiriakis, and Stefano DiMera. For his part, Roman has had flings with Billie Reed and Nicole Walker while also walking down the aisle with Anna DiMera and Marlena Evans.
Although both Roman and Kate have been involved in some messy romances in the past, they've had their own interesting and complicated love story throughout the years. Fans who have been watching the soap opera for decades know that Roman and Kate both existed in Salem together without much interaction until they finally caught each other's attention and began dating. From then on, it seemed like nothing but ups and downs for the fan-favorite couple, who struggled with all of the wild twists and turns that life threw at them, including finding out that they were the parents of twin teenagers Rex (then Eric Winter) and Cassie (Alexis Thorpe).
Roman was murdered on the couple's wedding day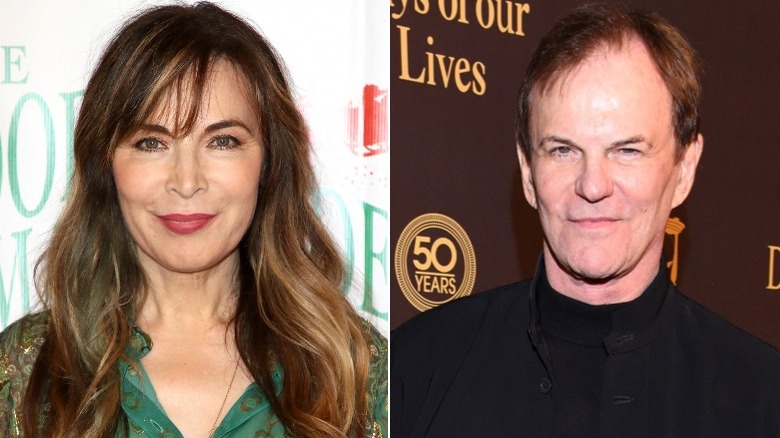 Vivien Killilea & David Livingston/Getty
Not long after Roman Brady and Kate Roberts began dating, they got a huge shock when mysterious twins, Rex and Cassie, came to Salem. The two were discovered by Shawn Brady and Belle Black, who first believed the two to be alien beings. Rex and Cassie were later dubbed The Gemini Twins, and after some questions about their parentage, it was discovered that Stefano DiMera had used stolen samples from both Kate and Roman to genetically engineer the twins. In addition, Stefano used Marlena Evans as the surrogate during a time when she was being held captive by the villain.
Roman and Kate struggled to bond with their newfound teenagers, but the experience brought the couple closer together. They eventually tied the knot in front of their closest friends and family members, including Rex and Cassie. However, tragedy struck at the couple's wedding reception when Roman was murdered by The Salem Stalker. However, like all of the other killer's victims, he was actually alive and being held captive on a remote island by the DiMera family. While he and Marlena were both being kept prisoner, they bonded and even got intimate. All the while, Kate and John Black, Marlena's husband, grew close as well.
When Roman and Marlena returned and were revealed to be alive, things got even messier when Marlena found out she was pregnant with Roman's baby. She later lost the pregnancy, and Roman and Kate split.
Kate was presumed dead after marrying Roman for the second time
Years after their divorce, "Days of Our Lives" fans watched Roman and Kate rekindle their romance. The two began dating again, but they hit a bump in the road due to drama with their children. Once the two were stable again, Kate was kidnapped by Roman's old enemy Orpheus, who also took Kayla Brady and Marlena Evans captive. The women were exposed to a deadly toxin and became very ill. Roman and Kate remarried and tried to live as happily as possible. However, after she took a turn for the worse, Kate was pronounced dead, leaving Roman devastated.
It was later discovered that Kate wasn't really dead but missing in Greece. Roman did all that he could to find her after it was revealed that his own brother Bo Brady was charged with killing her, but ultimately let her go after a crisis of conscience.
Roman and Kate haven't had an easy path to happiness. However, viewers are hoping that once the drama dies down yet again, the pair will get to spend some happy and healthy days together before the next chaotic moment pops up.