How Many Children Did Grace Kelly Have?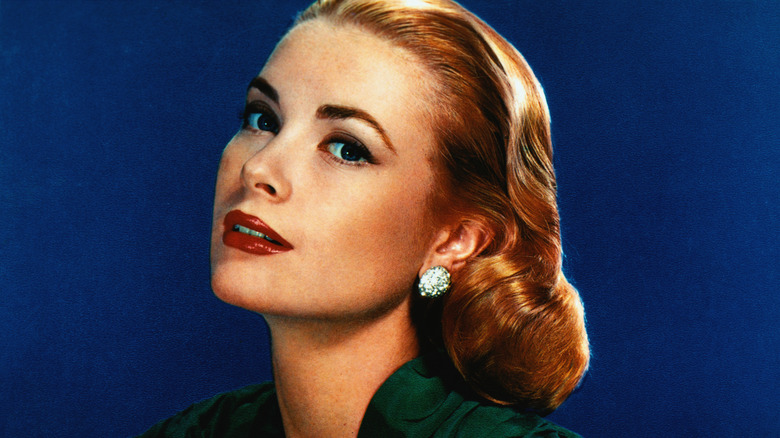 Herbert Dorfman/Getty Images
Grace Kelly is an icon. Not only did she find fame in Hollywood, even winning an Academy Award, she also married a prince, becoming a royal in her own right. And while there have been many royals before and after her, Grace Kelly made a mark on the world not only due to her fashion and poise but also her relatable background.
Born in Philadelphia, Kelly had dreams of being famous. Her world took a turn when she fell in love with Prince Rainier III of Monaco and gave up her Hollywood dreams to become a princess. And while Kelly essentially gave up her dreams of marriage, she still went on to become one of the best-known women of our time. Beyond her roles in films and as a royal, though, her biggest role was a mother. Kelly and Prince Rainier had three children together, all of whom are now grown with children of their own.
Princess Caroline of Hanover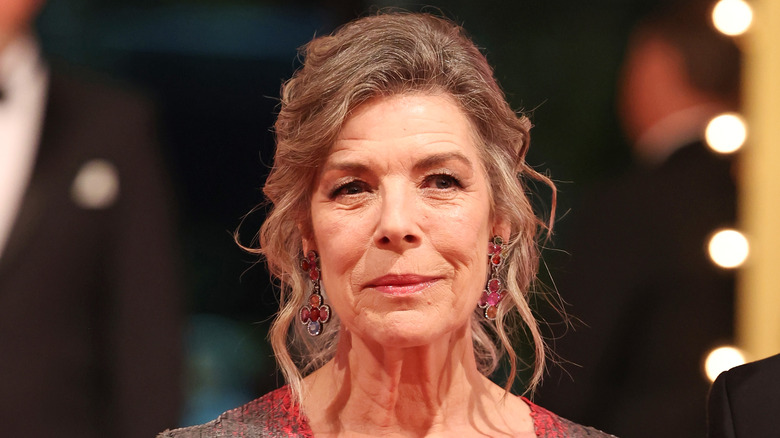 Sc Pool - Corbis/Getty Images
The very first child of Grace Kelly and Prince Rainier III of Monaco was Princess Caroline, Louise, Marguerite. She was born in January 1957, going on to become quite the scholar, completing a degree in philosophy with a minor in psychology and biology. As she got older, she leaned into her royal status, leading a variety of committees, including the Monegasque Committee for the International Year of Children and the l'Association des Guides et Scouts de Monaco, which is similar to the Girl Scouts of the United States of America.
A pillar to her community, Princess Caroline always held a soft spot for troubled youth and went on to create the association Jeune J'Ecoute, which gives kids a space to call anonymously and talk about their issues with trained professionals. Outside of her work, the princess always enjoyed ballet, practicing at Marika Besobrasova School of Dance in Monte-Carlo as a child. She took that love and created the Ballet of Monte-Carlo, something her mother, Grace Kelly, had always dreamed of creating. Today, Princess Caroline has been named the Commander of the Order of Arts and Letters, a prestigious title in the French Republic.
Prince Albert II of Monaco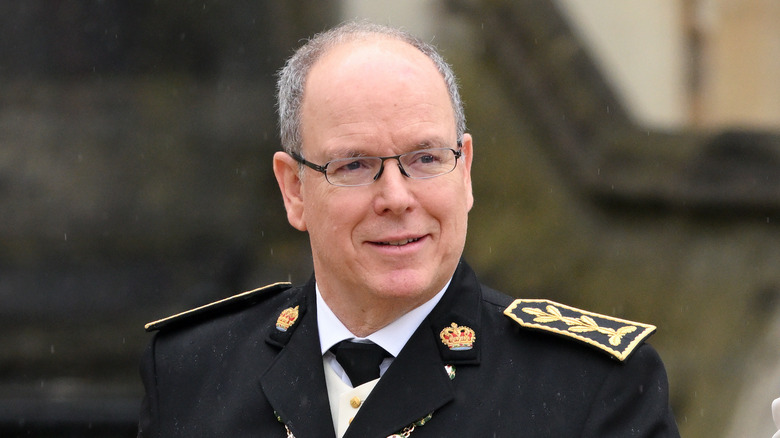 Karwai Tang/Getty Images
Just one year later, Grace Kelly and Prince Rainier III of Monaco welcomed the heir to the throne. Born in March 1958, Prince Albert II of Monaco was the first boy, making him instantly important upon his birth. Throughout his youth and adulthood, Prince Albert II made a mark on Monaco, creating initiatives to help the economy and leading a variety of committees and delegations.
Prince Albert was also a seasoned athlete, and his talent took him as far as the Olympics. He competed in the Olympic games as a bobsledder five times and is the president of the Monegasque Olympic Committee. After his father passed in 2005, Prince Albert II ascended the throne and became H.S.H. Prince Albert, Alexandre, Louis, Pierre, Sovereign Prince of Monaco. And while Grace Kelly's children don't often reach our headlines here in the states, the Prince of Monaco made quite the splash back in 2020 when he became the first head of state to test positive for COVID-19.
Princess Stéphanie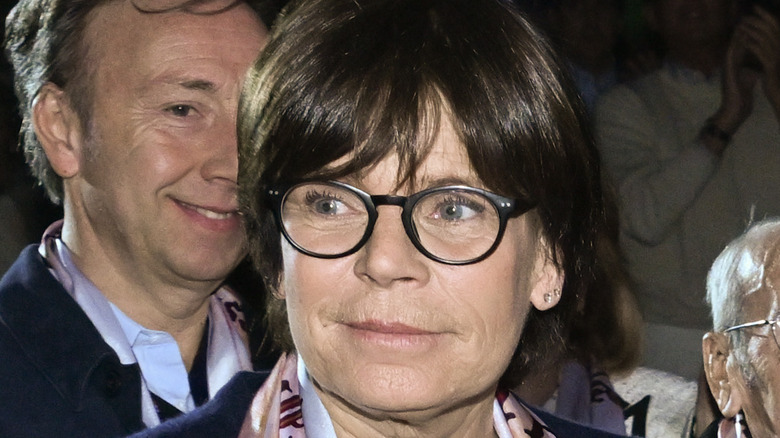 Stephane Cardinale - Corbis/Getty Images
The last child of Grace Kelly and Prince Rainier III of Monaco was Princess Stèphanie, born in February 1965. Following in the humanitarian footsteps of her siblings, Princess Stèphanie created the association Fight AIDS Monaco, which runs a retreat center for those living with HIV/AIDS. Due to her work with the foundation, her brother, the Prince of Monaco, gave her the Grand Cross of the Order of Grimaldi, which recognized her efforts. She also received the Grand Cross for her work with the circus, in which she helped run the Monte-Carlo International Circus Festival that her father created.
Today, Princess Stèphanie continues her mission to help those living with AIDS and is currently a Special Representative for UNAIDS. She has also become quite popular for her courageous act of rescuing two retired circus elephants that were set to be euthanized. She now cares for the elephants at the Roc Agel — the Monaco royal family's mountaintop retreat — where they live, via People.
Grace Kelly also has 11 grandchildren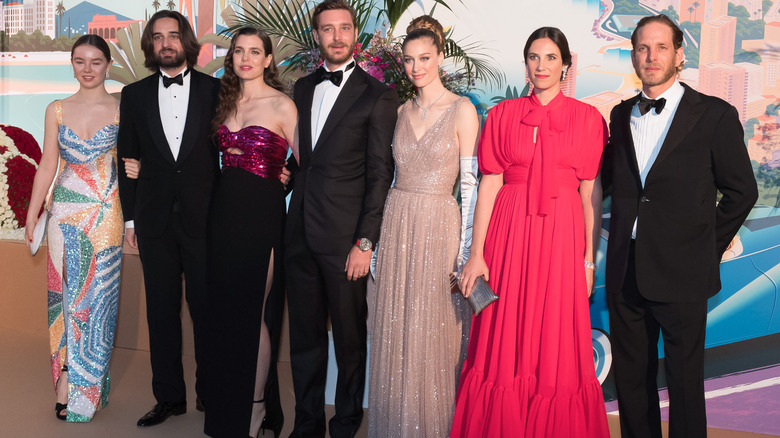 Sc Pool - Corbis/Getty Images
Grace Kelly's children may have spent their lives working hard for their country and their people, but they also created families of their own. In fact, between the three children, Grace Kelly now has 11 grandchildren. The eldest daughter, Princess Caroline, has three children with her first husband, Stefano Casiraghi, who died in a boating accident. Their names are Charlotte Casiraghi, Andrea Casiraghi, and Pierre Casiraghi. She later married Ernst August of Hanover and had one child with him named Princess Alexandra of Hanover, who is now in her early 20s.
Prince Albert II of Monaco has four children. His first child is Jazmin Grace Grimaldi, who he had with American waitress Tamara Rotolo out of wedlock. The world was not made aware of her existence until she was in the 8th grade, per Town & Country Magazine. Jazmin has three half-siblings as well, including Alexandre Grimaldi-Coste (conceived following a short romance with an Air France flight attendant named Nicole Coste) and twins Prince Jacques and Princess Gabriella, who Albert shares with current wife, Princess Charlene. The youngest of the three siblings, Princess Stèphanie, has three children: Louis Ducruet, who is 14th in line to the throne; Pauline Ducruet, a fashion designer; and Camille Rose Gottlieb, who is often compared to her grandmother.
The siblings made a recent rare appearance together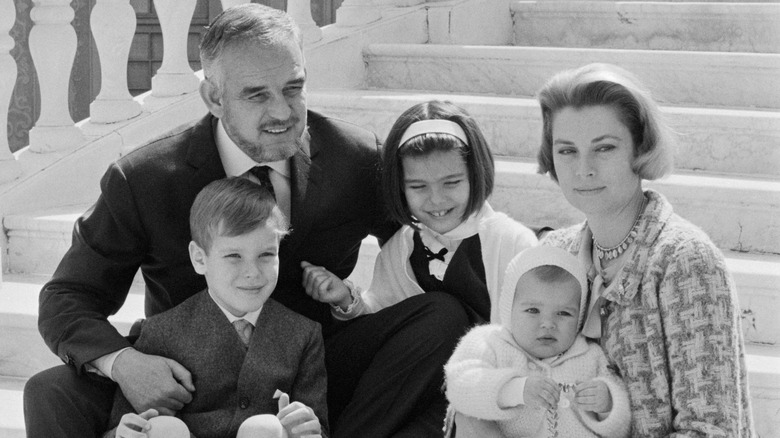 Bettmann/Getty Images
Grace Kelly's children have been busy with their lives, and although their mother passed away over three decades ago, they have all continued to honor her life. Still, it's rare to see all three of them together in public, particularly during a photo op. But recently, the siblings had a reason to come together.
According to People, on the night before Grace Kelly's 88th birthday, they all gathered at the Théâtre Princesse Grace. In addition to her birthday, they also came to celebrate 35 years since the Princess Grace Foundation-USA was created. In addition to posing for a rare photo, Princess Caroline, Prince Albert II of Monaco, and Princess Stèphanie enjoyed a screening of their mother's Academy-Award-winning movie, "The Country Girl." And while they are not photographed together often, Grace Kelly's children have all remained quite close. Prince Albert told People that his sister, Princess Caroline, is "quite a remarkable woman" and has also gushed about his younger sister, Princess Stèphanie, for taking such good care of the elephants that now live on his property.