Who Is Halle Bailey's Boyfriend, Rapper DDG?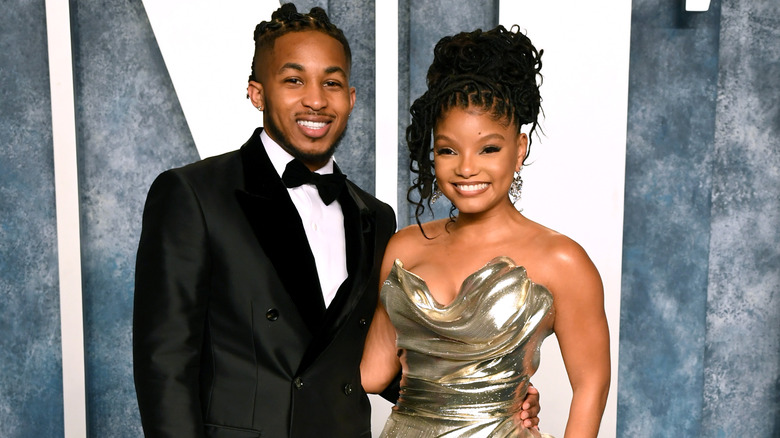 Jon Kopaloff/Getty Images
Halle Bailey portrays Ariel in the oh-so-romantic live-action "Little Mermaid" film — and she also has a fairytale relationship in real life. The singer and actress found the Prince Eric to her Ariel in rapper DDG (Darryl Dwayne Granberry Jr.) The two first confirmed their romance on Instagram back in March 2022 and have been head over heels for each other ever since. Bailey played DDG's love interest in his 2022 music video for his "I Want You," they've posed on several red carpets together, and they've gushed about each other in interviews.  
Bailey opened up to People about her experience being in love with the rapper. "I think the best thing about young love is that you're able to continue to find yourself through this journey of loving somebody else," she shared. "And you're discovering new parts of yourself and maybe things that you didn't notice before about your heart." 
She calls being in love a "transformative experience," and DDG has previously said that he might propose one day. So, who is the rapper, and why is he the perfect match for the "Little Mermaid" star? 
All about DDG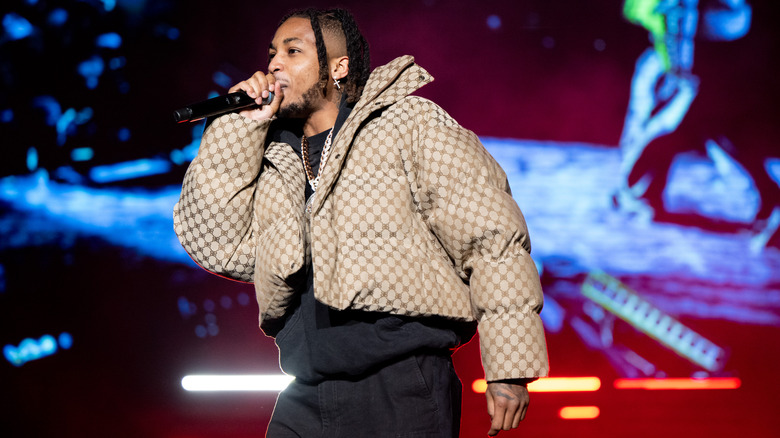 Scott Dudelson/Getty Images
DDG started his rapping career on YouTube, sharing vlog content and his music. Coincidentally, Halle Bailey used to watch and enjoy his videos long before they ever met. After being named the valedictorian of his high school class, DDG began school at Central Michigan University but eventually dropped out to focus on music. Fortunately, it all worked out in the end; his most popular track, "Moonwalking In Calabasas" featuring Blueface, has more than 280 million streams on Spotify.
Now, the rapper has his own record label called Zooted Music which he founded in 2020 to help "produce culturally relevant, super talented artists" — and his resume still gets more impressive. In November 2022, the musician made Forbes' 2023 30 Under 30: Music list. According to the magazine, he became the first rapper to create a video using NASA's Zero Gravity Training to emulate a space mission when he shot the video for his hit, "Elon Musk." 
How he feels about Halle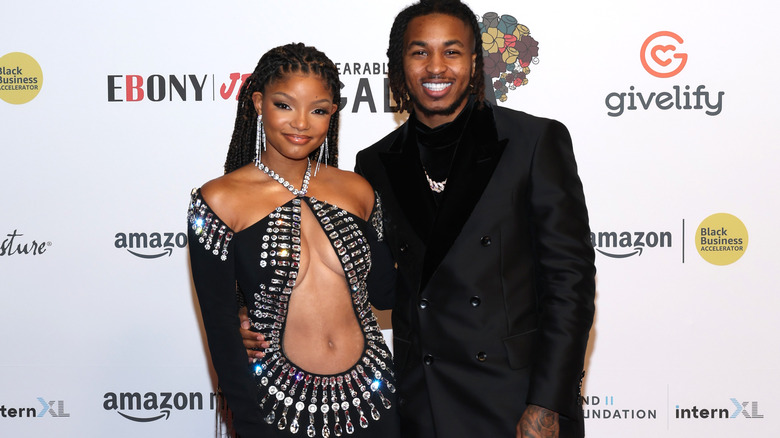 Jerritt Clark/Getty Images
DDG is super in love with his girlfriend, Halle Bailey. In 2022, he shared with "The Breakfast Club" that no one else has ever made him feel like she does. "I've never been with nobody that's, like, really motivated me like she do," he said. When the hosts asked him if he was going to propose, the rapper smiled and replied, "Eventually, man." 
He was actually the one who initiated things by sliding into the singer's DMs. On their first date, the duo went out to dinner and saw the movie "Dune." In February 2023, DDG admitted on Vlad TV, "When I first met her, I was a little nervous." 
They've certainly come a long way from those early butterflies, and now Bailey and DDG are more bonded than ever. "We just hella close," the rapper said. "That's my best friend. We be hangin' out 24/7."