Miley Cyrus Has Totally Relatable Feelings For Harry Styles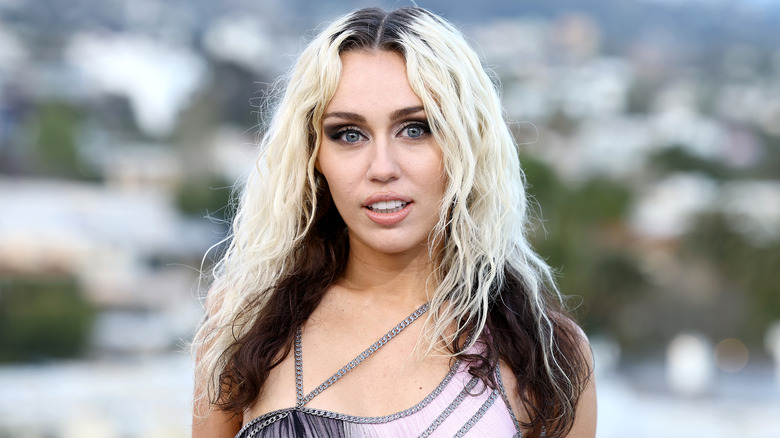 Arturo Holmes/Getty Images
Miley Cyrus has been in the spotlight since she was a teenager when she got the lead role on Disney Channel's "Hannah Montana." Since then, the media has pretty much reported on her every move. The Disney star-turned-rockstar has made countless headlines for her risk-taking behavior and bold fashion statements. And like with all celebrities, Miley Cyrus' love life has been of particular interest to just about every news publication out there.
Cyrus has dated a long list of celebrities: It would take an entirely separate article to recount all the people Miley Cyrus has dated. But some of her more serious, public relationships include Nick Jonas, Cody Simpson, and ex-husband Liam Hemsworth. As an A-list celebrity, we'd imagine it's challenging to find a partner who can handle the excessive attention. So when Cyrus mentioned in a 2020 interview that Harry Styles could be a star that she'd mesh well with, we nodded in agreement.
Miley Cyrus thinks Harry Styles is 'looking really good'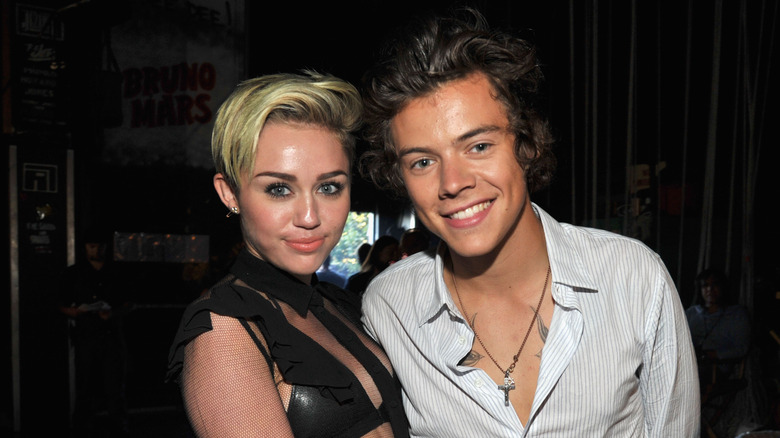 Kevin Mazur/fox/Getty Images
Most of the time, when Miley Cyrus is interviewed, it's inevitable she's asked about her dating life. Hollywood's reporters are dying to squeeze out anything they can about her current or prospective romances. In an interview for the radio show, Wright Lines, Mark Wright playfully cornered Cyrus into choosing between a kiss with Justin Bieber and Harry Styles. Immediately, the pop star responded "Harry" with a look that insinuated it was the obvious choice.
She remarked, "Justin Bieber, I've known way too long and it's like family." This could excuse could have been an easy cop-out. But then Cyrus explained that her answer did indeed have more to it than that. "[Harry Styles is] looking really good," Cyrus said with a wink. Emphasizing the compliment, she repeated, "— really good. I'm into the fishnet." She even divulged that there's a slightly deeper explanation for her choice than just Style's dreamy looks.
Miley Cyrus thinks she and Harry Styles are a lot alike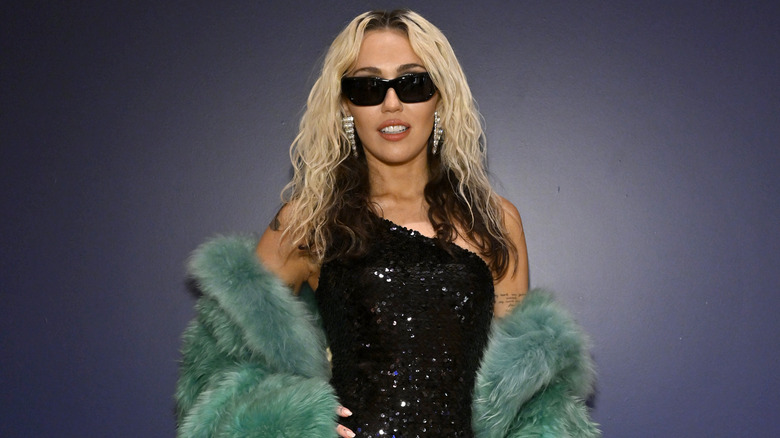 John Sciulli/Getty Images
Much like Harry Styles, Miley Cyrus has a gender-bending, eclectic sense of style. Because of this, she feels like she and Styles would make a compatible couple. In her Wright Lines interview, Cyrus commented, "We have very similar tastes; I think sharing a closet, sharing a life together, it just makes sense." Cyrus does make a good point. 
Both she and Styles had more teen-friendly, cookie-cutter starts to their careers. But once Cyrus broke from Disney and Styles broke from One Direction, they began actively breaking the image and expectations they had previously built. When Styles realized he loved fashion, everyone noticed. Not only did he have impeccable taste, but he gave off an entirely different vibe than his preppy boyband years. Rather than sporting crew necks and loafers, Styles was on the cover of Vogue wearing a dress. Aesthetically, Cyrus and Styles would be a great fit. But only time will tell if the two would make a great fit romantically.