Noah Huntley's Beyond Salem Character Set To Make Days Of Our Lives Comeback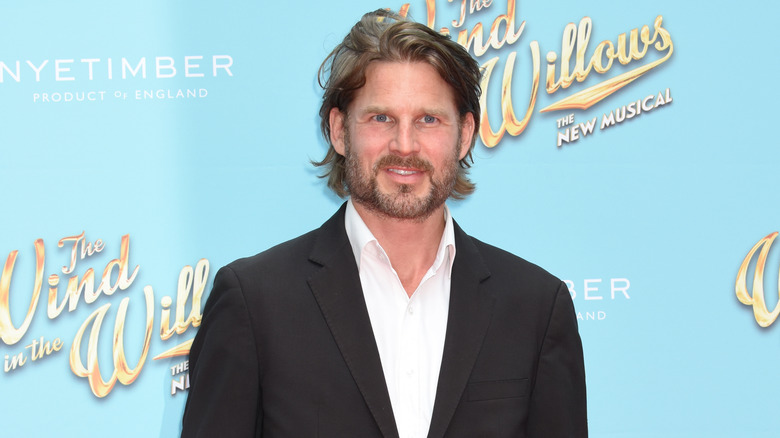 Nicky J Sims/Getty Images
Although the legendary Bo Brady (Peter Reckell) died on "Days of Our Lives" in 2015, the show's spin-off streaming series, "Beyond Salem: Chapter 2," revealed that he was actually still alive, held in suspended animation by another resurrected character, the dastardly Megan Hathaway (Miranda Wilson) — who is obsessed with him. The success of the series gave long-time fans the anticipation that it would only be a matter of time before Bo was reunited with the love of his life, Hope Brady (Kristian Alfonso). Now that the main show has joined its sister spin-off on Peacock, that story is becoming a reality. 
Along the way, we met Harris Michaels (Steve Burton) who had briefly appeared on the show as a teen back in 1988. Under the control of Megan, Harris was at first supposed to kill Hope, but ended up falling for her, and breaking Megan's brainwashing. Megan was ultimately captured and incarcerated for her many crimes. Also involved was ISA agent Kyle Graham (Peter Porte), who actually turned out to be the villain, Dimitri Von Leuschner. Both Harris and Dimitri are now part of the main show, and the heroes of Salem managed to thwart Dimitri and rescue his captive, Kate Roberts (Lauren Koslow). As Harris guards a tied up Dimitri, waiting for the ISA to take him away, the bad guy has revealed his plan to free Megan from prison.
And now another character from "Beyond Salem" is poised to join the mothership show.
Lord Sebastian joins Days of Our Lives' main show
In "Days of Our Lives: Beyond Salem," Dimitri Von Leuschner had planned to use the Alamanian Peacock to power several satellite lasers that would devastate many cities in the world. Among the good guys who stopped him was ISA agent Billie Reed (Lisa Rinna), who in the end handed the Peacock back to its rightful owner: Lord Sebastian Alamain (Noah Huntley). He was so thankful that he asked her to take a break after having saved the world and join him for dinner. Fans were left hanging as to whether or not Billie took him up on his offer.
But now, Soap Opera News has reported that Lord Sebastian, and his portrayer Huntley, will be joining the mothership show, and Soaps She Knows has confirmed that he will be appearing during the week of May 22. Huntley is known for his work in British soap operas such as "Holby City," and "Emmerdale." He was also in the Lifetime movie, "Harry & Meghan: Becoming Royal," as well as hit feature films like, "Snow White and the Huntsman," "28 Days Later," and "The Chronicles of Narnia: The Lion, the Witch and the Wardrobe."
We're looking forward to seeing how Lord Sebastian's story progresses!