There's A Benefit To Mixing Different Eyeshadow Formulas, And It's All About Longevity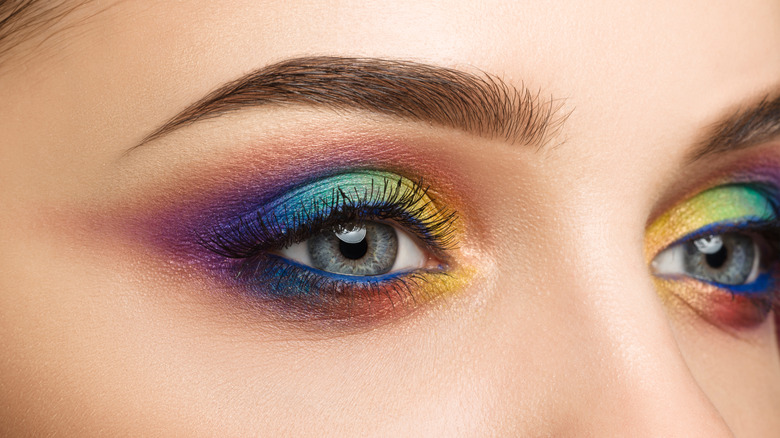 Dutko/Getty Images
Eyeshadow creates depth in any makeup look, regardless if you add false lashes or know how to wear white eyeliner. The eyelids are a blank canvas blessing the audience with the full picture every time we blink. And we blink often: over 1,000 times per hour.
The foundation of every stellar eye look is eyeshadow. There is something oddly satisfying about those perfectly round and colorful pallets. Whether you're a fan of metallic, glitter, satin, matte, frost, or shimmer finishes, there is a look that will get your lids ready for the red carpet. But you don't want to blend your eye makeup only for it to crease, bleed, or fade before you step out of the car.
Layering different eyeshadow formulas can help you avoid over-eye mishaps. So get your creams, powders, glosses, and liquid products ready. You'll be setting your eyes like a professional makeup artist before you know it.
Types of eyeshadow formulas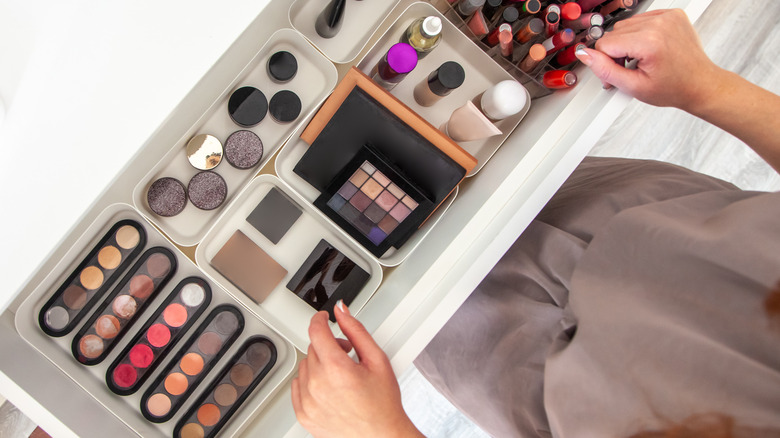 Kostikova Natalia/Shutterstock
There are a few different eyeshadow formulas — pressed powders, creams, baked, pigmented, glossy, and liquid eyeshadows. Each lends itself to a different level of vibrancy, ease of application, and blendability.
Pressed powders are the standard shadows you see in rainbow pallets, which are fine powder pressed into pans and known for being beginner-friendly. Baked eyeshadow is also powder-based, but instead of industrially pressed, they are baked. This formulation allows for the eye makeup to be used wet or dry. Pigments pack the most color. They are loose powders that create a smooth finish but are best left to the makeup vets.
For a product easier to apply than pressed powder, there is cream eyeshadow. It is satisfying to smooth over your lids, versatile, and blends with zero complications. Glossy eyeshadows are perfect for a shiny finish but don't like to stay in place — they'll give in before your most uncomfortable pair of heels. Lastly, there is liquid eyeshadow. This makeup is long-wearing, and you only need a little drop to get show-stopping eyelids. However, the key to an intense eye look that lasts all night is mixing different formulas.
How to layer different eyeshadow formulas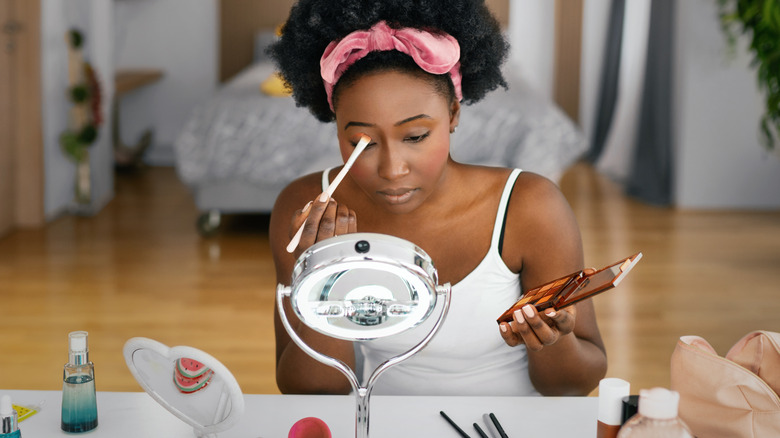 Aja Koska/Getty Images
It might be intimidating blending creams, powders, glosses, and liquids, but don't worry, there is a method to this madness.
Cream formulas act as a base for pressed powders, like an eyeshadow primer. It seals in the powder and stops folds from forming. When using cream shadow by itself, it can be prone to cracks, especially in hotter weather. Celebrity makeup artist Renée Loiz shared with Byrdie, "I recommend using an eyeshadow crayon with liquid eyeshadow to prevent creasing."
An issue with liquid eyeshadow is that it can flake off if too many coats are applied. It is best to layer your liquid eyeshadow first and let it set, then apply any cream or powder formulas. So liquids before creams and powders, creams eyeshadow before powders, and glosses are always last. Layering (in the correct order) will add vibrancy to your eye look and increase its longevity while offsetting creases.