Why General Hospital's Jordan And Curtis Ended Up Divorced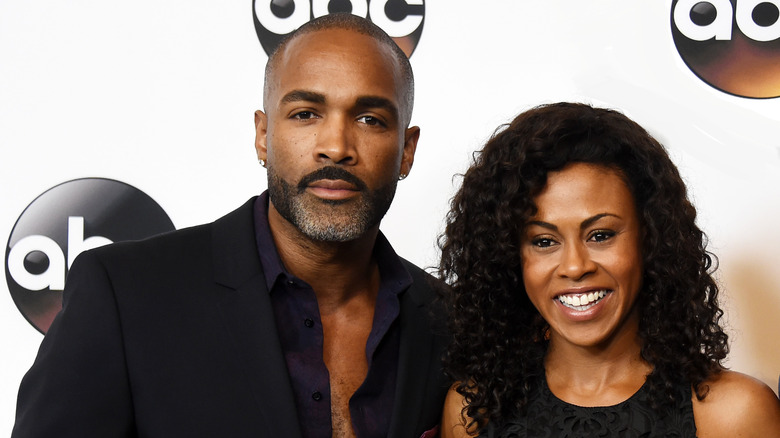 Amanda Edwards/Getty Images
Port Charles police commissioner Jordan Ashford has had a turbulent past on "General Hospital." The role has been played by three different actresses over the years including Vinessa Antoine in 2014, Briana Nicole Henry in 2018, and now Tanisha Harper, who took over in 2022. Jordan first came to town as an undercover DEA agent, eventually leaving to become commissioner. In 2015, Curtis Ashford (Donnell Turner) arrived in town, attempting to prove that Nikolas Cassadine (then Tyler Christopher) had contracted a hitman to kill Hayden Barnes (Rebecca Budig). 
It wasn't long before Jordan and Curtis's paths crossed, and it was gradually revealed that they had a past together. Curtis was the brother of Jordan's late husband, Thomas Ashford, and the two had previously been partners at the DEA until his cocaine addiction almost got Jordan killed, derailing his career in the process. Jordan also previously worked with Marcus Taggert (Reál Andrews) and two other agents to take down drug kingpin Cyrus Renault (Jeff Kober), and although they knew he was guilty, they had to fabricate evidence to get him convicted for drug running. 
In Port Charles, Curtis asked the new commissioner for a job, but given her past experience with him, Jordan turned him down. Then, Jordan started seeing psychiatrist Dr. Andre Maddox (Anthony Montgomery), but when Curtis was helping Jordan with a case, they ended up kissing. And, when Andre found out, he broke up with her. 
Jordan and Curtis tied the knot
Curtis Ashford ultimately became a private investigator, and he and Jordan fell in love. Jordan's son, T.J. Ashford (Tequan Richmond), was angry with her because she spent most of his life doing undercover work, but eventually found it in his heart to be happy for them. Curtis's aunt, Stella Henry (Vernee Watson), came to Port Charles looking to break them up because she believed Jordan was responsible for the death of Thomas Ashford. While married to him, Jordan had an affair with Shawn Butler (Sean Blakemore) and kept the question of T.J.'s paternity a secret for years. 
T.J. eventually found out and he was understandably angry upon learning that Shawn was his biological father. Thomas, meanwhile, had learned of Shawn and Jordan's affair, lost his mind, and attacked Shawn, who shot and killed him in self-defense. As a result, Stella felt that Jordan's affair caused Tommy's downfall, but she eventually came around and endorsed Curtis and Jordan's marriage. 
However, the happy couple found the dead body of Kiki Jerome (Hayley Erin) in their honeymoon suite, who was murdered by serial killer Ryan Chamberlain (Jon Lindstrom). During their attempts to capture Ryan, Jordan was struck by a car and her injuries were so severe that she required a kidney transplant. Ryan was hospitalized after Ava Jerome (Maura West) stabbed him, and turned out to be a match for Jordan. But he refused to donate his kidney, so Curtis and several others plotted to steal it. Fortunately, the relentless Aunt Stella badgered Ryan into agreeing.
Jordan's lies ultimately ended their marriage
After Jordan recovered and resumed working again, she learned that the two other DEA agents who helped her and Taggert put Cyrus Renault away both died mysteriously. From prison, Cyrus had T.J. kidnapped and used him to blackmail Jordan into ordering his release. While T.J. was gone, Jordan lied to his girlfriend, Molly Lansing-Davis (Haley Pullos), that he had left her, in order to cover up his abduction. Jordan and Taggert concocted a scheme whereby he would take the fall for planting the evidence that put Cyrus away originally, allowing the villain to be released. 
Taggert then allowed Jordan to fake his death, so that Cyrus wouldn't target his family. Curtis was upset to eventually learn about all of Jordan's lies, and he ultimately filed for divorce. He soon moved on with Portia Robinson (Brook Kerr). After planning to get married, the wedding almost didn't happen because Aunt Stella meddled in their business and swiped the divorce papers from the outgoing mail tray on Jordan's desk. Stella had a stroke at Kelly's diner, and the papers were lost. Jordan and Curtis subsequently refiled, and he finally managed to marry Portia. 
However, Portia never wanted to know her daughter, Trina Robinson's, (Tabyana Ali) paternity — it could have been Curtis or Taggert. And sadly, that lie has jeopardized her marriage to Curtis. Now that Curtis and Portia are on the outs, sparks seem to be flying again between him and Jordan.