Start Picking Out Your Outfits Before Bed For A Better Start To Your Morning
There are morning people, and then there are those you shouldn't approach until they're halfway through their second cup of coffee. But, happily, prepping your outfit the night before can have major benefits regardless of which category you fall into. There are a few reasons why. Perhaps the most obvious is that it can help you get out the door quicker. Whether you consistently press snooze or spend way too long deciding what to wear, laying out your clothes before you turn in for the night will streamline your morning.
But more than just helping your before-work routine go more smoothly, choosing an outfit before bed can be a major mood booster. Many of us are guilty of not devoting one hundred percent to our looks lately. Maybe we wake up groggy and grumpy, making choosing a 'fit the last thing we are in the mood for. Or, perhaps you've embraced work-from-home-wear a little too much and find yourself recycling the same old matching athleisure day after day (no judgment here). 
Both situations can leave you feeling a little less confident, though. So, it might be time to pull yourself out of your drab and dreary wardrobe rut by devoting some time to choosing an outfit when you actually have minutes to spare, like the night before.
An energy boost sans caffeine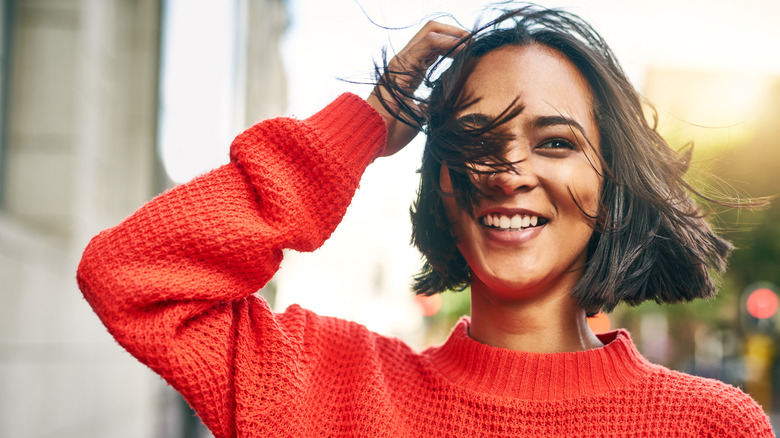 Moyo Studio/Getty Images
Think about the last time your look was really on point. You probably felt like you could take on the world. As Carolyn Mair, Ph.D., a behavioral psychologist and author of "The Psychology of Fashion," informed Stylist: "When we feel good in what we are wearing, we tend to be more confident." Shakaila Forbes-Bell, a fashion psychologist, took it one step further, arguing, "When you wear clothes that make you feel confident, happy, and empowered, they can act as armor, shielding you from negative feelings and experiences."
If clothes act as your second skin, skewing how you see yourself and how the world perceives you, it makes sense that your melancholic gray fleece might do little to inspire you first thing in the morning. In her book, "Dress Your Best Life," (via Byrdie), fashion psychologist Dr. Dawnn Karen teaches "dopamine dressing." Dopamine is a chemical in your brain tied to your sense of motivation, pleasure, and satisfaction. Dr. Karen theorizes that the neurotransmitter is boosted when you choose bright colors or favorite outfits. 
This idea really brings home the phrase, "Look good, feel good." Hence, all you need to increase your feel-good hormones is to know what clothes you love! And, of course, put aside adequate time to pick and lay them out. Spending a few minutes each evening going through your wardrobe to choose dopamine-enhancing pieces to help you dress more joyfully could really help you start your day off on the right foot.
Use fashion to improve your mood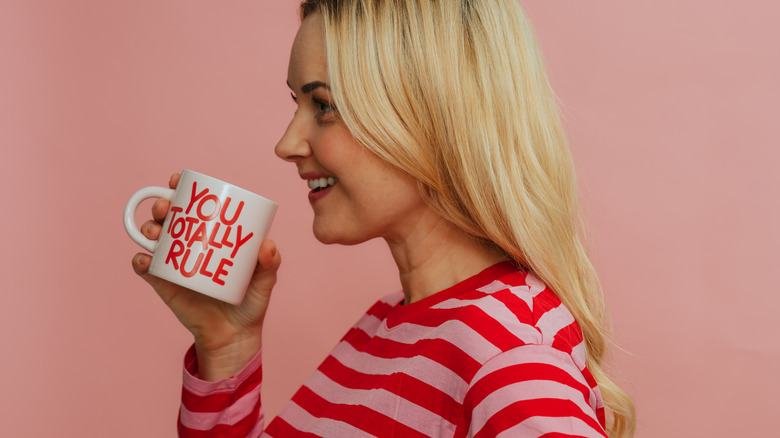 Knape/Getty Images
Vivienne Westwood once said, "Fashion is very important. It is life-enhancing and, like everything that gives pleasure, it is worth doing well." But when you're already stressed out and crabby, you might not be in the mood to engage in the art of outfit selection and end up throwing on whatever you wore yesterday. Professor Karen Pine advises that what someone wears is "heavily dependent upon her emotional state," (via Byrdie). We can only imagine what a grouchy morning ensemble looks like.
Fortunately, Pine suggested that women can change their emotional state by changing their outfits. Yet, motivating yourself at the crack of dawn to dress for the mood you want isn't easy. Show yourself grace by pre-planning it. As Dr. Mair explained, "We might be more relaxed in the evening than in the morning, and so we might even be able to make a better choice of outfit." You have the time and space to think critically about what you want to wear and how it could potentially affect your emotional state.
Who knew picking out clothes could be so powerful? Dressing with intention by planning outfits the night before might be just the mood booster you need first thing while also helping to alleviate stress and free up your time for other activities. You can still wear the familiar comfy clothes when you need them, but chances are, if you're pre-planning your outfits, you might find yourself reaching for those baggy sweats less and less.