Sarah Ferguson Still Speaks Highly Of Ex Prince Andrew After Their Split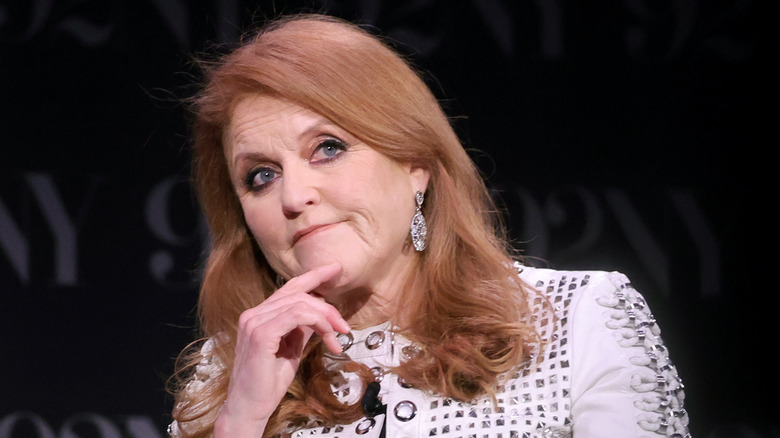 Michael Loccisano/Getty Images
From the moment she sat beside Prince Andrew, Duke of York, at a Windsor Castle lunch in June 1985, Sarah Ferguson was smitten. "In Andrew, I found my perfect man and soul mate," Fergie recalled in her memoir "Finding Sarah," per Vanity Fair. "He was relaxed and endlessly charming, a prankster like me, yet solid and kind." To her delight, the feeling was mutual. Eight months later, Andrew gave her a stunning ruby engagement ring, and in July 1986, the couple's fairytale wedding was watched by global audiences. Two years later, Princess Beatrice was born, and in 1990, the couple welcomed Princess Eugenie.
From the beginning, Fergie and Andrew's marriage was stressed by the prince's job in the navy. Andrew was away more often than he was home, and Fergie only got to spend time with her husband 40 days during the year. Allegations that Fergie was involved in an affair caused further damage, and the Duke and Duchess of York separated in 1992.
Fergie agreed to divorce Andrew in 1996 because she wanted to pursue career opportunities beyond royal life. Post-divorce, Fergie and Andrew remain close. "We are co-parents who support each other and believe that family is everything," Fergie told The Telegraph. The couple's cohesiveness extends to living in the same house, Royal Lodge. While the estate is large enough that Fergie and Andrew have their own suite of rooms, Fergie has indicated that her relationship with her ex remains cozy, and she takes numerous opportunities to praise her ex.
Fergie takes a unique approach to divorce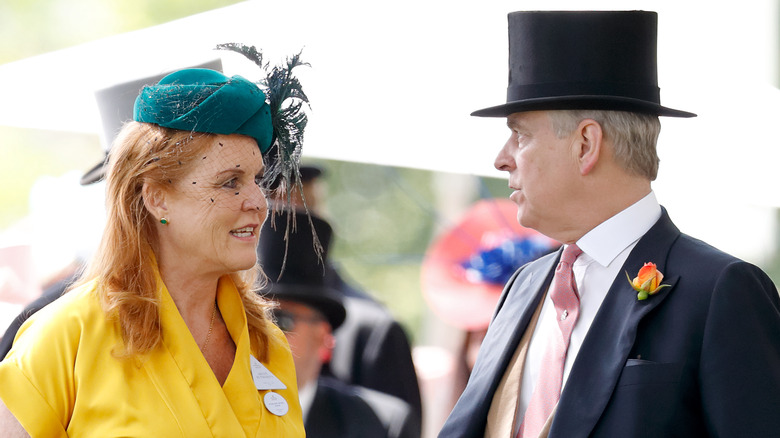 Max Mumby/indigo/Getty Images
For Sarah Ferguson, Duchess of York, her split from Prince Andrew boils down to semantics. "Andrew and I call it divorced to each other, not from each other," she told the Financial Times in 2021. This distinction is at the heart of their relationship. "I love him. He's my soulmate," she explained to Harper's Bazaar in 2011. "It's actually what we said in front of God at the altar: We honor and respect each other until death do us part."
While their bond is unwavering, it's also evolved post-divorce. "Theirs is not a great passionate romance," a former courtier informed Express. "It's more about the deepest form of friendship." The courtier admitted their affection is "a very unusual relationship for a divorced couple, especially to the outside world, but they're utterly devoted and would defend each other to the death."
Fergie's had plenty of opportunities to come to Andrew's aid in the wake of his settlement with Virginia Giuffre, the loss of his royal titles, and the end of his future as a working royal. She also recognizes that since Queen Elizabeth's death, Andrew has fewer advocates, and she wants to fill the void out of love for her former mother-in-law. "He's a kind, good man," Fergie told Good Morning Britain in April. "I think the spotlight needs to come off him and let him get with his life to rebuild." Besides emotional support, the duchess has also pledged to financially support Andrew during this time.
Fergie values Prince Andrew's skill as a parent and grandparent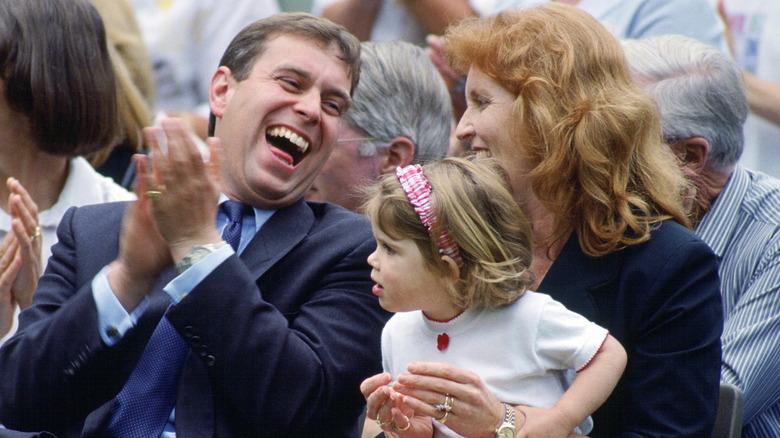 Tim Graham/Getty Images
Sarah Ferguson takes a lot of stock in her role as a parent. "The only thing I know I've done 100 percent right is be a good mother," the Duchess of York informed Harper's Bazaar in 2011. "Whenever one of my girls had had a bad day, I used to shut the door, turn the phone off and really focus on what they wanted to tell me," she detailed to The Telegraph.
Fergie sets the bar high, and she believes Prince Andrew's parenting meets her high expectations. "He's a very gentle man, he's a really good father," she revealed on "Lorraine," per Hello! The duchess takes pride in their ability to raise their daughters together. "We did co-parent very well, hence the reason why the girls are very solid and [have their] feet on the ground."
Now that the former couple has two grandchildren, with a third arriving sooner than suspected, Fergie is equally effusive in her regard for Andrew. "As a grandfather, he's really good," Fergie explained on "Lorraine." "He can go for hours talking about football and all those sorts of things." She admires her ex's prowess so much she admitted to The Telegraph, "I worry he's a better grandparent than me!" This is significant praise, given that Fergie puts a lot of effort into being a grandmother. "I'm 'Super Gran Pan!'" she joked to People, referencing Peter Pan and noting the kids "think I'm very funny."