Why Sarah Ferguson Is 'Proud' To Financially Support Prince Andrew If Needed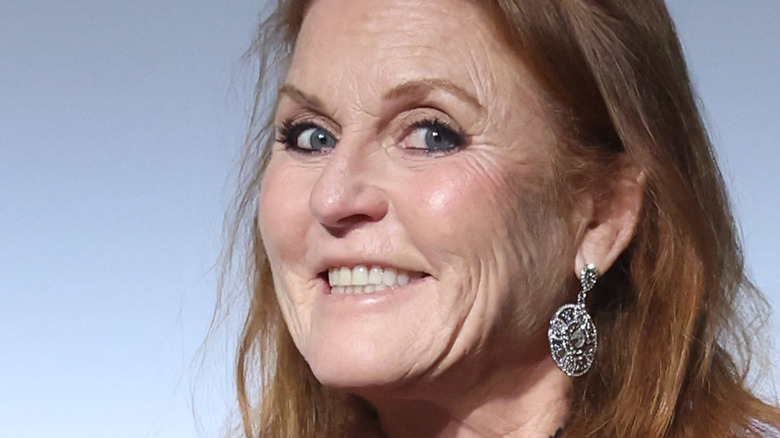 Daniele Venturelli/Getty Images
Prince Andrew and Sarah Ferguson, Duke and Duchess of York, go way back. Even before they married in 1986, Fergie and Andrew first met in childhood. Fergie's father worked as a polo manager for Philip, and Fergie and Andrew enjoyed playing outdoor games together. While the couple separated in 1992 and officially divorced in 1996, their lives remain intertwined. "We always say we are the most contented divorced couple in the world. We're divorced to each other, not from each other," Fergie told The Telegraph in 2021. Over the years, the Duke and Duchess of York worked together to raise their daughters, Princess Beatrice and Princess Eugenie. More recently, Fergie was forthcoming with words of emotional support for her ex after Queen Elizabeth's Platinum Jubilee, telling The Times that he was a "good and kind man."
Since 2006, Fergie has shared a home with Andrew at Royal Lodge. Even so, they each have their own separate spaces in the vast 30-room home. However, now that King Charles is reportedly planning to eliminate Andrew's yearly allowance of £249,000, the Yorks may have to leave Royal Lodge for smaller Frogmore Cottage after Prince Harry and Meghan Markle move out. While Andrew is opposed to moving, he may not have to financial ability to stay, given that he has only an annual navel pension of £20,000 and hasn't been a working royal since 2019. However, Fergie has once again proclaimed her willingness to support her former husband, this time financially.
Fergie earns money as an author and entrepreneur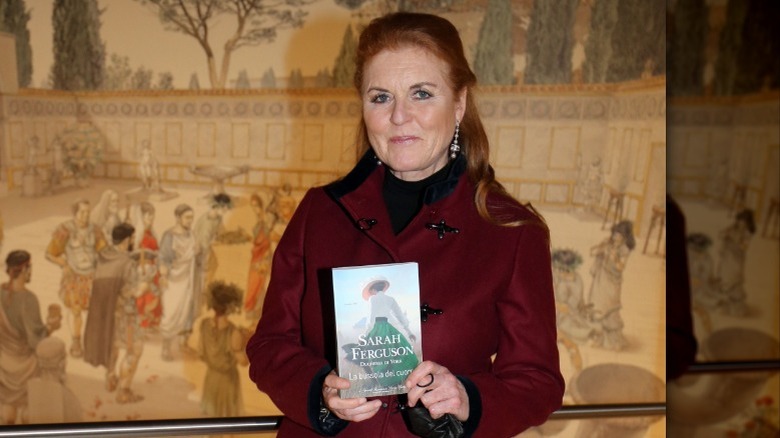 Elisabetta A. Villa/Getty Images
Sarah Ferguson, Duchess of York, has experience earning a living outside the royal family. "I wanted to work; it's not right for a princess of the royal house to be commercial," she told Harper's Bazaar in 2007. "Andrew and I decided to make the divorce official so I could go off and get a job." Over time she has worked as an entrepreneur, Weight Watchers Ambassador, and author. Her books include memoirs, children's books, and historical romance novels.
The duchess has been contributing to her family's finances since she published her first children's book, "Budgie the Little Helicopter," in 1989 while she and Prince Andrew were married. Now she's expressed her willingness to continue working to help her former husband. "Since he stepped back [from royal duties] he doesn't actually take taxpayers' money," she told Hello! "And I'm in a position where I can support him and the rest of the family through my work. And I'm really pleased and proud to do that."
Fergie also has empathy for Andrew's situation. She's been through some financial hard times herself, and Andrew has come to her rescue. In 2010, the duchess was facing bankruptcy after she accrued millions of pounds worth of debt. To help her, Andrew instructed his palace staff to work out a plan so she could pay down her debts. 
Fergie is helping Andrew because she was devoted to Queen Elizabeth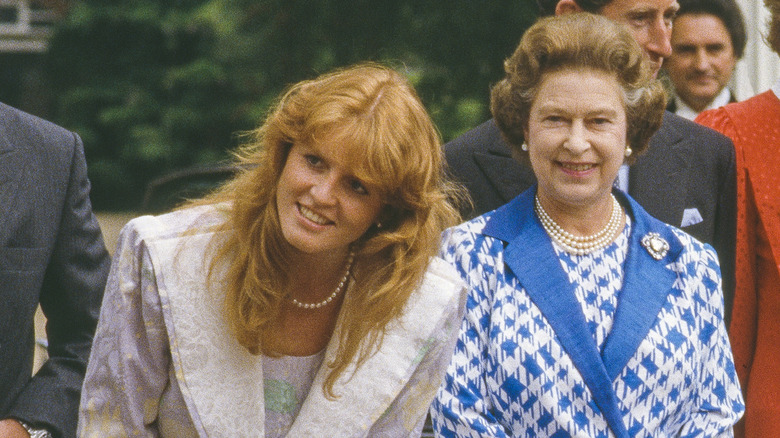 Derek Hudson/Getty Images
Queen Elizabeth had a special relationship with Prince Andrew, and he was reportedly her favorite child. In turn, Sarah Ferguson, Duchess of York, has been devoted to the queen. "I've always admired and adored her. Really, she was more of a mother to me than my mother," Fergie told The Telegraph. She admired her former mother-in-law's "ability to listen and never judge." Their bond increased during the Elizabeth's final years as she dealt with the stresses surrounding Andrew's settlement with Virginia Giuffre in a sex abuse court case. "I think HM was very relieved I could help her with him, so we became even closer, then," Ferguson explained. "She knew I will always be there. Always. Because I love her."
Fergie places a lot of emphasis on her own role as a mother. In 2011, she told Harper's Bazaar: "People say to me, 'What is your brand identity?' And I say, 'I'm a global mother.'" When she was a child, the duchess' parents divorced and her mother moved to Argentina when she remarried. The experience left her struggling with feelings of abandonment.
However, even before Fergie's children were born, she and Elizabeth bonded quickly. During the mid-1980s, Vanity Fair reported Andrew said before his wedding, "Sarah was Mummy's choice originally." The queen and her new daughter-in-law shared a love of horses and polo, and strengthened their relationship during private dinners together — a prestigious honor reserved for a select few.