Martha Stewart Blasted Reports She Got Plastic Surgery After Her Sports Illustrated Cover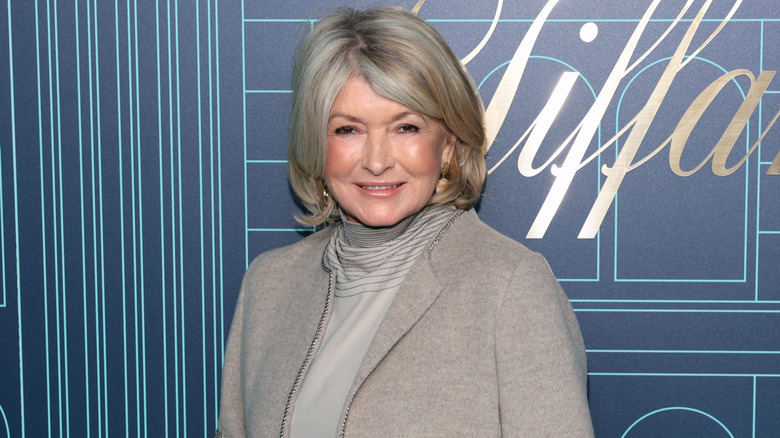 Dimitrios Kambouris/Getty Images
Martha Stewart wears many hats. The former stockbroker is an entrepreneur, a cooking master, and a lifestyle figure known for her many tips and tricks for the home. In 2023, Stewart added another role to her already-impressive resume: Sports Illustrated cover star. At 81, this made her the oldest individual ever to pose for the magazine. Stewart posted her Sports Illustrated cover on Instagram and received acclaim from fans for looking ageless in her 80s. However, others left disparaging comments, including one that read that Stewart has "Thousands of dollars worth of Plastic Surgery." In an interview with Variety, Stewart addressed these allegations.
The publication asked about the plastic surgery rumors, to which Stewart replied, "Well, it's not true. I've had absolutely no plastic surgery whatsoever. I have very healthy, good hair. I drink green juice every day. I take my vitamins. I eat very healthfully. I have very good skin doctors." She added, "I'm very careful in the sun. I wear hats and I wear sunblock every single day."
In her Sports Illustrated cover, Stewart smiles at the camera while wearing a white one-piece with an orange cape. In the rest of the photos for the magazine spread, she flaunts her incredible figure and fresh-faced visage. While Stewart has not gone under the knife, there are other lines of action she uses to reduce the signs of aging.
The cooking guru reveals how she maintains her youthful appearance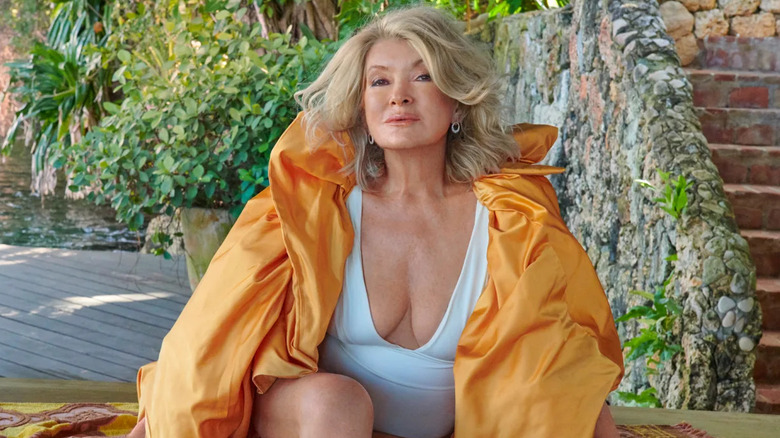 Ruven Afanador/Sports Illustrated
Speaking to The New York Times about her Sports Illustrated cover shoot, Martha Stewart said she had no plans to get plastic surgery and explained that her skincare routine and diet have helped her look young. Stewart gets her facials done at the Mario Badescu salon in New York. Her facialist, Carmela Barabas, told Vogue that Stewart's facials focus on providing glowing and rejuvenated skin. That said, Stewart did admit to Variety she's gotten fillers, but noted that she does not like Botox. 
While Stewart did not elaborate further, her dermatologist, Dr. Daniel Belkin, told The New York Times in 2022 that Stewart gets "non- or "minimally invasive" cosmetic work. Moreover, Stewart relayed to Variety that she intensively prepared for her Sports Illustrated shoot. She did Pilates multiple times a week, waxed, got a spray tan, and had facials. She also did not drink alcohol and told "Today" that she "didn't eat bread or pasta for a couple months."
Her diet and beauty treatments are not the only things Stewart believes make her look younger than her years. In an interview with Well + Good, she said staying active through gardening and other chores keeps her young. Furthermore, Stewart told Yahoo! Life that traveling and spending time with her family and friends are a must.
Martha Stewart's modeling past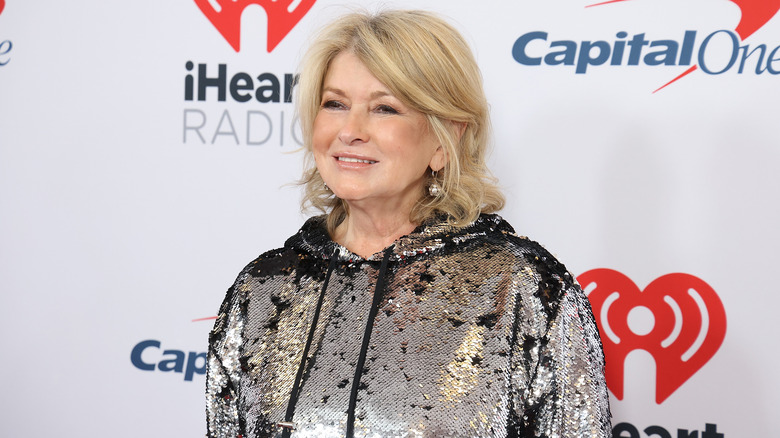 Taylor Hill/Getty Images
Martha Stewart is not a rookie when it comes to gracing magazine pages. She had a modeling career in her teens. In People, Stewart recalled that her neighbors encouraged her to pursue modeling. Stewart began working for Ford Models when she was 15 and modeled for Channel and Glamour. She also appeared in commercials. She was paid $50 an hour and used the money to help fund her education at Barnard College. 
Speaking about her early modeling years to People, Stewart admitted that she never thought she was beautiful. She noted, "That was my only problem. I knew that I could model, I knew I could pose for pictures, but I was not sexy, and I was not provocative. That feeling never came. It still hasn't come. I'm waiting for that day."
Perhaps her Sports Illustrated cover has changed her mind. Stewart told People that she wished she could have done the cover when she was younger. However, on "Today" she said, "For me, it is a testament to good living, and I think that all of us should think about good living, successful living, and not about aging." Stewart also said, "The whole aging thing is so boring."