Why You Always See Florence Pugh Starring In Dark Movies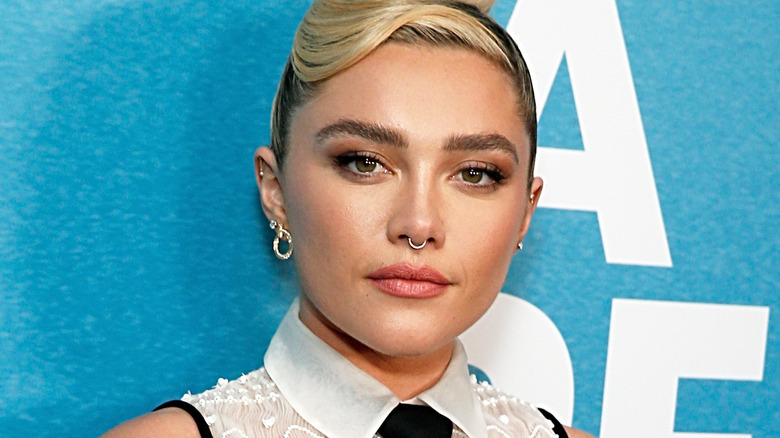 Dominik Bindl/Getty Images
Florence Pugh has taken the acting world by storm, from impressing audiences in the 2019 horror film "Midsommar" to starring opposite Timothée Chalamet in Greta Gerwig's adaptation of "Little Women." Though the actress experienced her fair share of difficult moments while filming "Midsommar," Pugh is a resilient performer who has since locked down major roles in "Dune 2," Marvel's "Black Widow," and its sequel "Thunderbolts." 
Florence Pugh has opened up about roles that required her to lose weight or change her appearance, explaining that she sticks to her guns when it comes to remaining herself no matter what character she's playing. She told The Telegraph in 2018 (via Glamour), "All the things that they were trying to change about me — whether it was my weight, my look, the shape of my face, the shape of my eyebrows — that was so not what I wanted to do, or the industry I wanted to work in." Thankfully, Pugh's roles have allowed her to find joy in acting without giving up parts of herself. Plus, the actress has learned to recover from the emotional toll of even the darkest films she's starred in.
The actress has a self-care routine off-set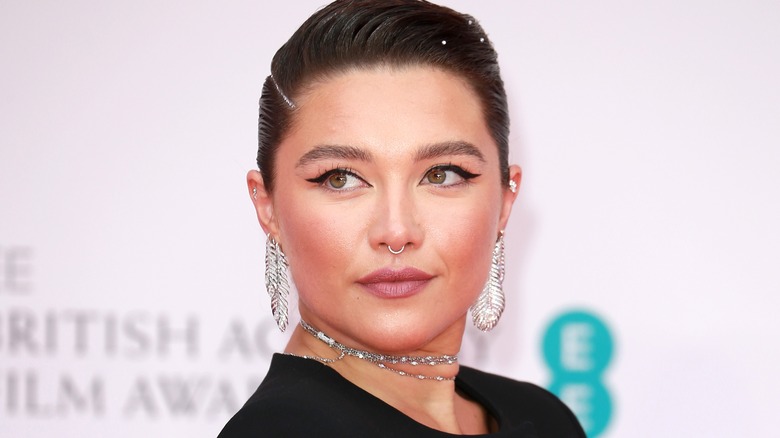 Fred Duval/Shutterstock
Florence Pugh is regularly recognized for her phenomenal talent, and former collaborators have raved about her natural acting skills. Ari Aster, the director of "Midsommar," told The New York Times of Pugh, "For someone who is not classically trained, she has formidable instincts. I think she can play anything." 
Though the star can step into seemingly any character's shoes, that doesn't mean she recovers immediately from a long day on set. Her former partner, actor and director Zach Braff, told Variety that filming "A Good Person" was "incredibly emotionally taxing on Florence." He also described the day-to-day experience, describing it as "very exhausting."
Thankfully, Florence Pugh has an effective self-care routine for the end of a long day on set. Braff told Variety, "Florence finds cooking relaxing and meditative." He explained, "At the end of these epically stressful days she would cook a giant meal for me or friends and family and I'd be like, 'Are you sure?' And she'd be like 'No, I need to do this, I want to do this.'"
Confirming her serious culinary skills, the actress's Instagram following is waiting with bated breath for more "cooking with Flo" videos, and she's even filmed a cooking segment with Vogue. 
She has a flare for the dramatic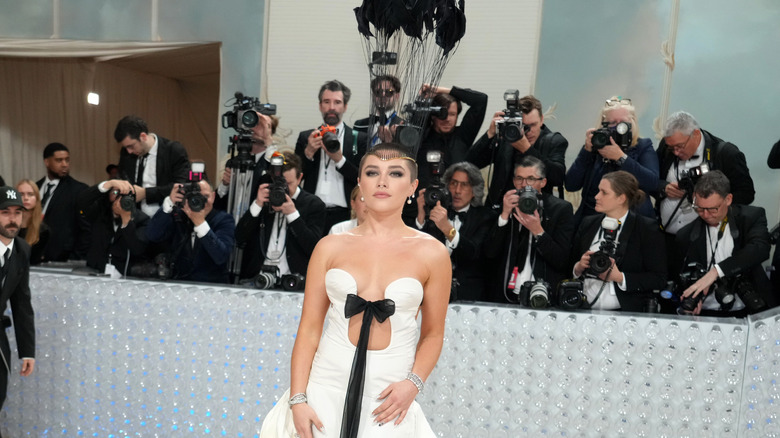 Jeff Kravitz/Getty Images
Florence Pugh told Variety why she regularly seeks out such intense roles in her acting career. "It's no secret that I only pick very intense roles," she admitted. Pugh also said that filming "A Good Person" wasn't all that unique for her, in many ways, since it "isn't the first time I've been reduced to tears pretty much every single scene that I've been in."
Of course, Pugh's transformative performance in "Midsommar" asked the actress to summon feelings of grief, fear, and euphoria, while her role in Zach Braff's "A Good Person" also featured a protagonist grieving a loved one. She explained, "I love being given a script where it challenges myself and I have never picked a role unless I've been scared of it."
Though fear may be a motivator for Pugh to conquer a new role, the actress never appears intimidated. Casting director Shaheen Baig told The New York Times of Pugh, "There's no fear or vanity; it doesn't matter what you throw at her." Of course, Pugh's reputation for flexibility and emotional range is well-deserved — she aced her role as the ingenue in "Don't Worry Darling" after kicking butt in Marvel's "Avengers" spin-off "Black Widow." There's no predicting the depth of Pugh's future roles, especially since we know the actress is always up for exploring the darker side of life.