Florence Pugh Reveals The Most Difficult Scene To Film In Midsommar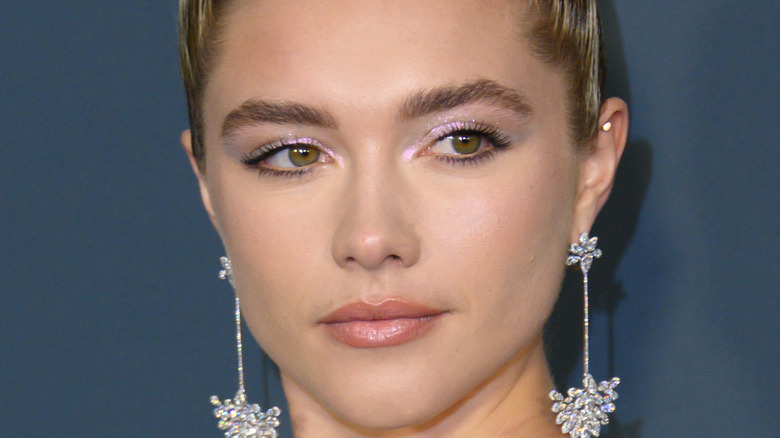 Silvia Elizabeth Pangaro/Shutterstock
Ari Aster's "Midsommar" was the jaw-droppingly dark horror movie that, as its title suggests, took place almost entirely in bright sunlight. Released in 2019, the film found Florence Pugh's grieving protagonist, Dani, accompanying her no-good boyfriend Christian (Irish stud Jack Reynor) on a boys' trip to Scandinavia where, while taking part in the eponymous festival, things quickly go from bad to worse, per IMDb. At almost two and a half hours, "Midsommar" is a day-ruining experience that's also strangely emotional. 
Critics were effusive in their praise, with the movie achieving an impressive 83% on Rotten Tomatoes. As the Associated Press so succinctly put it, "'Midsommar' is a waking nightmare and I mean that in the best possible way," while FilmWeek enthused the movie "gets under your skin in a really creepy way." Although Aster's sophomore feature was tough, as an audience, for us to get through the film was considerably more difficult for star Pugh. One moment, in particular, was grueling for the young actress.
The actress found this moment emotionally grueling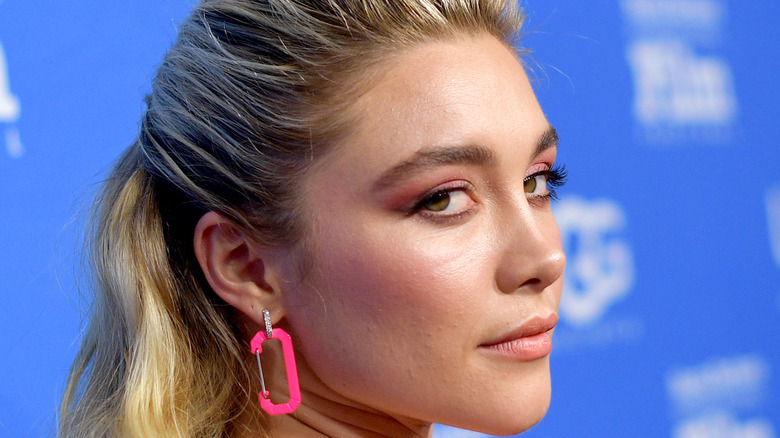 Matt Winkelmeyer/Getty Images
"Midsommar" is a movie positively bursting with bizarre, emotionally charged sequences but protagonist Dani, who's just lost her entire family in an unspeakable tragedy, has to shoulder most of the burden. In one particular scene, which was understandably used in much of the marketing material, Dani collapses on the floor in tears as a group of well-meaning but undoubtedly creepy Scandi women crowds around, echoing the noise she's making. Actress Florence Pugh revealed in an Instagram post that this moment was the toughest to film overall, noting, "This was THE scene." The British actress admitted everybody involved was dreading it throughout the entire shoot, painfully aware of how much longer there was to go until it was time to do it.
Pugh acknowledged, "I've never been an actor that finds it easy to cry on camera." She elaborated, "It's something very personal to me and despite finding other aspects of acting exciting and thrilling, I find crying very scary and at some points in my career directors having to change the scene because I couldn't do it." Thankfully, the "Black Widow" star had a group of women around her to support Pugh in the journey, all of whom contributed to the emotionally resonant performance by giving her the space to really let go and feel it all. "By the end we were all in each other's laps and crying and allowing our bodies to keep heaving," she shared. Unsurprisingly, everything is there onscreen.