What Makes The Sassoon Bob Different From The Traditional Style?
Shorter haircuts can seem scary if you've never had one, but chopping your locks off at least once in your lifetime is a must-try if you like to change up your hair. Shorter hairstyles are often underrated, but they have so much to offer. They can keep you cooler in the warmer months, and they're a lot easier to manage on an everyday level than most longer styles. You also don't have to go super short right away — the evergreen bob would be the ideal starting point to try out a shorter cut. With so many bob variations popping up every year, there's definitely one for every aesthetic.
For a low-key, more casual look, go for something like the bullet bob we've been seeing everywhere. In the case that you're into something more structured, the 'flob' is the sleek alternative you don't want to miss. However, if these bob styles are a bit underwhelming or overdone for you, the classic Sassoon cut — named for famed hairstylist Vidal Sassoon — is here to broaden your bob horizons.
The origins of the Sassoon bob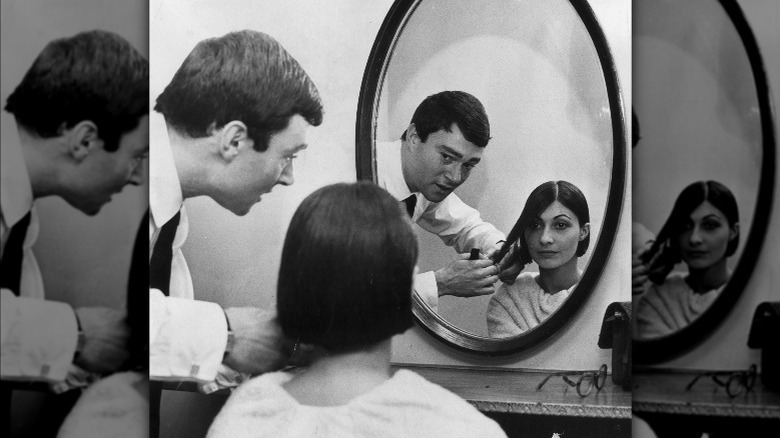 Kent Gavin/Getty Images
Throughout the 1960s, British hairstylist Vidal Sassoon revolutionized women's haircuts, allowing them to skip weekly salon visits and manage their hairstyles at home. Sassoon moved away from the then-super popular beehive hairstyle because he didn't believe a good haircut should require a ton of upkeep, according to Sassoon Academy. Inspired by the German geometrical design style Bauhaus, Sassoon said he engineered the asymmetrical cut we now know as the Sassoon bob as a way of "getting rid of the superfluous and paring it right back to basics."
Shorter in the back with longer layers left in the front, this blunt-cut bob is trending once again, decades after it was originally popularized. Even though it looks easy to achieve, Sassoon warned about it being tough to properly execute, saying it was "pure geometry." His low-maintenance cut was loved immediately, with Grace Coddington, the former creative director-at-large of American Vogue, describing it as iconic. "[Vidal Sassoon] totally changed hair — everything before then was lacquered and stiff. Suddenly you could shake your head — it was a defining moment of the Sixties," she shared with Vogue.
How to rock the iconic Sassoon bob now
As the Sassoon bob is more structured and intentional than the traditional bob, it's the perfect cut for anyone who wants to look like they just came out of the salon at all times. You can modernize it by adding micro bangs, an undercut, or a bold color for an interesting twist. Any hair color would make sense with the Sassoon cut, so go for whichever you like most. To round off the low-maintenance look, a lived-in brunette color is a great option, but for a more out-there approach, go all out. Unexpected colors like warm strawberry blond or fiery copper can elevate this cut and give it an additional edge.
Finding the right hairstylist is the most important part of any chop, no matter how big or small. Before booking a session, make sure to find one who will be able to tell if your Sassoon bob needs some tweaking depending on your face shape. Luke Hersheson, hairstylist and Hershesons chief executive officer, emphasized the importance of knowing how to work with the hair and not against it. "If you don't get the haircut right, no amount of styling will make it right ... if you get the haircut right, you can get away with very minimal styling," he told Glamour. The Sassoon bob is simple to manage on your own with regular touch-ups, so all there's left to do is find a geometrically savvy hairdresser.