The 'Flob' Is The Trendy, Sleek Alternative To An Unstructured Short Haircut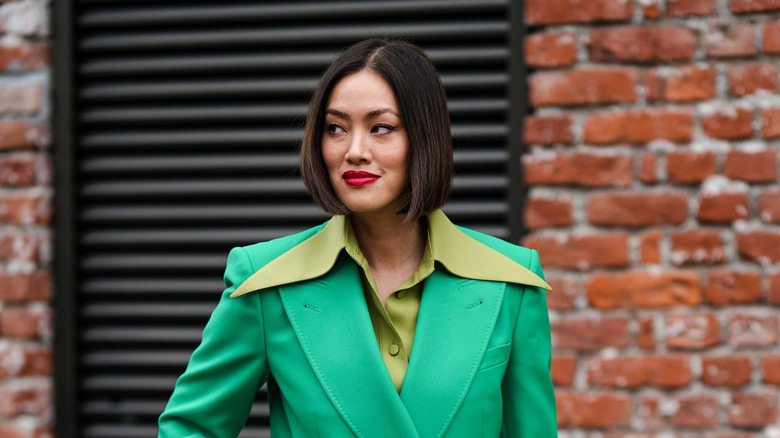 Edward Berthelot/Getty Images
From the modernized mullet to the updated Rachel cut, the last couple of years has seen a wide variety of haircut resurgences. While the shagginess of these styles works really well to create a laid-back look, you may want something with a little more structure. If so, we are glad to introduce you to the sleek and stylish "flob."
Similar to the styles mentioned, the flob is not a new creation but a version of the well-loved bob. The bob, for the uninitiated, is a short hairstyle that is typically chin-length and straight-cut. However, these factors can vary depending on the exact style. In this way, the flob is just one rendition of a timeless haircut that's come back into fashion.
The current trendiness of this cut provides the perfect alternative to the choppy and shaggy looks dominating social media feeds and red-carpet events. Worn on runways and by celebrities, the flob may be just the style inspiration you need for a sleek and structured look.
Defining the flob hairstyle
Overall, the flob is a pretty simple haircut, consisting of a blunt cut, middle part, and straight style. The simplicity is what gives the look a sleek, structured vibe, making it perfect for those going for a polished appearance. The recent surge of this cut's popularity is likely linked to Rosamund Pike's role in the 2021 Netflix movie "I Care a Lot."
As the shady anti-hero Marla Grayson, Pike sported a straightened, severe hairstyle that has only become more popular since. In terms of other celebrities, the flob has been rocked by Kelly Rowland and Lucy Hale. The sleek look has also appeared on several runways, featured in Chanel's 2021 spring/summer collection and Dior's 2022 spring/summer collection.
Other than that, the appeal of the flat bob lies in its ease. As hairstylist Junz Loke tells Female Mag, "It's low maintenance, doesn't require much styling, accentuates the bone structure and if you feel like switching things up, it looks just as great with a deep side part too."
Hair colors to wear with this style
Part of the flat bob's appeal is that it can be tailored to individual face shapes and works well with any hair color. However, if you plan to head into the salon with this cut in mind, you might also be looking for a change-up in color. Luckily, we have some great color suggestions for the flob.
First, this style's sleekness is accentuated by dark colors, such as brown or black. This can be seen in the looks of Rihanna and Kim Kardashian, who both sport the cut in black. Monochrome coloring will emphasize the structure of this cut, but you can always add an ombre twist to your black hair if you want something a little more dynamic.
For something trendy, we suggest checking out cinnamon brown or honey blonde, two shades popular among celebrities recently. If you don't feel like switching things up, your natural color will also work great with the flob cut.