Necklace Styles That Pair Perfectly With V-Necks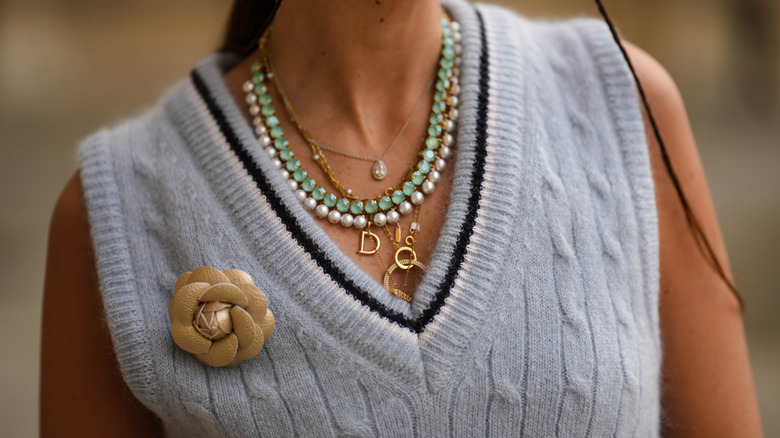 Edward Berthelot/Getty Images
Jewelry is a fabulous way to elevate any look. Stylist Kate Young describes it as timeless, unlike clothing. "I love fashion but it can be so transient," she shared with Vogue, adding that trendy garments "can look really tired a year and [a] half later. Jewelry doesn't do that."
As details can make or break a look, it's extremely important to know how to utilize your jewelry pieces in the best way possible. Clothing necklines play a massive role in styling pieces like earrings and necklaces. For example, a choker and a boat neck don't pair particularly well because the combo doesn't leave enough skin for a visually interesting look, making the upper part of your outfit seem cluttered. Knowing popular necklace lengths that work best for you can also help.
Generally speaking, more open necklines benefit from necklaces, and the perfect top to pair with your favorite pieces might just be the V-neckline. The ultimate feminine neckline that shows off some or a lot of your décolletage is perfect for complementing an interesting necklace. This classic neckline never goes out of style, and to avoid looking too on-the-nose classy, mind the type of necklaces you choose with it.
Chunky chain necklace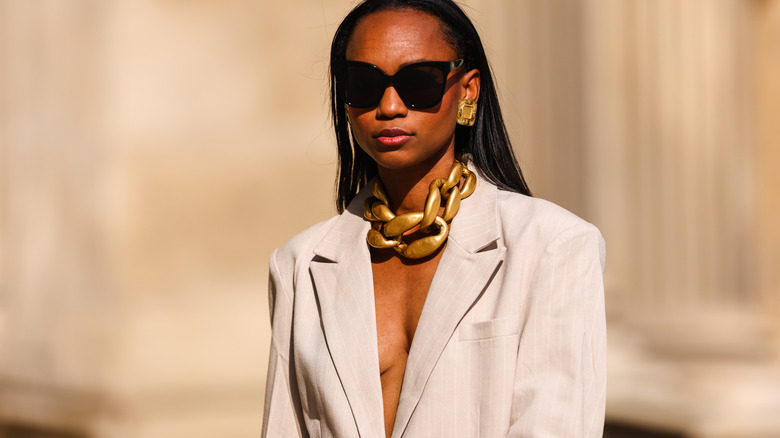 Edward Berthelot/Getty Images
A V-neckline leaves space for the ultimate chunky necklace, the chain. Any type of chain would look great here, but bolder twists like the curb and rope chain will make a louder statement. Keep it shorter, no longer than collar length, and go for either gold or silver to make it more elegant. For the necklace to be the center of attention, make it the sole piece of jewelry and counterbalance its boldness with an overall slouchier or more feminine silhouette of your outfit.
A single long necklace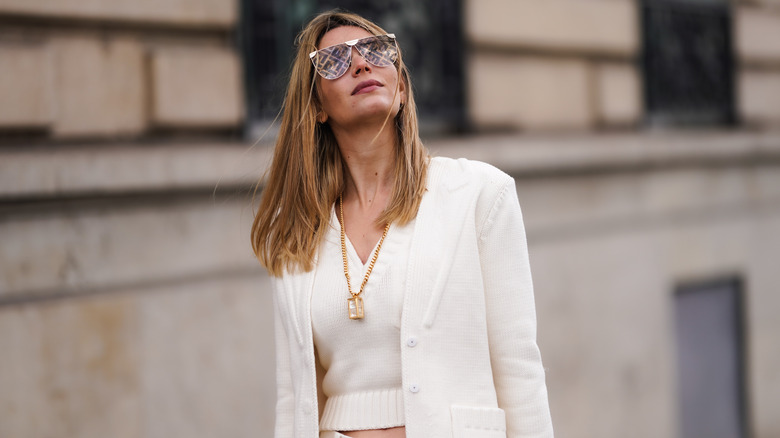 Edward Berthelot/Getty Images
While a longer necklace might not be your first choice for a V-neck, it's going to add an unexpected touch to your overall look with no effort whatsoever. Make sure it's longer than the V-neckline itself to nail the minimalist aesthetic, and keep it as simple as possible but not too dainty. For example, a thinner box or solid cable-chain necklace with an interesting pendant is going to steal all the attention, especially if you make it stand out from your outfit color-wise.
Layered pearls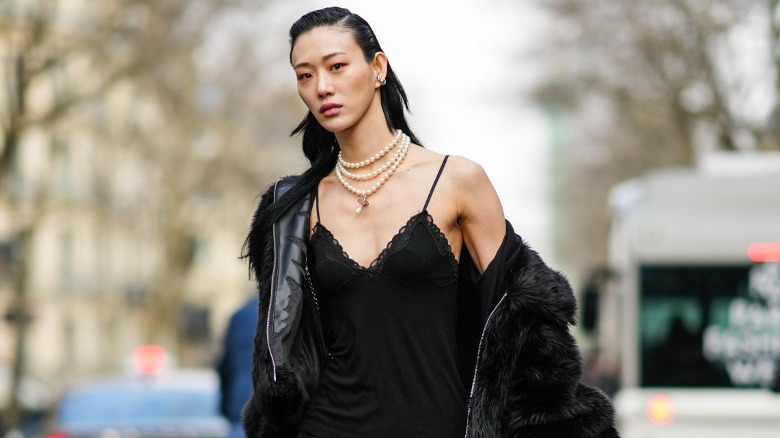 Edward Berthelot/Getty Images
Pearls never go out of style, but you don't have to pair them with other classic pieces. When choosing a necklace for your grungier V-neck clothing, opt for a layered pearl necklace with an optional pearl pendant to evoke the ultimate edgy vibes. Pairing such a classic necklace with moodier colors will create a fashionable contrast. However, a layered pearl necklace is almost a statement piece of jewelry, so consider going with more delicate fabrics like silk and lace for your clothing, especially the V-neck piece.
Add a statement pendant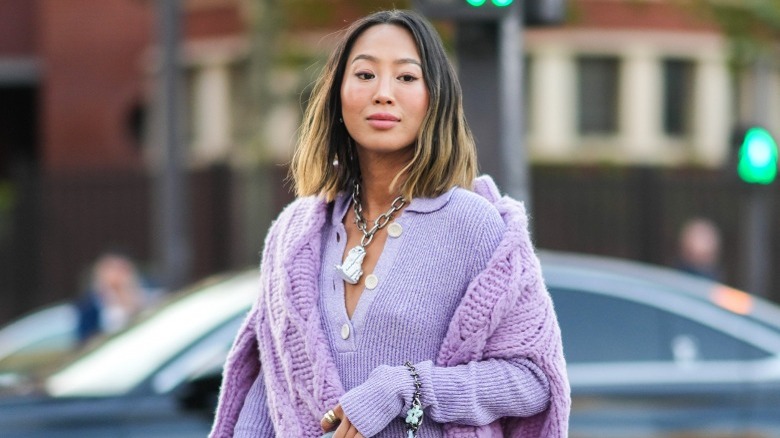 Edward Berthelot/Getty Images
Pendants are oftentimes underrated when it comes to necklaces, especially larger, bolder pendants. There's no better time to try rocking a statement pendant on a necklace than when you have a V-neckline. The bare space on your chest is perfect for showcasing a treasured piece you love, particularly if it's centered almost in the middle of the V-neck. For this to work, the V-neckline shouldn't be too deep, so the necklace doesn't have to be too long — the shorter matinee length is optimal. Have fun and color-coordinate the pendant with your outfit.
Go for multiple pendants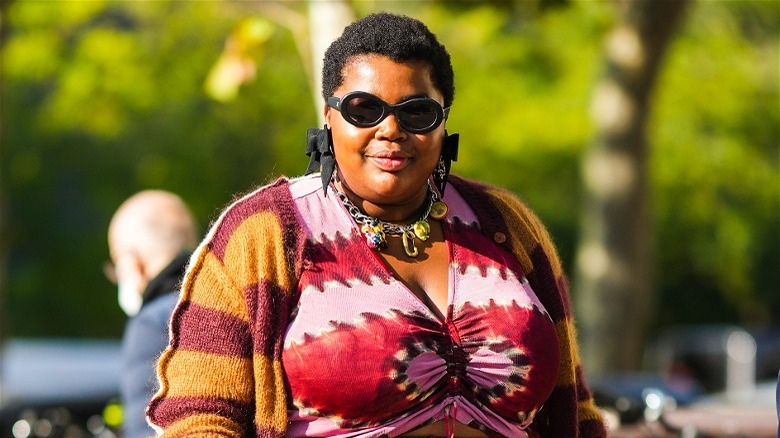 Edward Berthelot/Getty Images
If you like your pendants hanging from your neck, why not go all out? Choose a necklace with multiple colorful pendants that tell a story. They can be all the same pendants or completely mismatched and differently sized. Just make sure the necklace isn't longer than collar length for this one, as the pendants won't look as good. The V-neck will make this necklace stand out, so you don't have to try too hard for the rest of the accessories, but that doesn't mean you're not allowed to play with other jewelry pieces.
Simplicity city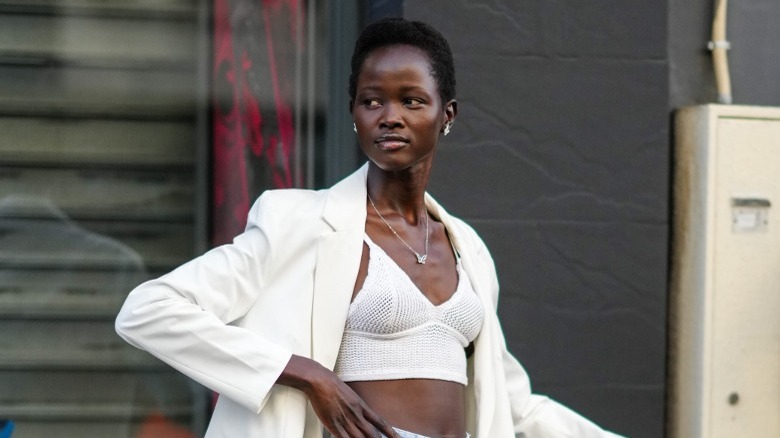 Edward Berthelot/Getty Images
A V-neck top paired with a simple necklace style is the perfect combo for creating a low-key look you can rock on an everyday basis. Wearing jewelry when you're a minimalist doesn't have to mean you're stuck with barely-there pieces. To make your necklace more interesting, opt for a cute pendant that isn't too big. For a more relaxed vibe, the necklace should be about princess length, which is around 17 inches long. Stick to a more simple chain, like a thinner cable one.
Layered thin necklaces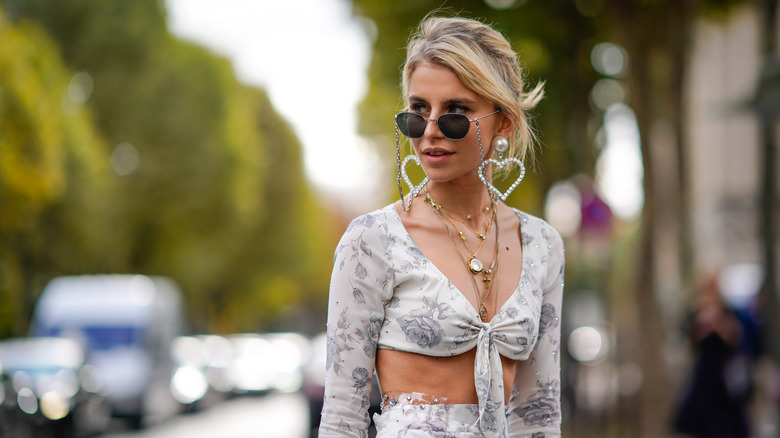 Edward Berthelot/Getty Images
Layering necklaces is a great way to add some fun to your bare chest when rocking a V-neck. The perfect stack of layered necklaces can be achieved best with thinner necklaces, but they don't all need to be the same type. Mix a couple of different types of chains, like cable and rope chains, and don't forget a charm here and there. If you're more of a minimalist type, pendants are optional, but they do add extra depth to the stack. This is the perfect opportunity to mix gold and silver jewelry without it coming off too strong.
A flower choker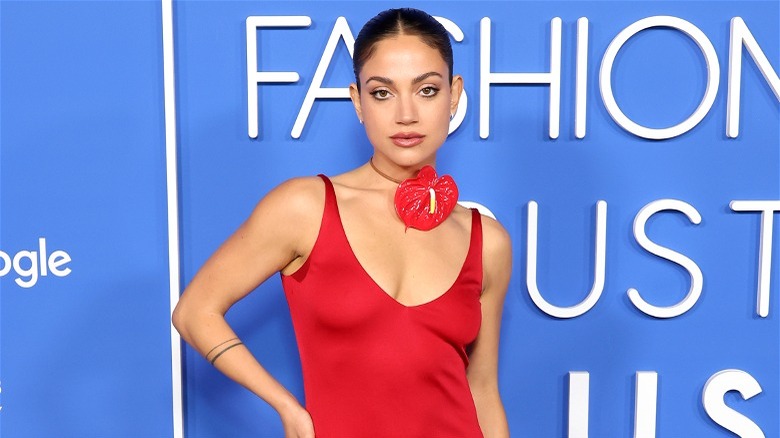 Monica Schipper/Getty Images
Chokers are the ultimate necklace style to pair with a V-neck. For an interesting and unexpected twist, go for a flower choker. The necklace itself should be thinner to make the flower stand out, but thicker ones work too. To create a romantic feel, color-coordinate the flower with the rest of your outfit. If you want to get crafty, this type of necklace is easily done at home. All you need is a colorful string or piece of yarn, a fake flower, and a safety pin to attach it all together.
All eyes on you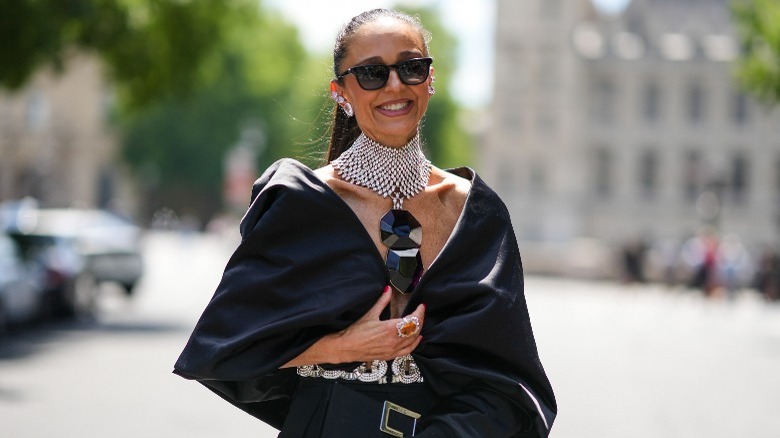 Edward Berthelot/Getty Images
Necklaces can be the statement piece of your entire look, and the best neckline to truly make that showstopping element stand out is the V-neck. Choose your favorite necklace style that complements a V-neckline, and pull out all the stops — the bigger the better. Nothing is off the table, from flashy colors and crystals to huge pendants and intricate details. A glam necklace with a V-neck can show off your personality; just remember not to take away from it with other pieces. An overall toned-down fit will make the necklace the star of your décolletage.
A silk choker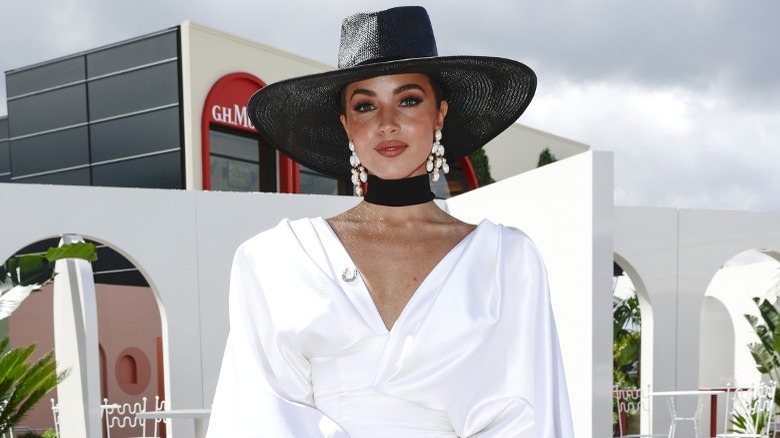 Sam Tabone/Getty Images
If you would like something a bit different or you're not that into necklaces, you can still complement the V-neck with a delicate adornment. A silk ribbon choker wrapped around your neck will be a feminine touch that elevates your neckline without taking away from the rest of the look. Go for a contrasting color to make it stand out, or color-coordinate it with the color scheme of the outfit for a monochrome feel. A silk scarf is a good alternative for creating some dimension.