The Viral Towel Hack That Creates Timeless Curls While You Sleep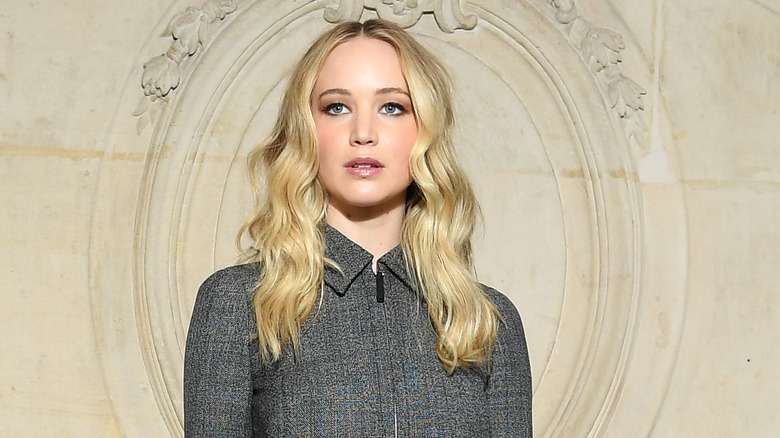 Pascal Le Segretain/Getty Images
If you were around in the 1990s, you probably remember the foam curlers that theoretically created the iconic '90s bouncy curls. You could go to bed with an entire head of various-sized curlers and wake up with (hopefully) soft curls. Alternatively, we vividly remember our mothers rolling our hair up in hot curlers while silently praying they wouldn't burn our scalps. Since then, things have improved, thankfully.
Barreled curling irons and other hot tools have made it possible to achieve curl perfection. However, these methods require time and skill, not to mention, repetitive heat on your locks that can cause unpleasant side effects. Thankfully, TikTokers have come up with a few heatless methods ideal for those who want the most with minimal effort.
Heatless curl hacks seem to be a dime a dozen. Take, for example, the robe belt twist technique, the sock trick, or the t-shirt plop. In this case, having too many choices is good because you can pick the best method for your hair type, routine, and desired look. So let us add one more option to the selection — the viral towel hack.
What's the viral towel hack?
To master this trick, you'll need a dish or hair towel, two hair bands, and a flat surface, like the top of your bed. TikTok user @hairbykylie demonstrated how rolling up your locks into a giant terry cloth bun before you go to bed can produce voluptuous waves in the morning.
First, you'll need to secure your hair on top of your head with a hairtie. You can use whatever you have on hand, but ties that don't crease your hair are often best as they won't leave you with a funky line in the morning. Then, spread out your towel on your bed. Line the shorter edge up with the edge of your bed so it's lying in front of you lengthwise.
Kneel down or bend over while facing the towel on your bed. Put your ponytail flush with the edge of the towel and spread your hair down the length of the cloth. You won't be able to see what you're doing for this next part, so it may take practice. Starting at the end of the towel furthest from you, begin tightly rolling it up with your hair inside. Take care to keep the towel parallel, not rolling one side faster than the other. When you reach your scalp, do your best to curl everything into a "C" shape and secure it well with a scrunchie. Hop into bed and pray to the hair gods that everything holds tight until the morning!
Heatless curls while you sleep
The next morning, unroll your towel bun, and voilà! You've got full-bodied, not too tight, voluminous curls. You can brush them out with a wide-toothed comb or your fingers if you wish. Adding some holding products like Bumble and Bumble's Spray De Mode Hairspray is an important final step for straight-haired gals to help lock in curls. What we love about these curls is that they are loose and relaxed, perfect for the lived-in hairstyle trend currently going on. Of course, if you notice a few hairs doing their own thing, you can always reshape them using a curling iron.
A few final tips to achieve curl perfection are, first, that you shouldn't curl wet hair. This trick works best on dry hair as wrapping up wet locks is a recipe for frizz. Also, you'll need around 7 to 9 hours to get the best results, which is why it's suggested you sleep with the towel bun. Finally, resist the urge to play with your curls. Running your hands through your bouncy, luscious strands can be tempting, but doing so typically shortens your curl's lifespan.
Remember, there are various different types of hair, and what works for one person may not always work for another. Thanks to social media and adventurous hairstyle-DIYers, there are plenty of heatless curl hacks to try. With a few household tools and some genius intuition, you may be able to sleep your way to better curls — a lazy girl's dream!