How Lucille Ball's Second Pregnancy Broke Ground For Women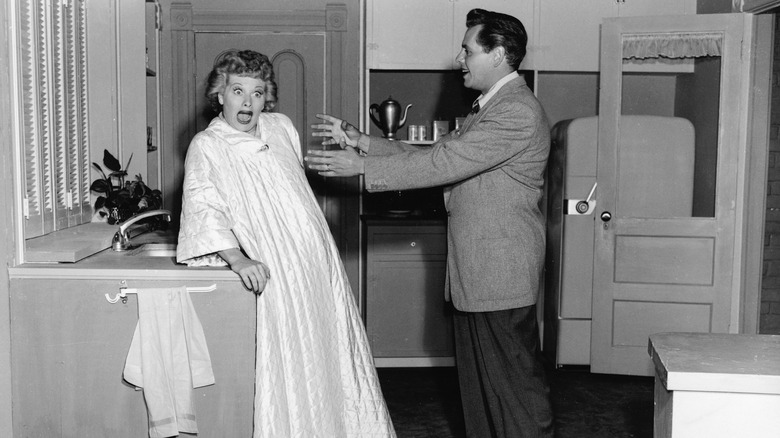 Hulton Archive/Getty Images
Lucille Ball was anything but ordinary. Besides breaking the glass ceiling at work and becoming a career woman that others could aspire to be, Ball also inspired women around the world. Playing Lucy in the iconic "I Love Lucy," Ball became a symbol for women everywhere to stand up to their husbands and make a place for themselves in their own lives. One way she did that was by becoming the first woman ever to be pregnant on television.
Not only did Ball inspire women with how she lived her life, but as one of the most talented comedic actresses of her time, she paved the way for future comediennes. Even legendary Carol Burnett herself looked up to Ball. Burnett marveled at Ball's ability to be direct and assertive. "She was able to say things that she felt like a guy would. Like, 'This sketch stinks, let's fix it,'" she said on Late Night With Seth Meyers. As the co-founder of Desilu Productions, Ball was also the first woman to run a Hollywood studio. 
Pushing boundaries was Ball's talent, so it's not surprising that she fought back against network executives to make sure her pregnancy was televised and spoken about. By doing that, she made television history.
Why pregnancy was such a big deal on TV in the 50s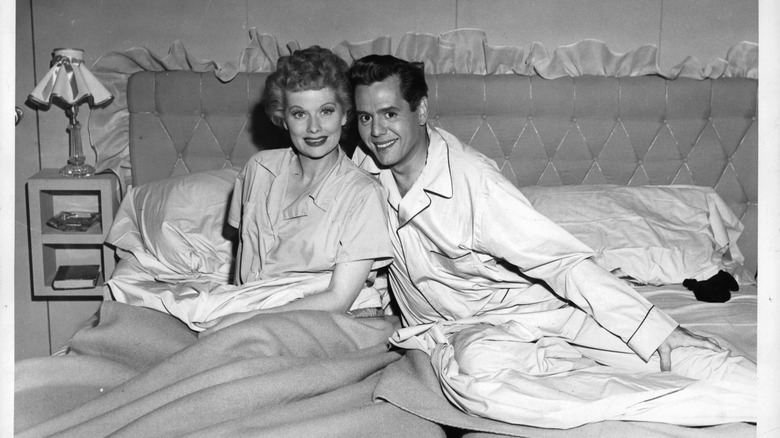 Archive Photos/Getty Images
In 1953, according to The Code of Practices for Television Broadcasters, TV shows were not allowed to refer to anything even remotely sexual. This included pregnancy. Actors could not say the word "pregnant," since sex must have taken place if a woman became pregnant. Furthermore, it made no difference whether the woman was married or not.
The decision to write a storyline for Lucy getting pregnant and giving birth was a huge risk. Network executives wanted Lucy to keep her pregnancy hidden and be filmed behind furniture to mask her growing belly, but producers went along after Ball's husband Desi Arnaz and head writer Jess Oppenheimer met with CBS and its major sponsor Philip Morris. The actors never uttered the word "pregnant" and merely referred to Lucy's condition as being "with child" or "expecting."
Lucille Ball's insistence to portray a strong woman with a full and varied life changed the landscape of television. Unbelievably, Lucy's pregnancy was the first time women across the country saw another woman go through pregnancy on-screen.
Little Ricky's birth was a huge hit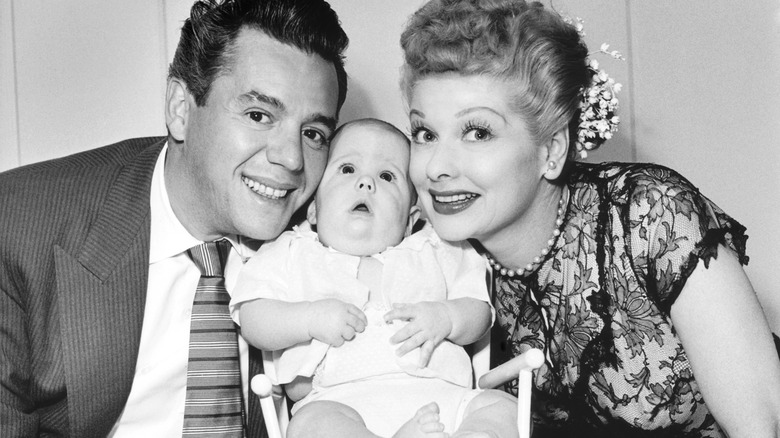 Km Archive/Getty Images
Many people working on "I Love Lucy" worried about how the American public would view a character who was openly pregnant and were concerned it would affect the show, fearing it would be canceled. Yet, a record number of households tuned in when Lucy was set to deliver her baby in the episode entitled, "Lucy Goes to the Hospital."
The episode was such a hit that apparently water supplies dipped quite low as soon as the show ended. With live TV back then, no one wanted to leave to use the bathroom until Lucy's baby was born.
In a wonderfully planned set of circumstances, Lucille Ball scheduled a cesarean section for January 19, 1953, and that was exactly when the show was set to air. As viewers around the country tuned in to see Lucy give birth to Little Ricky, Ball was giving birth to her own baby, without knowing whether it would be a boy or a girl. A son, Desi Jr. was born the very same night.