Jennifer Aniston And Courteney Cox Both Dated This Rockstar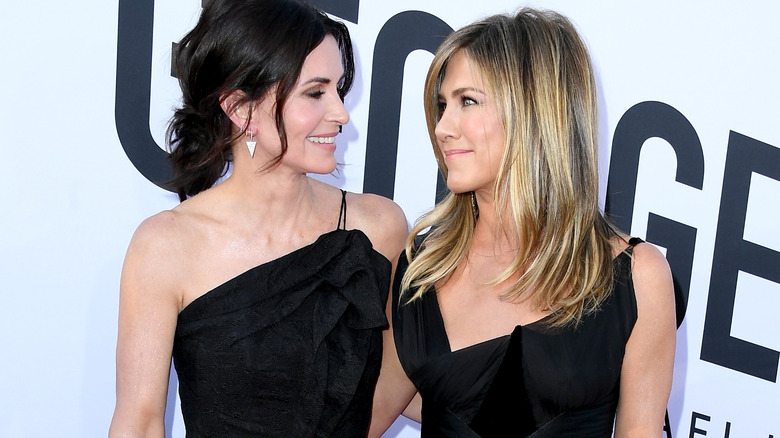 Steve Granitz/Getty Images
Some people view dating the same guy as breaking the girl code but in some circumstances, it does not impede the friendship and things are totally fine. This is especially true when the relationships weren't too serious and friend groups keep in the same circles. "Friends" stars Jennifer Aniston and Courteney Cox can relate as they both dated Counting Crows frontman Adam Duritz.
Aniston dated Duritz for a short time in 1995. The following year, Cox appeared in a 1996 Counting Crows music video for "A Long December." No stranger to hit music videos, you may recall Cox danced on stage in Bruce Springsteen's "Dancing in the Dark" video. By 1997, Cox and Duritz were dating.
Neither relationship between Duritz and the "Friends" stars lasted very long, but the fact that he dated both Rachel and Monica always seems to stir up conversation that the stars don't necessarily want to have.
How Jennifer Aniston and Adam Duritz met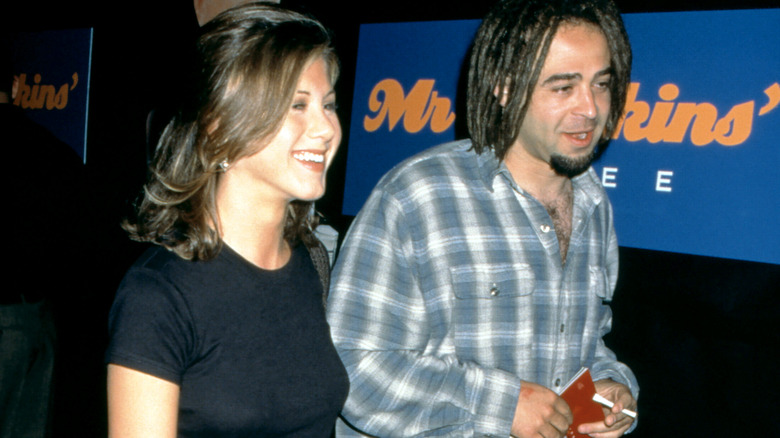 Ron Davis/Getty Images
Though "Friends" premiered in 1994, Adam Duritz didn't recognize Jennifer Aniston when they met at Johnny Depp's Viper Room. "I honestly had no idea who she was, I had been on the road during all of 'Friends,'" Duritz told ET. "I had never seen it, I don't think."
The lead singer had a little help from his own friends when meeting Aniston. "A bunch of my friends lied to me and told me she had a crush on me," he explained. "Those same friends lied to her and told her I had a crush on her."
Since then, Aniston has dated many high-profile people, including Brad Pitt, whom she married in 2000 and divorced in 2005. She then married Justin Theroux in 2015 and divorced in 2018. Courtney Cox also dated famous actors. Several years after dating Adam Duritz, Cox married David Arquette in 1999 and filed for divorce in 2012. Cox has been in a long-term relationship with Johnny McDaid since 2013.
Adam Duritz doesn't regret the relationships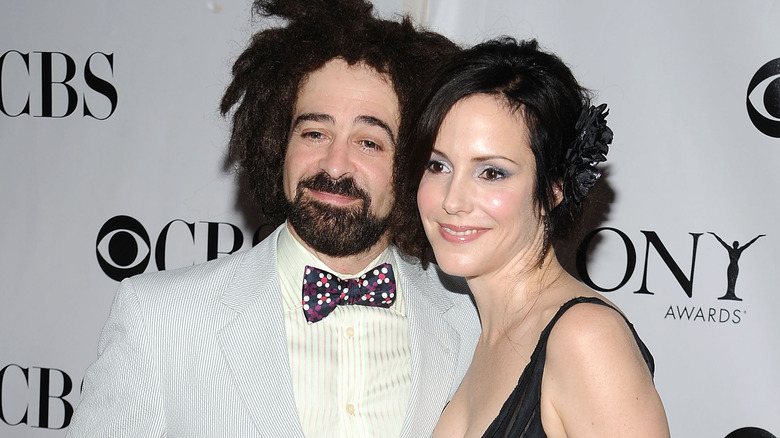 Dimitrios Kambouris/Getty Images
It seems like Adam Duritz would like to stop talking about his relationships with the "Friends" stars. Shortly after both relationships ended, Duritz told Men's Health the tabloids hyper-focused on it. "I don't like that it became the only thing they wrote, but that's their problem," said Duritz. "It wasn't great for me, it wasn't great for my band. But it's nothing I did."
Furthermore, Duritz doesn't feel that dating both Cox and Aniston was a bad choice. "I'm not gonna link people's idiocy to my choices, because those were perfectly reasonable choices," says the singer. "They were nice girls and I went out with them and that was that."
Duritz is no stranger to dating beautiful actresses and has been dubbed by some as the Pete Davidson of the '90s. Besides the "Friends" stars, he has also dated Winona Ryder, Mary-Louise Parker, and Christina Applegate. There have even been rumors that he spent some time with Nicole Kidman. Though dating so many of Hollywood's elite, the singer-songwriter has yet to be married.