All Of Bobbie Spencer's Husbands On General Hospital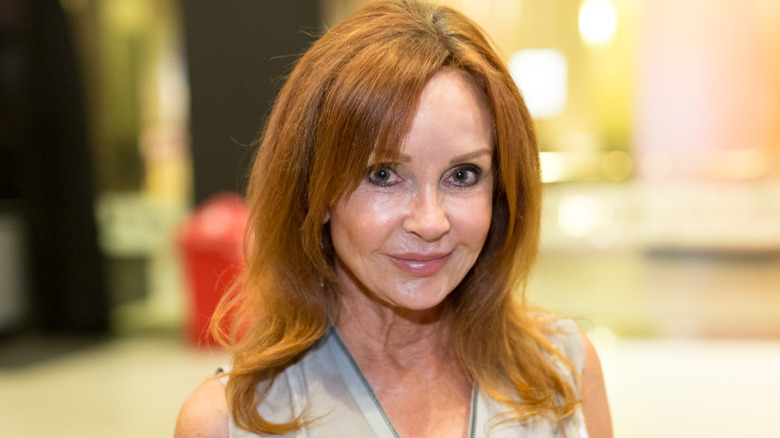 Greg Doherty/Getty Images
When Jacklyn Zeman's character Barbara Jean "Bobbie" Spencer attended the wedding of Michael Corinthos (Chad Duell) and Willow Tait (Katelyn MacMullen) on April 27, "General Hospital" fans had no idea it would be her last appearance on the show after the actress' real-life heartbreaking death. Zeman originated the character in 1977, and Bobbie had some dark secrets in her past. When she came to Port Charles, she was immediately smitten with Scotty Baldwin (Kin Shriner), however he only had eyes for Laura Webber (Genie Francis). Bobbie was able to shed her past as a sex worker and became a beloved nurse at General Hospital. She got her con artist brother, Luke Spencer (Anthony Geary), to help her break up Laura and Scotty, and even went so far as to pretend she was pregnant with Scotty's baby. However, none of her schemes worked, as Scotty and Laura eventually got married.
Bobbie's next boyfriend, gangster Roy DiLucca (then Asher Brauner), was considered the love of her life. However, after he tried to kill Senator Mitch Williams (Christopher Pennock), he was shot and died in her arms. She later faked blindness so that Dr. Noah Drake (Rick Springfield) would stay with her, but that ruse failed also. Bobbie would finally find happiness with D.L. Brock (David Groh), and the two got married. However, once the two settled into their new life, D.L.'s dark side emerged and he became physically abusive toward her.
Bobbie was blamed for D.L. Brock's murder
D.L. Brock threw Bobbie down a flight of stairs, the injuries of which caused her to have a hysterectomy — meaning that she would never be able to have children. Zeman told Soap Opera Digest that she and Groh had become such good friends in real life that their chemistry translated to the screen. She noted, "We wanted it to be real, and it was." D.L. would eventually be murdered and Bobbie was the prime suspect, however it turned out that Ginny Blake (Judith Chapman) was the one who killed him.
Bobbie soon fell for her lawyer, Jacob "Jake" Meyer (Sam Behrens). The two married in 1986, and they took in Skeeter and Melissa, the children of a paraplegic woman named Martha McKee (Nancy Becker-Kennedy) after her health declined. Melissa got into trouble and ran away to Florida where she was kidnapped by an evil pimp and forced to be a sex worker. Bobbie chased Melissa and pretended to be a sex worker herself to infiltrate the villain's gang and rescue Melissa. She succeeded, but not before being arrested, and her sordid past was revealed to everyone in Port Charles, causing the kids to be taken from her and Jake. Tired of her schemes, Jake went to Paraguay to help people in need, and Scotty returned to town where he got rid of Jake's letters to her, causing her to divorce him.
Tragedy destroyed Bobbie and Tony's marriage
Bobbie and Tony Jones (Brad Maule) had become friends over the years, and he and his late wife Tania Roskov (Hilary Edson) had named their child Barbara Jean, or B.J. (then Brighton Hertford), after her. Bobbie and Tony eventually grew close and got married in 1989. Tony wasn't happy that Bobbie had been flirting with mobster Damian Smith (Leigh McCloskey), and he caught them hugging on the same day that B.J. had been killed in a school bus accident. The tearjerking story went further as B.J.'s heart was donated to Maxie Jones (then Robyn Richards) who was in desperate need of a transplant. When Bobbie slept with Damian, Tony kicked her out of their house. They split up, but would eventually work things out until a woman named Carly Roberts (then Sarah Brown) came to town. Bobbie didn't know that Carly was actually the daughter she had given up for adoption when she was a teenager, and when she caught Carly and Tony having sex, their marriage was finally over.
Soon after, Bobbie married Stefan Cassadine (Stephen Nichols), but Luke warned her that he was a horrible human being. They plotted to uncover Stefan's nefarious ways, and Bobbie drugged him so she could swipe a special key from him. Stefan had been faking it and didn't actually drink the wine she gave him, and he subsequently dumped her. Bobbie managed to get a quickie divorce in Puerto Rico, and she never got married again.