Katy Perry's American Idol Finale Look Was A Total Misfire (Despite Rocking 2023's Hottest Trends)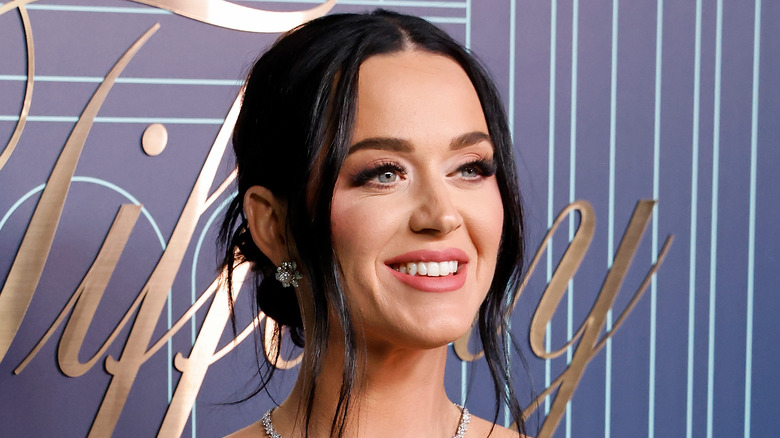 Taylor Hill/Getty Images
Don't worry, Katy –– we've all been there. Who among us hasn't tried a trend that we love on other people, only to look back years later and wonder, "What was I thinking?" Well, based on the feedback from plenty of fans, it's very possible that Katy Perry just may be in for the same fate. The pop star and "American Idol" judge arrived at the famous singing competition series' season finale on Sunday in an outfit that has sparked more controversy than the season's winning singer. 
If you watched the episode, you know exactly the 'fit we're talking about, because whether you liked the ensemble or not, this set was a scene stealer. Whether it stole the show in a way that was good or bad seems to depend entirely on who you're speaking to. Yet, one of the things that made Perry's fashion statement such a surprising one is the fact that it featured two popular trends, but did so in a way that fell flat for many fashion lovers.
Katy Perry's bold orange set caused controversy
You may remember Brittany Mahomes' spicy Super Bowl 'fit that proved that burnt orange is 2023's trendiest color, and you may also recall all the trendy rosette looks at the 2023 Oscars. Judging by the recent success of these trends on celebs at major events, we understand why Katy Perry thought that a combination of the two in a body-hugging set would have fans singing her praises. Yet, the unique cut, mesh fabric, and extra-revealing silhouette left folks scratching their heads, with one taking to Twitter to ask, "Is she at a swim meet?" There is something undeniably gymnastics practice-appropriate about this ensemble, and despite the on-trend orange shade and rosette details, the ensemble still flopped.
As we'd expect from a superstar on an important television episode, this set was not cheap. The Giuseppe Di Morabito crop top cost over $1,000, while the coordinating maxi skirt was $701. Whether you think the fashion risk paid off or looked downright strange, most can agree that it showed off Katy's curves and let her beauty shine, even if the sparkly garment was over-the-top. 
And, even though many folks hated the look, Perry and her fiance, Orlando Bloom, were both fans. Perry captioned a photo of herself in the set on Instagram with the caption, "orange u glad it was a great #idolfinale?" Bloom replied with a peach emoji. We love when people support their partners through fashion successes and failures alike.