Why You Should Apply Primer After Tinted Moisturizer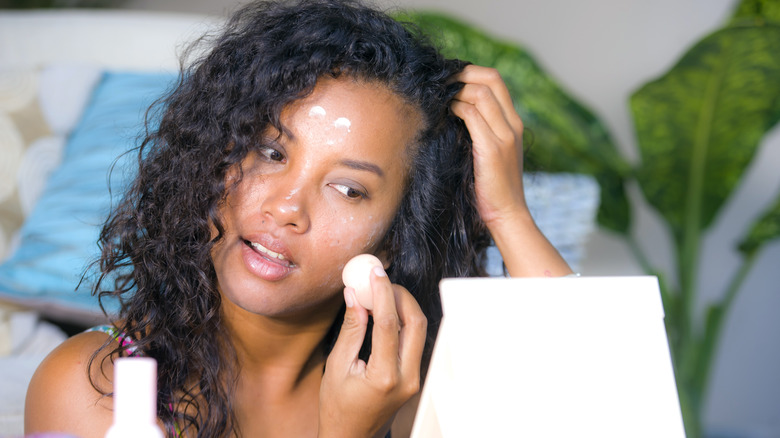 Marcos Calvo/Getty Images
We may receive a commission on purchases made from links.
Tinted moisturizer has been one of the beauty industry's greatest innovations. It's especially great for the makeup routine of the minimalist who enjoys going nearly bare-faced. You get the perks of skin hydration with a light tint of color, making your face look flawlessly smooth. Luckily, tinted moisturizer is not only for those who want a simple look. It can be a great asset, no matter how you rock your makeup. But there is one step that many people get confused about when applying their tint moisturizer.
When you should apply primer can often get people in a tizzy during makeup application. Many people tend to get primer and moisturizer confused with one another. There is also the common belief that one can replace the other. However, both of these serve very different functions. So which one should you apply first? The moisturizer should absolutely be the first step. Applying your makeup in this sequence has various advantages that your skin will appreciate.
Skincare always comes first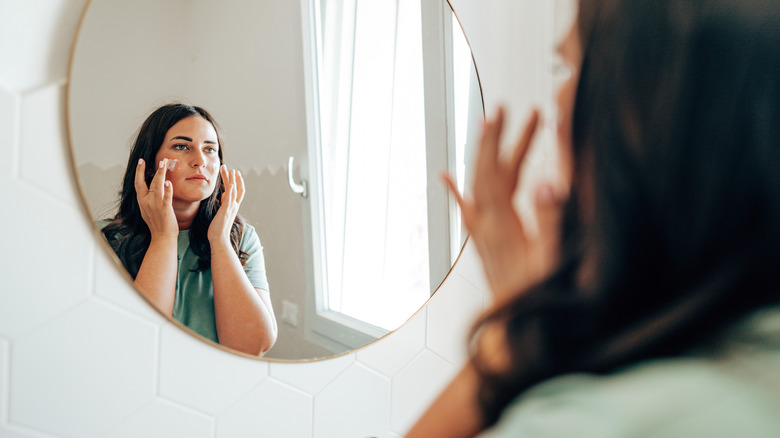 Franckreporter/Getty Images
Some primers have hydrating properties, such as the Milk Makeup Hydro Grip Primer. This formula features blue agave extract to seal in makeup, and hyaluronic acid, a skin godsend, as well as cannabis seed extract to boost hydration. While this is an excellent option for anyone with dry skin, primer doesn't always address specific skin issues like moisturizer does. Tinted moisturizers may contain a hint of color, but for various skin types, these nourishers are available in a wide range of compositions. For example, the Fenty Beauty Eaze Drop Blurring Skin Tint is a colored hydrator specifically for oily skin. Then there is the BareMinerals Complexion Rescue Tinted Moisturizer SPF 30, which is an option for acne-prone skin.
Dr. Eileen Deignan, chief of dermatology at Emerson Hospital, explained to NBC News that tinted moisturizers are supposed to serve as a light foundation, but the goal is still to protect the skin from irritants. Since moisturizers provide a protective barrier, it's important that this goes first. Adding primer would be counterproductive since its purpose in the makeup process is entirely different.
Primer keeps the makeup in place
The reason primer needs to be applied is because of its role in the makeup process and what it is does to your face. Primer is meant to help foundation go on your skin flawlessly. It helps the products stay in place by creating a base that minimizes the appearance of pores. Since this is used to make your skin appear smoother under your foundation, putting it on before your moisturizer is counterproductive.
For those with combination skin, some makeup gurus would recommend combining primer and moisturizer and applying them together. Touched by An Angel Beauty School says if your skin is oily in certain spots, apply the primer there first and add moisturizer to dry parts of your face. However, this could get a bit tricky if you are unsure which spots to use which product on. As a safe bet, get full moisture coverage on your face with your moisturizer first. But it's worth noting, Milk Makeup cosmetic chemist Ginger King says you want to allow some time to pass before applying your primer to prevent a dough-like effect. As long as you remember this order, your look will certainly thank you.