The Best Pink Nail Polishes For Your Summer Vacation Are Softer Shades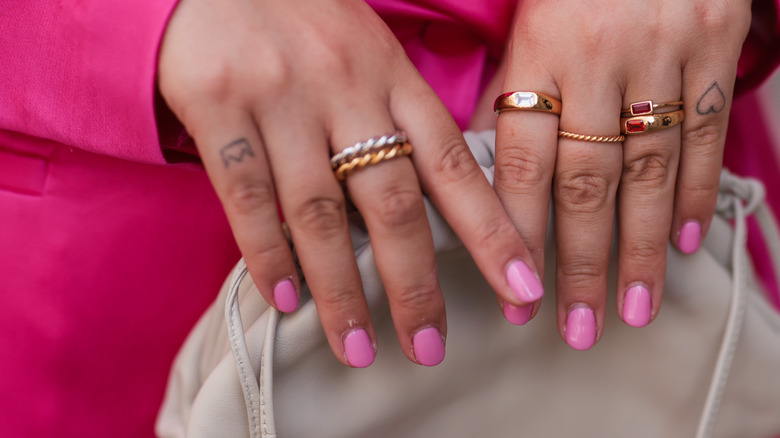 Jeremy Moeller/Getty Images
Summer is all about sunny days, refreshing drinks, and beachy vacations. As with clothing and makeup, nail trends often shift with this change in season, reflecting summer's warm weather and sunlit vibes with bright colors and nostalgic designs. For those deciding what set of nails to sport while on vacation this year, looking to these seasonal trends can be a great source of inspiration.
With the recent rise of the Barbiecore aesthetic, pink has maintained popularity in fashion and nail art for quite some time. Since Greta Gerwig's long-awaited "Barbie" movie starring Margot Robbie and Ryan Gosling is set to debut this summer, we have a feeling that the hype for the color isn't going anywhere anytime soon.
Experts echo this feeling about pink as a nail polish color, noticing that softer hues are particularly in style this summer. With the recent emphasis on more subtle and natural designs, it isn't surprising that nail enthusiasts are opting for lighter shades of pink for the season.
Pale bubblegum pinks are great for summer
As mentioned, softer shades of pink are projected to be the most popular choice this summer, but that doesn't mean nail art lovers are completely leaving behind bright hues. Pale bubblegum pinks are an example of a nail polish color that perfectly balances the boldness of the Barbiecore aesthetic with recent color trends.
A great example of this comes from @nailswju, who shows off the shade "Rosy Side" from Neonail in their Instagram post. We love how much this slightly softer shade stands out on its own, but there are lots of ways you can wear bubblegum pinks for a fun vacation look. For instance, @nailsbydiem shares a French-tip look featuring multiple shades of pink, putting a summery twist on the traditional nail style.
Bubblegum pink nails were also featured in the Oscar de la Renta New York Fashion Week show, as seen in the Instagram post from professional nail artist @misspopnails. We love the reverse French tips/half-moon look that incorporates two fun shades of pink, something we think would work great for your own vacation nails.
Blush pinks are perfect for natural looks
The popularity of blush pinks can be attributed to the rise in more understated looks, such as '90s supermodel nails and milk bath designs. This is something that brand founder and celebrity nail artist Deborah Lippman discusses with Byrdie, saying, "Last year, the trends seemed to focus more on the bolder, more neon colors, with hot pink being one of the colors of Summer 2022 ... I think for this summer, we will see more of a shift into the 'your nails but better' look."
These more seemingly natural nail looks have already been spotted on several public figures, with celebrity nail artist @imarninails showing off a glazed chrome look on the hands of actress Lorena Andrea. Worn to the London premiere of "The Little Mermaid," this blush pink nail look is everything we're expecting to see this summer.
Zendaya is another celebrity who seems to be vibing with the soft pinks of the season, as celebrity manicurist @marinadobyk.nails styled a set of lip gloss nails for the star. The pale pink polish is really complemented by the mega-glossiness of this trendy look, creating the perfect combo between summer vibes and glam.