Is Bronzer Making Your Skin Look Muddy? Here's What You're Doing Wrong
Moyo Studio/Getty Images
Although summer is approaching, not everyone has the time to lounge out in the sun to get that perfect tan. Instead of oiling up to lie by the pool, many people use bronzer to replicate that sunkissed look. Typically placed on the cheeks, nose, and along the forehead, bronzer is used to add warmth to the face.
It may sound like it can be used to chisel out your cheekbones, but when it comes to choosing between bronzer versus contour, the two serve wholly different purposes. While contour sculpts, bronzer mimics the look of laying out in the sun. It can come in several forms and finishes, from glittery liquids to satin creams and matte powders. However, the intention is the same — to make you look full of warmth and life.
Yet, not everyone is keen on bronzer. The product can certainly be for everyone, but it can occasionally look a bit muddy once applied. If your bronzer makes you look soiled rather than sunkissed, read ahead.
How to choose the right bronzer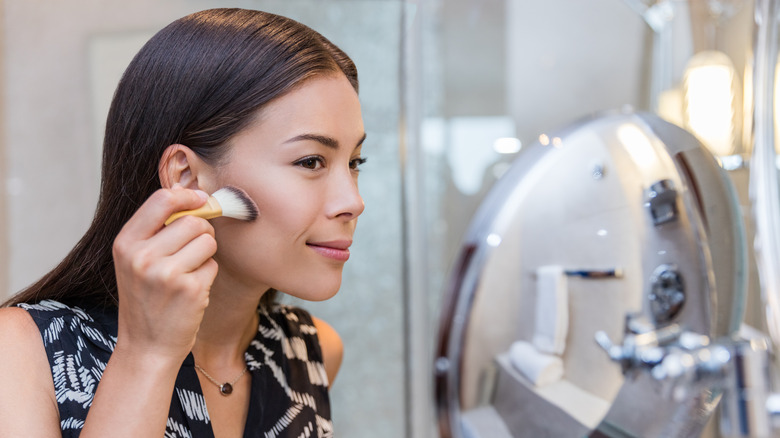 Maridav/Shutterstock
The first step to getting the proper bronzer is to find something slightly darker than your skin tone. Since it's meant to mimic a natural tan, the shade you choose should look as if you've actually been out in the sun — it shouldn't be dark enough to appear as if you've changed races. Determining your skin's undertone can also help you to check which bronzer to pick.
While warmer undertones look best with a golden or orange bronzer, soft browns, peach, and taupe are ideal for cooler undertones. People with neutral undertones should stick with strictly brown bronzers. One of the last makeup steps before powder or setting spray, bronzer is used to add dimension and a glow to the products you've applied beforehand. It should be placed on the tip of the nose, temples, below your blush, and on the chin.
A powder bronzer will most likely be applied with a brush, but cream and liquid bronzers can be, too. Use a soft-bristled brush, such as the e.l.f. Cosmetics Ultimate Blending Brush, to blend out the pigment. Start with a small amount of product and build your way up to avoid overdoing it.
Shop the best bronzers for a sunkissed glow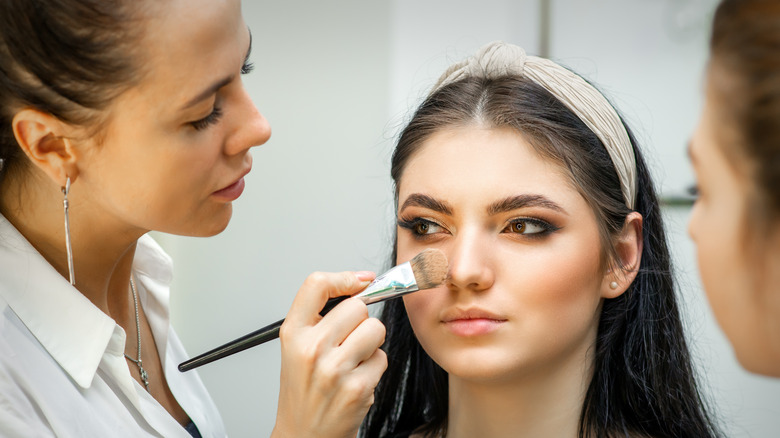 Okskukuruza/Getty Images
Although the goal of using bronzer isn't always to contour, The Bronzer by Jones Road Beauty definitely makes it easy. Completely devoid of glitter, this matte bronzer comes in seven shades, perfect for a wide variety of skin tones. Sheer yet buildable, this silky bronzer adds a wash of warmth around the face for a subtle tan.
If you do like a bit of shimmer, however, try the Tower 28 Beauty Bronzino Illuminating Cream Bronzer. With five shades, this radiant bronzer gives the skin a warm, lit-from-within quality. Not only does the shimmer provide a subtle glow, but the cream bronzer is formulated with castor seed oil, mango seed butter, and green tea extract, providing a natural, healthy flush.
For an easy, on-the-go application, try the Glossier Solar Paint Luminous Gel-Cream Bronzer. A gel and cream hybrid, this bronzer gives light coverage with a radiant finish. Created with light-reflecting pearls, it delivers a soft and bright effect that looks perfectly sunkissed.