Alley Mills Set To Return To General Hospital As Heather Webber (& We're Expecting Chaos)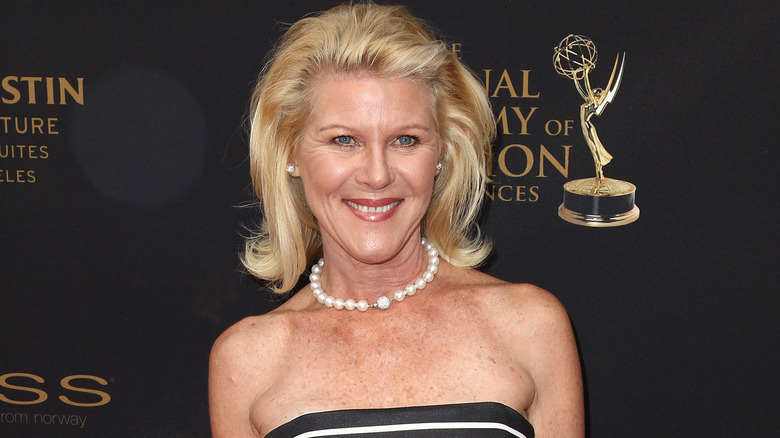 Leon Bennett/Getty Images
"General Hospital" fans cheered when it was revealed that the gleefully evil Heather Webber (Alley Mills) and sadistic serial killer Ryan Chamberlain (Jon Linstrom) were the parents of the equally malevolent Esme Prince (Avery Pohl). Viewers were also on the edge of their seats as the three made a daring escape from the Shadybrook mental institution, intent to wreak insurmountable terror on the citizens of Port Charles. Esme, though, had amnesia, and didn't remember her wicked ways. She was horrified to learn the villains were her progenitors, and was mercilessly dragged along with the despicable duo, all the while about to give birth to her baby.
Mills took over the part in 2022 that had previously been played by fan favorite Robin Mattson for decades. When she got the part, Mills remarked to Soap Opera Digest, "What shoes to fill!" She had researched the character and wanted to honor Mattson by having the make-up department muster up a look close to Mattson's for her. In an effort to be true to the character, Mills also ensured that her hair was long and blonde like Mattson's. She quipped, "I try to throw in as much of [Mattson's] crazy as I possibly can."
Mills successfully won over fans, who will now be thrilled at her latest news.
Anything's possible if Heather Webber is back in Port Charles
In April, Michael Fairman TV spoke with Alley Mills about her "General Hospital" character, Heather Webber. She made the startling tease, "I don't know if I'm allowed to say this, but I am coming back. I'm not sure when or how." She made reference to Anthony Hopkins' iconic serial killer Hannibal Lecter from the film, "Silence of the Lambs," stating, "I keep thinking [Heather is] with Anthony Hopkins on some island drinking Mai Tais!" She further explained that she's unsure of what the show has in store for Heather. Daytime Confidential recently confirmed Mills' return to the sudser, and speculated that Esme Prince is perhaps faking her memory loss and Heather might somehow be instrumental in that revelation. Esme had committed several evil deeds before supposedly getting amnesia, and many characters are still doubtful that she's telling the truth.
Mills was last on "GH" in February, and Sasha Gilmore (Sofia Mattsson) confronted Heather about the death of her husband, Brando Corbin (Johnny Wactor). It had been revealed that a murderer known as the Hook — who had been killing citizens of Port Charles — was, in fact, Heather all along, and Brando was one of the casualties. Historically, Heather has been able to get in and out of prisons and mental hospitals with ease, and her cunning skills and ability to manipulate people is extraordinary.
What she does next is anyone's guess!