Things You Won't Catch Queen Camilla Wearing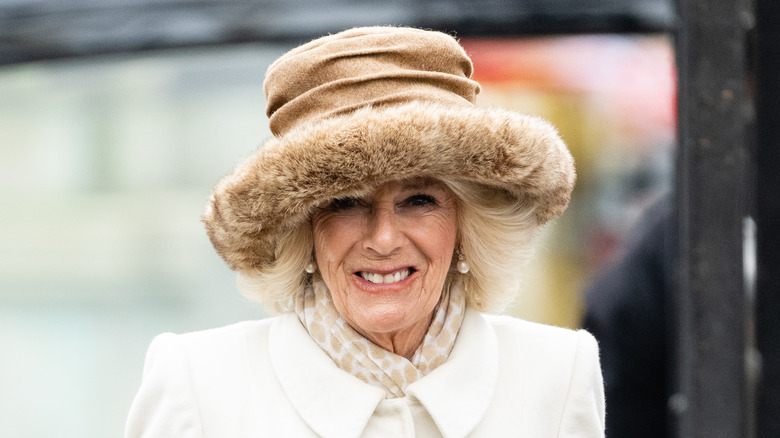 Samir Hussein/Getty Images
Queen Camilla has been a polarizing figure in the British monarchy ever since her extramarital entanglement with King Charles III was revealed decades ago — while he was still technically hitched to Princess Diana, aka "the people's princess." Their relationship may have gotten off to a headline-grabbing start, but in the end, true love prevailed and the pair tied the knot in 2005. Ever since then, Camilla has been one of the most senior (and most photographed) members of the royal family, always by Charles' side without fail, be it at glitzy galas, on royal tours, or simply at home with their dogs.
When Queen Elizabeth II died in September 2022, it was time for Camilla to take the next step, assuming her rightful place as queen consort alongside her beloved husband. Now that Charles is at the top of the royal food chain, a lot of things are going to change, including how Camilla presents herself to the world. The mom-of-two has been known for her demure dress sense and casual looks over the years, but now that she's got a new role, she could be ditching some of her most famous trends. After all, there are some things one simply can't wear when one is queen. Forget everything you think you know about Camilla's style, these are the things she won't be caught dead in from this point on.
You won't spot Queen Camilla in blue jeans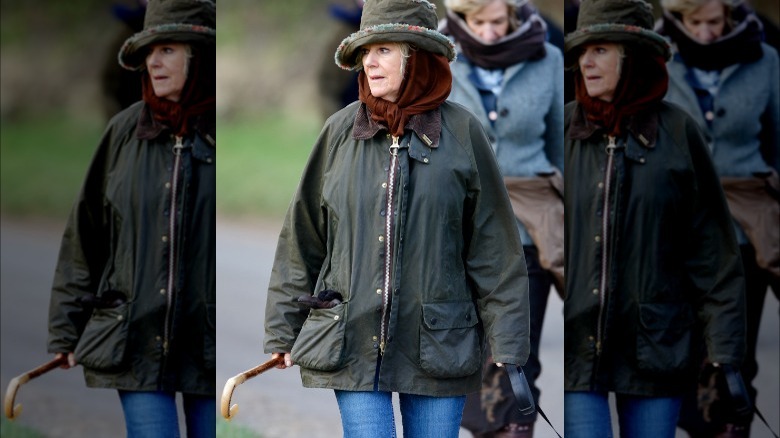 Max Mumby/indigo/Getty
A simple pair of blue jeans is a classic wardrobe staple, and for good reason. They're easy to style, go with almost anything, are comfortable, and can be both casual or dressy. Even royalty loves them, with everyone from Princess Catherine to Meghan, Duchess of Sussex, sporting them on several occasions. Before her husband became Britain's monarch, Queen Camilla wore jeans all the time. As she told BBC Radio 5 Live, the casual pant style was her go-to lockdown look (via Town and Country): "I've been very, very happy with my jeans. It will be very hard to get out of them again. I think you get into a sort of way of life, don't you?"
However, it's unlikely we will catch Camilla wearing them again, at least in public. Since assuming her new role, the queen consort hasn't been spotted in her old favorites, leading many to wonder if she's ditched them for good. Queen Elizabeth II was never seen wearing jeans in her reign, so it's not totally wild to assume that jeans are just deemed too casual for a person in her position to wear. Throughout history, kings and queens have always been immaculately turned out, so it makes sense that Camilla will opt to wear slightly more formal clothing in the future. Something tells us she might still slip on a sneaky pair when walking the dogs at home, though. Who could blame her?
She may never wear the Koh-i-Noor diamond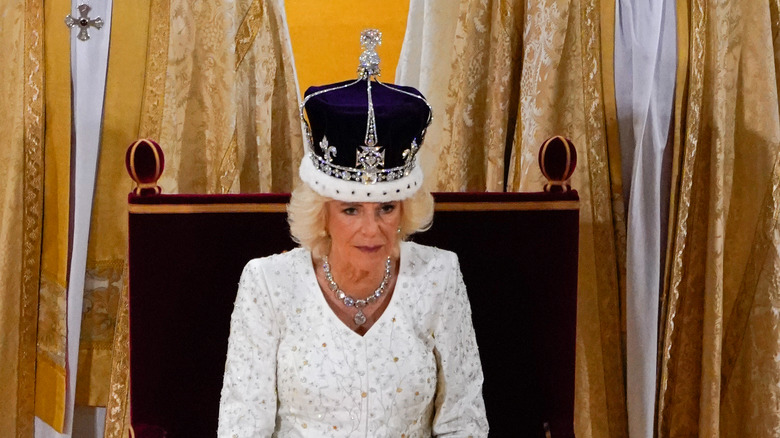 Wpa Pool/Getty Images
There has been plenty of talk in recent years about how controversial some of the British royal family's jewelry is, including the Koh-i-Noor diamond. The stone, which is reportedly worth hundreds of millions of dollars, was a "gift" to Queen Victoria from Maharaja Duleep Singh in 1849. He was just 11 years old at the time, and his mother, a former prisoner of Britain, signed it over against her will. Despite its ill-gotten gain tied to Britain's colonialist history and calls for it to be returned to India, it remains part of the royal collection, securely tucked away with the rest of the crown jewels in the Tower of London. 
The stone has been part of Queen Mary's crown, which is the headpiece Queen Camilla chose to wear for the 2023 coronation. However, before the ceremony, the Koh-i-Noor diamond was removed from the crown entirely. To pay homage to her mother-in-law, Queen Elizabeth II, Camilla had the famous headpiece reset with the Cullinan III, IV, and V diamonds from the late monarch's private collection. Neither Camilla nor King Charles III made a public statement explaining the decision, but it looks like Camilla won't be rushing to put on this problematic rock any time soon, instead opting to be more conscious of her choices.
Say goodbye to low-cut dresses and tops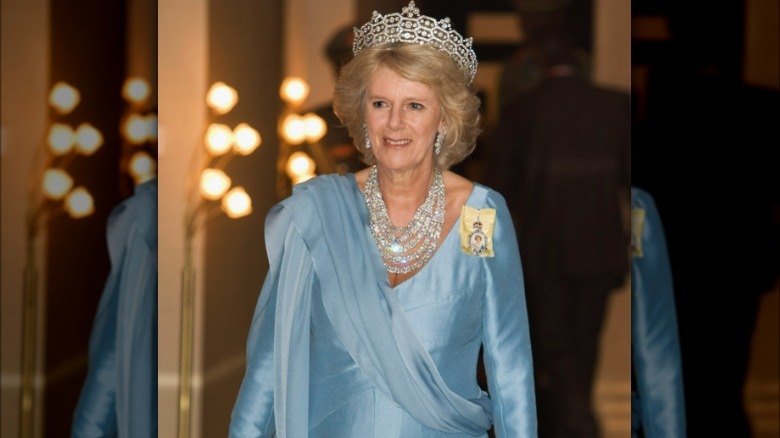 Pool/Getty Images
Queens are supposed to keep it modest and sophisticated at all times, something that Queen Camilla has been pretty good at ever since she coupled up with King Charles III decades ago. However, she has worn one or two low-cut numbers in the past, flashing just a hint of cleavage. By average standards, these looks have never been risqué or pushed the envelope too far, which is why they were never deemed scandalous. That being said, if Queen Elizabeth II's example was anything to go by, we can probably expect to see Camilla covering up a little more in the years that follow the coronation.
Elizabeth and the queens that preceded her were never caught flashing too much flesh at public events, a tradition that has been steadfast for years. Even more junior members of the family like Princess Anne's daughter, Zara Tindall, refrain from wearing outfits with low necklines most of the time. It turns out there's a good reason for that. JewelleryBox spokesperson Daena Borrowman told Express, "There are dozens of protocols in place that stylists and dressers of the royals have to familiarise themselves with to prevent working royals from landing into embarrassing fashion faux pas. ... It is customary for senior royals to dress modestly during public appearances, in order to preserve the sanctity of the Royal Family. ... Royal women are discouraged from showing off their cleavage."
There will be no flashing of the knees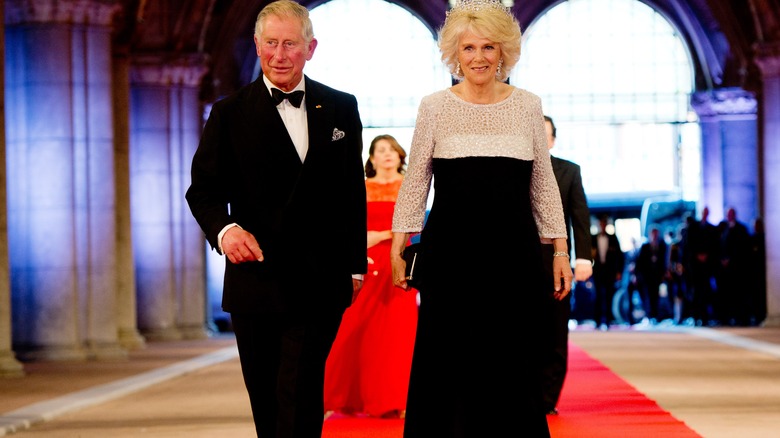 Pool/Getty Images
While there is no hard and fast rule for this, Queen Camilla nearly always wears dresses that are below the knee. This way, the outfit isn't deemed too risqué. Now that she's queen consort, Camilla will stick to this style of dress — and possibly go a little bit longer if other royal style icons are anything to go by. Longer dresses are typically considered to be more demure and have less chance of getting blown up by a sudden breeze. After all, no one wants a Marilyn Monroe moment while opening a new hospital or shaking hands with their adoring public, it simply wouldn't do. Funny enough, the royals have a secret weapon up their sleeves to stop moments like this from occurring.
Queen Elizabeth II and Princess Catherine both had weights sewn into the hems of their dresses to stop embarrassing situations from arising, something Camilla might start to do if she hasn't already. That way, when a gust of wind happens to sweep by, the dress doesn't budge an inch. However, there have been occasions where Catherine has had a bit of a wind-related sartorial mishap, such as on a 2011 trip to Canada when her choice of a fluttery yellow dress proved poor. Being slightly more experienced as a royal, it's highly unlikely we'll catch Camilla in a situation like this any time soon, not least because of her new role of queen consort.
Queen Camilla's fitness tracker may be a thing of the past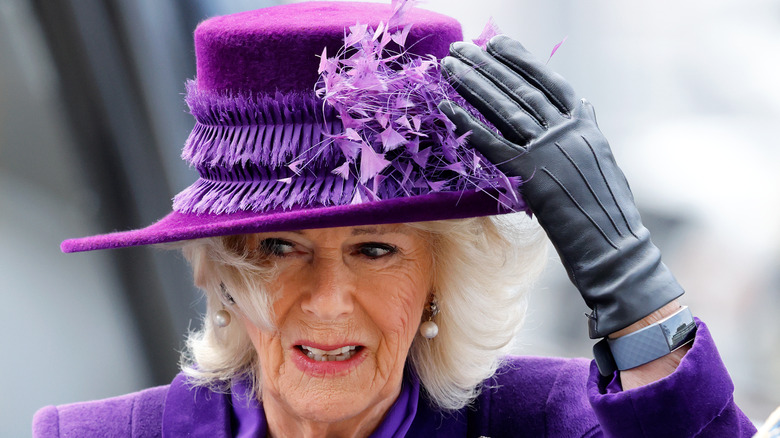 Max Mumby/indigo/Getty Images
Fitness trackers have been popular for years, helping us all keep an eye on our health throughout the day. They have become such a normal part of everyday wear for many people that they're almost unnoticeable. Apparently, they're good enough for royalty, too. Queen Camilla has been pictured wearing one on several occasions, but her step-counting days could be over for good. Since becoming queen, Camilla hasn't dared to put it on. A source told Express that Camilla seemingly changed her accessory in the wake of Queen Elizabeth II's death. "The most likely reason for Camilla's accessory switch is that she was required to follow strict royal mourning guidelines along with the Royal Family and their household," the source said.
Instead of wearing her trusty FitBit, Camilla swapped it out for something much more sophisticated, sleek, and seriously expensive: her Cartier Ceinture Watch. Other comparable watches sell for between £69,500 and £109,000 on the jeweler's website currently, making this an upgrade from Camilla's inexpensive fitness tracker. Cartier watches are somewhat of a tradition for royal women. King Charles III's first wife, Princess Diana, wore a Cartier Tank, while Princess Catherine was gifted a Cartier Ballon Blue from Prince William to mark their wedding anniversary in 2014. As far as family traditions go, this isn't one that's going to be broken any time soon. Camilla will simply have to find another way to track her steps ... isn't that what footmen are for?
Camilla won't mix any colors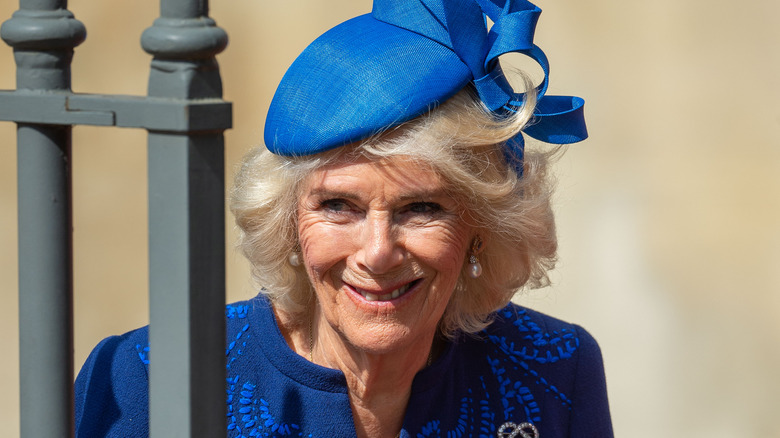 Antony Jones/Getty Images
It's not unusual when building an outfit to mix a few colors up. Queen Camilla is no stranger to this handy fashion trick either, having worn some interesting outfits in her time. That could be in the past now, as Camilla may take a leaf out of Queen Elizabeth II's book and keep her ensembles monochromatic. It might appear to be a boring way to dress to most people, but there may be a reason behind it that stems beyond simple fashion. TV presenter Lorraine Kelly discussed a cream look Camilla wore to an event in 2022 on her eponymous show (via Express): "Queen [Elizabeth] always wore one color, and Camilla's now the same, just the one color, so you can see her." Kelly was in attendance at the event, which supported women impacted by violence.
While Elizabeth may have stuck to one color per outfit, she made sure that one color popped. Author Robert Hardman wrote in his biography "Queen of Our Times: The Life of Elizabeth II" (via Mirror): "My favorite remark she ever said was, 'I can ever wear beige because nobody will know who I am.'" Elizabeth wore all sorts of colors from bright green to neon pink, so will Camilla follow suit? She isn't afraid to step out wearing neutral colors but also has bold pieces in her wardrobe, though whether she intends to add more to her collection remains to be seen.
Absolutely no 'menopausal mauve'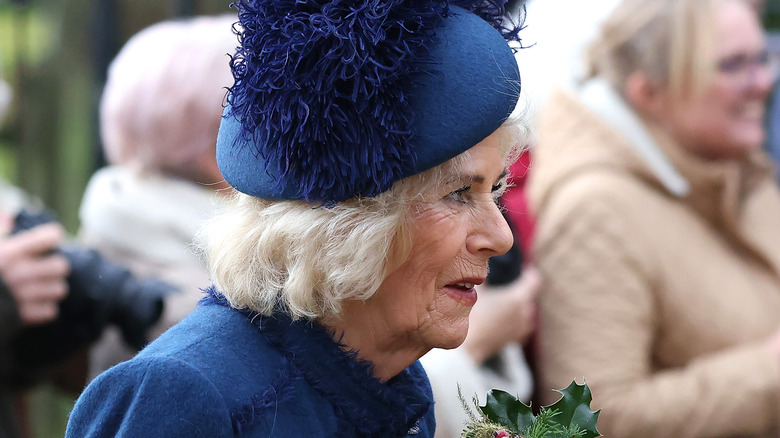 Stephen Pond/Getty Images
Royalty may be bound by certain etiquette rules when it comes to the types of clothes they wear, but their own personal preferences aren't totally ignored. Queen Camilla has made one thing perfectly clear ever since she became a senior royal after marrying King Charles III: absolutely no mauve. During an interview and photoshoot with Vogue, Camilla was asked if she would consider wearing a shade of purple to match the wisteria in her garden. The visuals may have been sweet, but the answer was a resounding no, with Camilla calling it "menopausal mauve."
The interview didn't dive into further detail about why the queen consort detests the color so much, but the short phrase doesn't leave much to the imagination. That being said, Camilla isn't afraid of similar, deep jewel tones, including her tried and trusted favorite, royal blue. Camilla donned more than one blue dress for the Vogue piece from May 2023, proving that this is a color she is particularly fond of, having worn it on several occasions since Queen Elizabeth II's passing. Eloise Moran, a royal fashion expert, told Marie Claire: "It's actually a very traditional color in the U.K., and, when I think of the monarchy, one of the key colors, of course, is royal blue. Blue definitely keeps popping up— there definitely seems to be a correlation."