How Cindy Busby Became Hallmark's Biggest Outdoors Star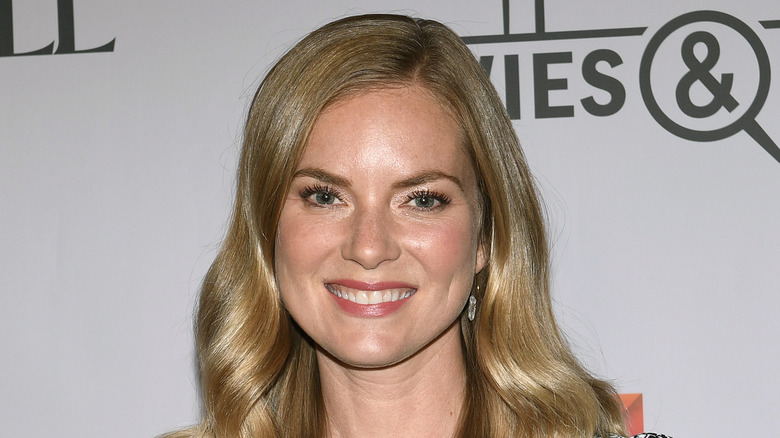 Michael S. Schwartz/Getty Images
Cindy Busby is perhaps best known for portraying Ashley Stanton on the Canadian drama series "Heartland." The actor has also starred in a series of Hallmark projects, including the shows "Cedar Cove" and "When Calls the Heart." However, several of Busby's films for the network, such as "Marry Me in Yosemite," "Chasing Waterfalls," and "Love in Zion: A National Park Romance," all have something in common — they primarily take place outdoors and in nature. "Love in Zion" is a Hallmark movie that premiered in May 2023. Busby spoke to Just Jared about the film and this running theme in her Hallmark career. 
She said, "It's so interesting because it kind of started around the time I did 'Chasing Waterfalls.' It was such a wonderful experience on that one, obviously, and that was done in 2020." She added, "Being outside then was just a great time to be in the outdoors and fresh air." Busby went on to say that she will continue to do nature-themed Hallmark films "because I love the outdoors, I love nature." Moreover, the actor told the publication that there's nothing better than getting to work on a film in the great outdoors. While it has perks, it also has its downsides.
Cindy Busby on the beauty of filming in nature
In "Love in Zion: A National Park Romance," Cindy Busby portrays Lauren, a museum curator who ventures into the park to search for a missing Native American vase. Along the way, she falls in love with her guide, Adam Proudstar (David Gridley). The film was shot on location in Southern Utah at Zion National Park. Zion is known for its sweeping canyons and plateaus. Busby told Just Jared that they also filmed in Utah's Canyonlands National Park. She reflected on the positive aspects of filming in nature for the publication and said that the scenery was "breathtaking" and "awe-inspiring."
Busby added, "It's just so stunning, and we'd have to drive about 15 minutes to these canyons to get there. There's no one in sight other than us. It's just really cool to realize that sometimes you don't have to go so far to feel kind of alone and in the middle of nowhere." In an interview with the News Tribune, Busby elaborated on her experience working on "Love in Zion." She said there was no cell phone reception and that the remoteness of it all led the cast and crew to form a special bond with each other.
Per Digital Journal, Busby had a similar sentiment about her Hallmark film "Marry Me in Yosemite." Speaking about that movie, which was filmed in Yosemite, she said, "It is easy to get lost in cities, but we find ourselves in nature."
Cindy Busby had some struggles on 'Love in Zion'
While Cindy Busby has nothing but admiration for nature, she does admit that filming in it is not easy and called it "physically demanding," per Just Jared. She noted that she worked 13-hour days on "Love in Zion: A National Park Romance" and said that actors filming outdoor movies need to be physically up to the task. She explained, "We're out there, we're in nature, there's no like trailers or anything like that. It's just kind of like bare bones. Like we're out there, we're doing it." Moreover, she said that as much as she wanted to, she could not wear sunglasses while shooting in the bright sunlight.
Busby's costar and love interest in the film, David Gridley, also shared that the film endured some hindrances from mother nature. He said, "There were some challenges just because of the weather. A lot of the days we had got interrupted by snowstorms, which was crazy for this time of year."
Nevertheless, Busby and the rest of the cast and crew took these difficulties in stride. She told the News Tribune that they were "lucky to be shooting outdoors" and said, "Every day out there is a good day." Regarding being labeled a Hallmark nature star, Busby said that she hopes her nature-themed Hallmark films will motivate people to explore the great outdoors.